A Beginner's Guide To Nipple Clamps
Combining pleasure and pain, nipple clamps are an exciting toy that we at ATMS believe are pretty underrated. These nifty toys come in an array of designs including clover, clothes pin and screw, but they all produce the same end result: they pinch the nipples. Ideal for those who enjoy nipple play and stimulation, these sex toys can be used during solo or partnered play for intensified orgasms and excitement.
Nipples know no gender; we all have the same amount of nerve endings in the nipples and areola so don't think these are just for women! The nipples are an erogenous zone and can feel pleasurable for all sorts of people. But because these toys can feel very intense and even purposely painful – it is important to make sure you are getting the right pair for what you are wanting to achieve.
With so much variety on the market, finding the perfect pair of nipple clamps can prove to be quite the challenge. That's why we have sourced expert advice from local sex educator Emma Hewitt to help us navigate the exciting world of nipple clamps.
How to choose the right nipple clamps:
The right size:
When considering buying nipple clamps, picking the right size is essential. Here's a few things to keep in mind:
How big are your nipples and how much pressure do you actually like on your nipples?

The smaller the clamps are the more intense they will feel as the pressure is focused on a small area.

If the clamps are wider, they spread that pressure more evenly into a larger area which reduces some of the intensity.
The right type:
Believe it or not, there is actually quite a range of different clamps. Some are adjustable, others are not. Some feature weighted balls and chains and others are simple and lightweight.
1. Tweezer Clamps:
Perfect for newbies, tweezer clamps feature two tips that are covered with rubber for comfort and safety. They have fairly thin tips and there is a slider on each one so that you can adjust them to get the perfect fit. The slider also makes it easy to release or tighten them once attached for more or less pressure as you play.
Emma's top pick:
Fredricks Of Hollywood Adjustable Nipple Clamps
Perfect for enhancing intimacy and increasing stimulation, the Fredricks of Hollywood Adjustable Nipple Clamps are perfect for first time users. With an elegant, beaded design, and rose gold colouring, these clamps look just as good as they feel.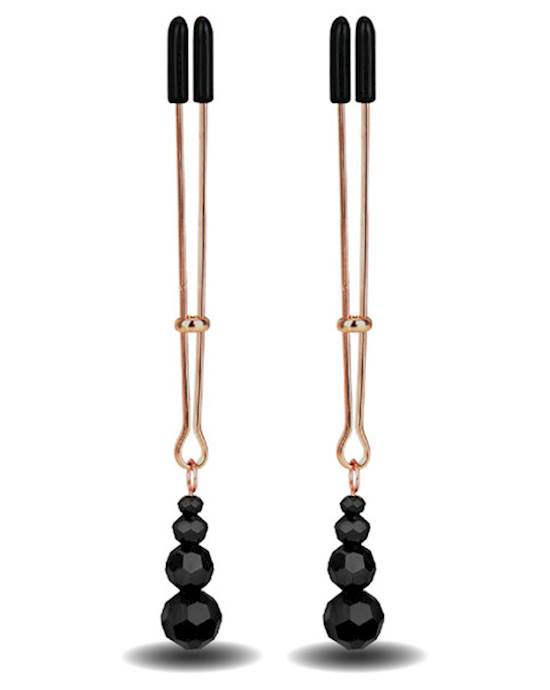 Fredericks Of Hollywood Adjustable Nipple Clamps$54.95Shop Now
2. Alligator Clamps:
Another great option for beginners is the alligator-styled clamps. These clamps are rubber-tipped and feature side screws so you can adjust them for the perfect squeeze. There are also single pressure clamps for those with a bit more experience, but they are not as beginner-friendly as the adjustable style.
Emma's top pick:
Sportsheets adjustable nipple clamps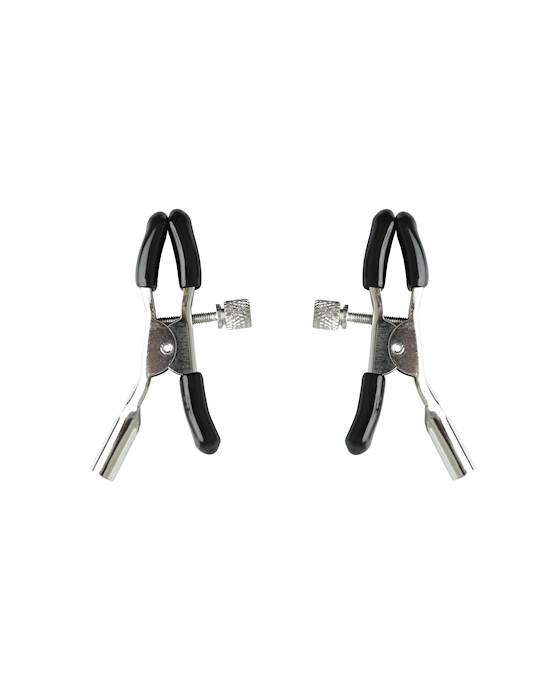 Sportsheets Adjustable Nipple Clamps$28.95Shop Now
Sometimes you can't beat a classic! Featuring a simple alligator design, the Sportsheets Adjustable Nipple Clamps are a staple clamp in everyone's toy collection. Rubber tipped for comfort with an adjustable screw, these introductory clamps are perfect for nipple plays beginner's and enthusiasts alike.
3. Clover:
If you are already well versed in nipple clamps and are ready to turn it up a notch then a clover-styled clamp is the way to go. This unique style is nonadjustable meaning they require a fair bit of practice to get used to. With a smaller point of contact, these clamps produce even more of a pinch!
Emma's top pick:
Japanese Clover Clamps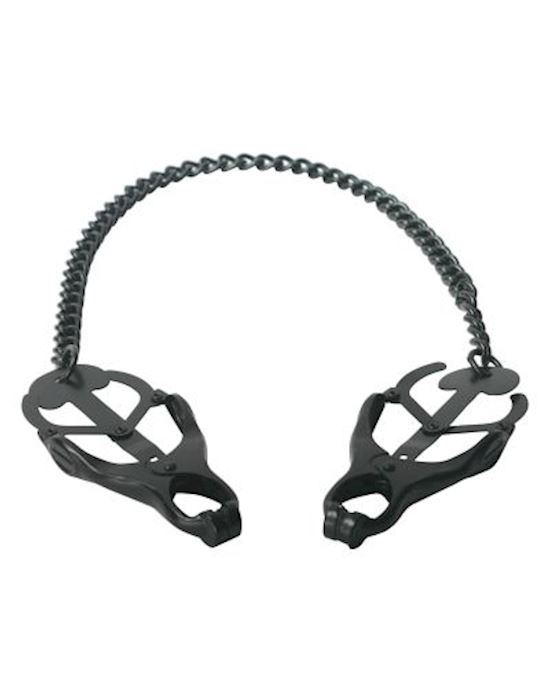 Japanese Clover Clamps$26.95Shop Now
Super stylish and sleek the, the Japanese Clover Clamps are not for the faint of heart. Perfect for more experienced users, these clamps have a strong pinch and even feature a connective chain for an intensified tug.
4. Chain:
Having a chain attach the two clamps not only prevents you from losing one but also looks super aesthetically pleasing. Ideal for partnered play, chains also add a little drag and weight to the toy and can even be lightly tugged on for a little extra stimulation.
Emma's top pick:
Sexperiments tug on my heart nipple clamps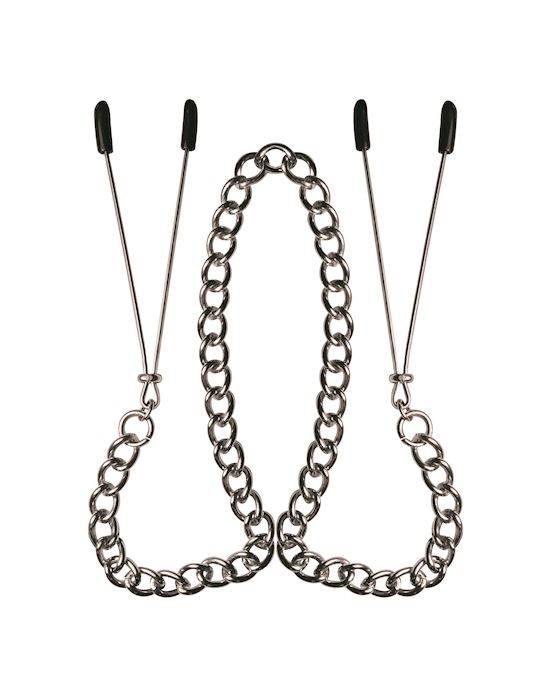 Sexperiments Tug On My Heart Nipple Clips$46.95Shop Now
Simple and elegant, the Sexperiments Tug on my Heart Nipple Clamps feature tweezer styled rubber tips making them beginner-friendly. With adjustable rings that slide up and down the shaft of the clips, these clamps can be easily adjusted to suit your pinching preferences!
Weighted:
If you have already explored and enjoyed regular clamps and found that you like the intense tugging feeling, then it might be time to try out a weighted option. Weighted options are available with most styles and may be in the form of a particularly heavy connecting chain or weighted orbs. That additional weight at the bottom tugs on the nipples increasing the pressure of the clamp and they can be pretty damn heavy!
Emma's top pick:
5. Tom Of Finland Barrel Nipple Clamps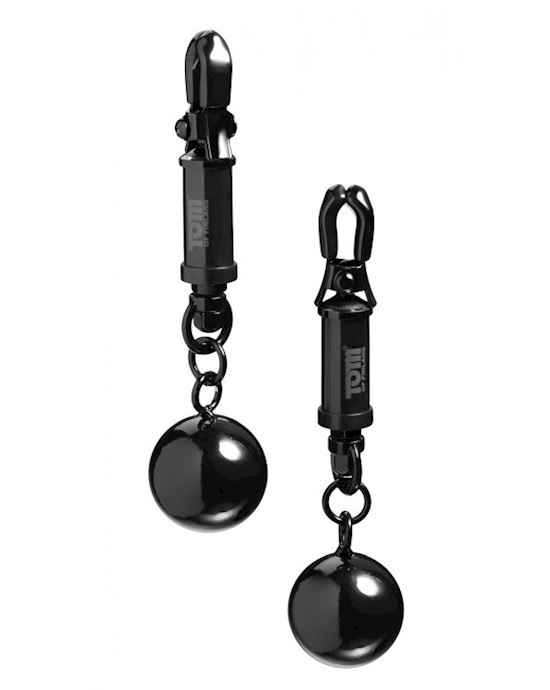 Tom Of Finland Barrel Nipple Clamps$100.95Shop Now
The Tom of Finland Barrel Nipple Clamps are a pair of heavy-duty clamps perfect for those looking for a challenge. These adjustable clamps feature removable 4-ounce weights which provide a pleasure tugging sensation. The body of these clamps twists to tighten or lessen the pressure so you can customise your clamping experience.
"Love these clamps The weights are good for a variety of uses" - Verified Purchaser
6. Special features:
In the mood for something a little more fun and cheeky? Then a nipple clamp with a 'special feature' might be right up your ally! Whether you want clamps with bells that jingle as you walk or one with tickling tassels which sway with every move, if you can think it up, it's bound to exist. You can even get vibrating ones that help to ease some of that pressure with pleasurable vibrations.
Emma's top pick:
Tickle Me Pink Nipple Clamp Tassels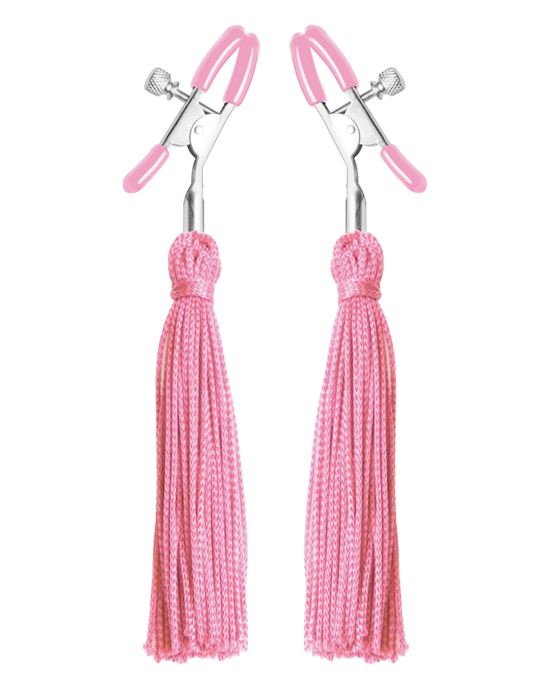 Tickle Me Pink Nipple Clamp Tassels$19.95Shop Now
Cotton candy coloured, with soft cotton tassels, the Tickle Me Pink Nipple Clamp Tassle are simply irresistible. These adjustable alligator-styled clamps are the perfect finishing touch to any lingerie set or can be worn alone. With soft rubber grips and adjustable screws, these cute clamps are ideal for users of every level.
"I love these nipple tassels so much! They're bright pink and fully adjustable"- Verified Purchaser
Think about your pleasure!
Most importantly, think about whether you actually like having your nipples stimulated or not. Because some of us really love it and others do not like that kind of stimulation at all. If you aren't already into nipple play, then you will probably not like nipple clamps. And that's sweet as! Use a toy that stimulates somewhere you like.
Ready to give Nipple Clamps a try?
Check out Adulttoymegastore's full range of nipple toys to find the perfect clamps for you!
Read next:
Listen to level up your sex life
For tips from experts for enhancing your sex life, check out our podcast hosted by sex educator Emma Hewitt, The Electric Rodeo podcast!
Content Disclaimer:
The information in this article has been fact checked and reviewed for accuracy by Adulttoymegastore's team of content specialists and sexual wellness experts, including Sex Educator Emma Hewitt.
Adulttoymegastore does not provide medical advice, diagnosis, or treatment for illness. Any information published on this website, either by Adulttoymegastore or its authors, is not intended to be a substitute for medical advice, and you should not take any action before consulting with a medical professional.
For more product examples - shop all our
sex toys
here.