The 4 Best Sex Toys and Sexual Wellness Products for Menopause
If you're going through menopause or are post-menopausal and finding that it's affecting your sex life, there are sex toys and sexual wellness products that can help! Here are the best products to alleviate sexual health concerns caused by menopause, according to a sex educator.
Common, yet often undiscussed symptoms of menopause, include the loss of estrogen, testosterone and vaginal changes which can cause unwanted and, in some cases, frustrating sexual effects. Whether you're going through menopause or are post-menopausal, you may have noticed reduced vaginal sensitivity, a decrease in arousal or a lack of self-lubrication. And though these unwanted symptoms can lead to a decreased desire for sex or sexual activities, this doesn't mean your sex life is over.
What can help alleviate symptoms caused by menopause?
Among a range of other treatments, specific sex toys and sexual wellness products can help you ease your way back into safe and pleasurable sex. With the help of Sex Educator Emma Hewitt, we have handpicked the best sexual health products to help alleviate some of the common sexual concerns resulting from menopause.
1. Lubricants
Vaginal dryness caused by loss of estrogen is amongst one of the most common side effects of menopause. This lack of self-lubrication can make having sex and other intimate activities uncomfortable or even painful. Luckily, personal lubricants can help reduce friction allowing for safe and comfortable intercourse.
"Following menopause, the ovaries stop producing estrogen and the levels in our body begin to decrease. This results in changes to the skin and tissues of the vulva and vagina. They become thinner, less elastic and can become dryer. Many will notice that they will also experience less natural lubrication during sexual activity. Using lubricant is a great way to counteract this dryness during sexual activities to ensure there is no friction, pain or discomfort," Emma Explained.
System Jo Women Agape Lubricant Cool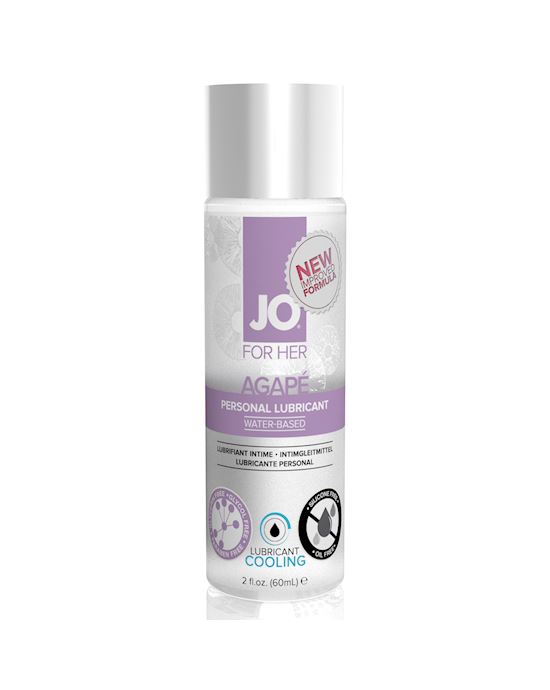 System Jo Women Agape Lubricant Cool 60 Ml$17.95Shop Now Specifically formulated for vagina owners with sensitivity, the Cooling Women Agape Lubricant by the masers of lube, System Jo, is silky smooth and doesn't leave a nasty stick. Perfect for those with silicone or glycerine sensitivities, this water-based lubricant is made with pure pharmaceutical grade ingredient that won't cause irritation or disrupt feminine pH levels. Best of all, this super silky lube has a cooling effect which activates with contact!
"Cooling products usually irritate my skin but this doesn't. Great silky feel and obvious but not overwhelming cooling" – Verified Purchaser
Desire Silicone Based Intimate Lubricant
Perfect for reducing friction and enhancing your most intimate moments, the Desire Silicone Based Lubricant is nourishing, lightweight and slippery smooth. Like all other silicone lubricants, this gorgeously packaged lube provides long lasting lubrication and is compatible with condoms. Apply a dollop of this lube you and your partner's intimate areas comfortable and pain-free intimacy.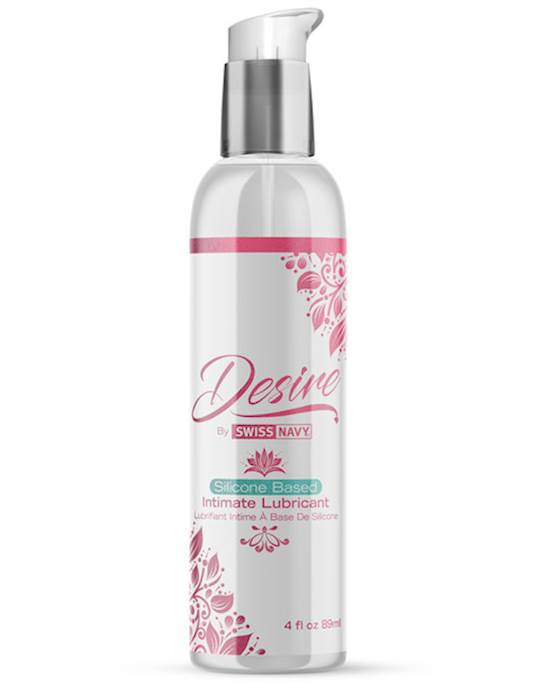 Desire Silicone Based Intimate Lubricant - 120ml$51.95Shop Now
System Jo Organic Lubricant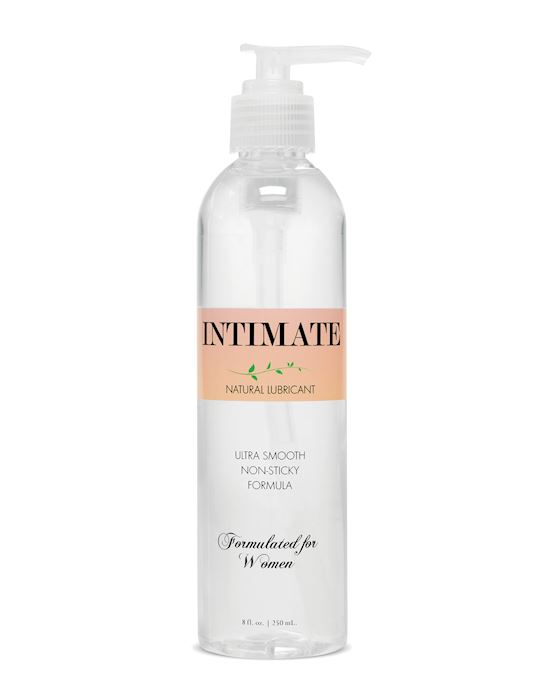 Intimate Natural Lubricant For Women 8oz$26.95Shop Now Keen to keep it green between the sheets? Say hello to the vegan, gluten and cruelty free System Jo Organic Lubricant. Made from the highest quality natural ingredients, this 100% organic lubricant enhances your most intimate moments without disrupting your body's natural harmony. And just like the other lubricants on this list, this lube is safe to use with latex condoms and provides a silky-smooth glide to help with vaginal dryness and discomfort.
"Wow absolutely amazing feels like silk on your body and doesn't dry or go sticky" – Verified Purchaser
2. Kegel Balls
During menopause you may experience a weaking of your pelvic floor. A weakened pelvic floor can cause symptoms such as incontinence, pain during sex and other intimacy changes. One of the many ways to combat the weaking of these muscles is to practice Kegel exercises. Simple Kegel Exercises can help relax the vaginal muscles and improve circulation which can in turn improve vaginal dryness.
"Kegel Balls are great tools for strengthening our pelvic floor. Our pelvic floor consists of a group of interweaving muscles that support our bladder, uterus, rectum and small intestine. These muscles work like a sling to keep everything in place inside our bodies," Emma explained.
"As we age these muscles tend to loosen but things like menopause, pregnancy and childbirth and can weaken these muscles too. A weakened pelvic floor can result in prolapse of these muscles or incontinence. A strong pelvic floor can help to prevent these issues, but it can also help to give you stronger and longer lasting orgasms too! The stronger your pelvic floor muscles are the more blood flow that is sent to your pelvic region resulting in stronger contractions when you orgasm. That extra blood makes helps with becoming aroused and makes your genitals more sensitive to stimulation."
Here are Emma's top recommendations for ben wa balls to perform Kegel exercises:
Ovo L1 Love Balls
Ovo L1 Loveballs$34.95Shop Now Perfect for those new to Kegel exercises, the Ovo L1 Love Balls' small size makes them easy to insert and remove. These interchangeable balls, one heavier than the other, come in a smooth silicone casing that feels incredible against the skin. Upon insertion, your muscles automatically clench around the balls to hold them in place. This clenching works as a fantastic workout for your pelvic floor muscles. Not only do these balls help with strengthening your pelvic floor, but they also provide thrilling stimulation. It's a win win!
"I bought these not thinking they will make a difference... but honestly these are amazing .. definitely worth a purchase" – Verified Purchaser
"Can be used for training or pleasure. Fun tease to pop these in when out, and enjoy later." – Verified Purchaser
Elvie Kegel Trainer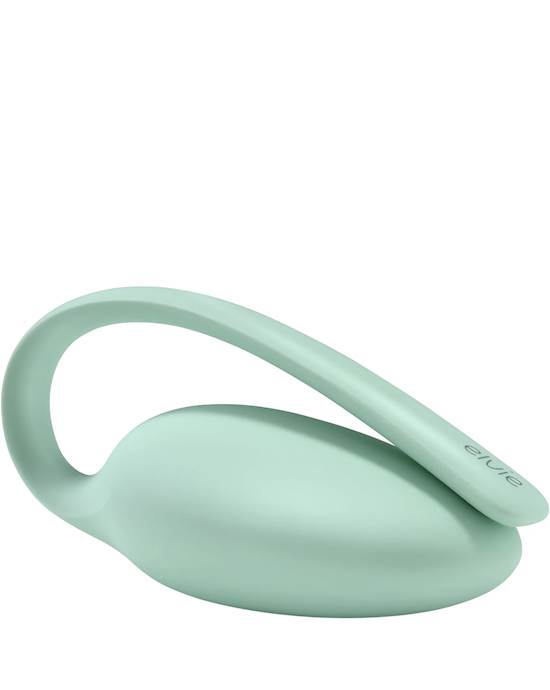 Elvie Kegel Trainer$329.95Shop Now Winning more than 11 awards, and loved by vagina owners worldwide, the Elvie Kegel Trainer is one smart sexual wellness product. This Kegel trainer visualises your pelvic floor movements in real time with biofeedback, a technique utilised by health care professionals.
With patented technology that measures force and motion this trainer helps you correctly perform pelvic floor exercises for maximum results. You can even connect this Kegel to the Elvie application to set reminder, goals and track your progress. 100% waterproof and made from medical-grade silicone, this silky-smooth toy is pretty much unbeatable.
Laselle Kegel Exerciser Set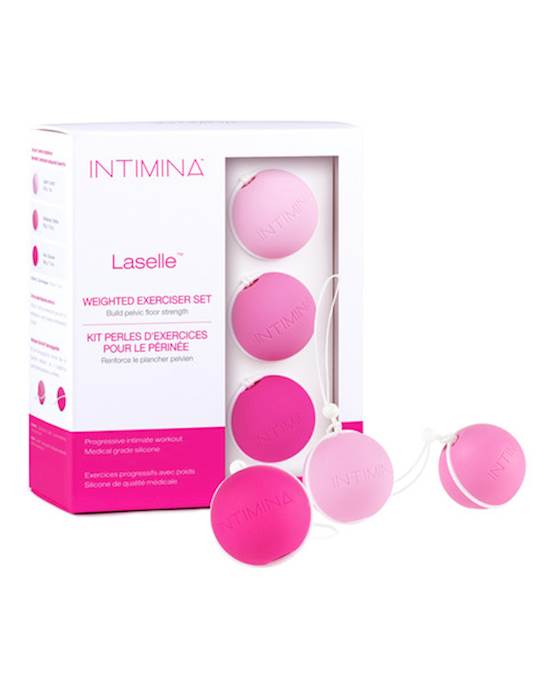 Laselle Kegel Exercisers Set$90.95Shop Now Take back control of your pelvic muscles with the Laselle Kegel Exerciser Set. This Kegel kit includes three weighted balls that graduate in weight allowing you to slowly regain strength in your pelvic floor. Made from 100% medical-grade silicone, these super smooth balls feel comfortable against the skin making Kegel workouts a pleasurable and comfortable experience.
3. Vaginal Dilators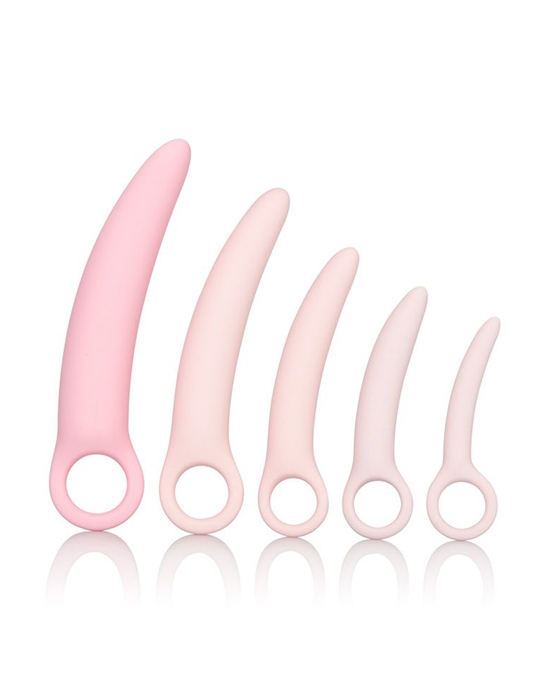 Inspire Silicone Dilator 5 Piece Set$204.95Shop Now Similar to Kegel Balls but different in shape and size, vaginal dilators are another great option for retraining your vaginal muscles and preparing yourself for penetration.
For example, the Inspire Silicone Dilator 5 Piece Set by Cal Exotics is designed to help you ease your way back into penetration and regain vaginal strength the Inspire Silicone Dilator 5 Piece Set features five body-safe silicone dilators that range in size. Each dilator has a tapered and smooth tip for easy insertion and a finger loop to control and remove the dilator.
"Soft silicone makes them enjoyable to use and would recommend them highly over hard plastic versions :)" – Verified Purchaser
4. External Vibrators
Once you have gone through menopause, your ovaries no longer produce estrogen and progesterone. These hormone changes can cause vaginal dryness, loss of sensitivity in the vagina and clitoris and the thinning of your vaginal tissue. If you run into any of these symptoms, external vibrator sex toys can be a fantastic way to increase the blood flow to the genitals to help create arousal, increase sensitivity and generate self-lubrication.
Here are a few recommendations for the best vibrators to use to help alleviate sexual health concerns caused by menopause.
Le Wand Petite Rechargeable Massager
Perfect for targeting the clitoris and increasing sensitivity, the Petite Rechargeable Massager by multi award winning sex toy company Le Wand, is your one way ticket to arousal.
This waterproof wand vibrator features 10 powerful vibration intensities, six vibration patterns, and a flexible head for targeted precision. Made from 100% Body-Safe Silicone, this wand feels great against the skin and can even be used to massage the body for some super sensual foreplay. View all wand vibrators here.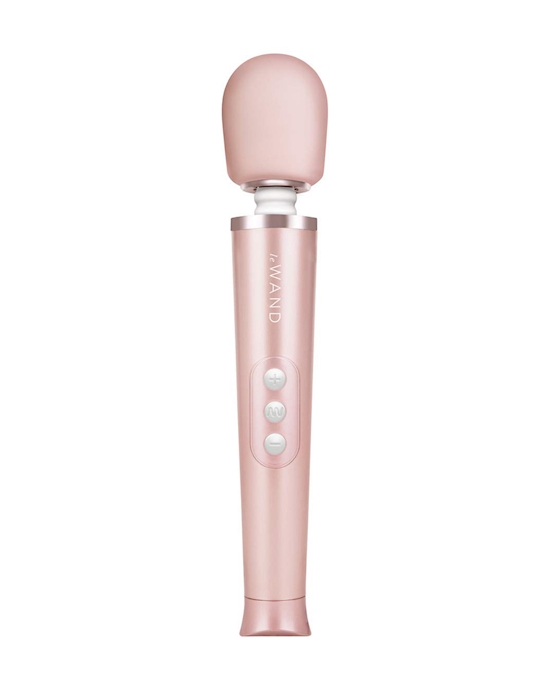 Le Wand Petite Rechargeable Massager$185.95Shop Now
Minu Lay On Vibrator
Stimulate your entire vulva with the Minu Lay On Vibrator. This vibe features two wings which encapsulate the vulva while the 10 vibration patterns work to stimulate all your pleasurable nerve endings. The unique design of this vibe makes for an incredibly sensual and non-invasive experience, making it perfect for rediscovering arousal without going off the deep end.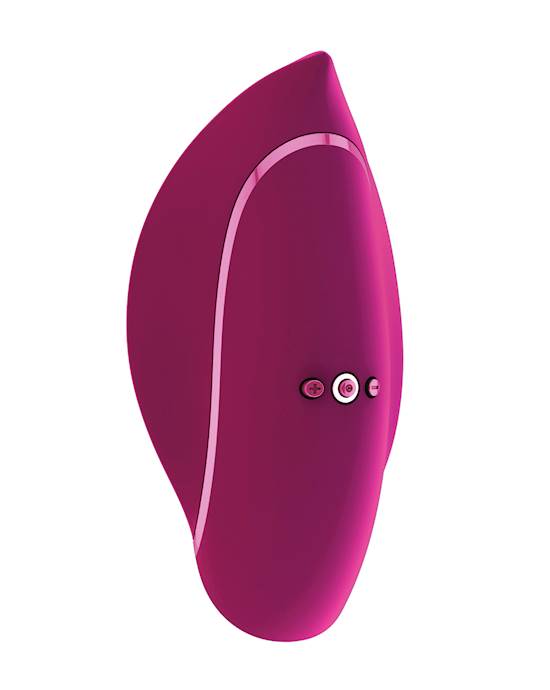 Minu - Lay On Vibrator $105.95Shop Now
Enhance your sexual wellness with sex toys and aids
It's normal to experience symptoms that affect your sexual wellness and sex life. However, there are products that can help. Check out Adulttoymegastore's full range of Lubricants, Kegel Balls and Vibrators to find something perfect for you.
Related articles
Content Disclaimer:
The information in this article has been fact checked and reviewed for accuracy by Adulttoymegastore's team of content specialists and sexual wellness experts, including Sex Educator Emma Hewitt.
Adulttoymegastore does not provide medical advice, diagnosis, or treatment for illness. Any information published on this website, either by Adulttoymegastore or its authors, is not intended to be a substitute for medical advice, and you should not take any action before consulting with a medical professional.