A Crash Course Guide to being a BDSM Dominant
Do you know what one of the most intoxicating and addicting things about BDSM is? Having someone under your control and mercy. It is exhilarating, knowing that you can choose to make them climax or make them wait for it, beg for it, until you allow them to do so. Seeing them in that state of release, gives you release as well by extension.
You feel the sense of euphoria spread through you as you whip your submissive's body, and after each delicious stroke, they ask, ever so politely:
"Please mistress, may I have another one?"
You, the dominant, then decide whether you reward them or punish them.
Ever got curious about being a dominant? Have you always fantasized about having someone else in your mercy, making them writhe and beg under you? Well, you have come to the right place! In this article, I will guide you on how to be a BDSM dominant and how to do so in a safe, sane, and consensual manner. Let's get down to it!
BDSM and the Dominant-submissive relationship
BDSM stands for Bondage, Dominance, Discipline, Submission, Sadism and Masochism. How one may engage in BDSM is commonly through a "Dom-sub" relationship or "D/s" – usually, the relationship comprises of the submissive, who gives up some or all their control to the dominant consensually.
Meanwhile, the dominant holds and exercises control over the submissive, by acting upon or doing things, such as impact play, to a submissive. According to Cynthia Slater, an early leader in the San Francisco Bay Area BDSM community, the best way to define the D/s relationship is "a consensual, eroticized exchange of power".
All acts between the dominant and submissive are consensual and negotiated beforehand and performed within the submissive's boundaries and within the boundaries of what the dominant wants to do.
D/s play or relationship can come in different forms, depending on one's preferences and needs (some do not even require physical or sexual contact). This can range from D/s Lovers (e.g., a monogamous relationship), master, and servant, 24/7 D/s, Female led Relationships or Femdom/FLR, and financial domination (yes, that is a thing!). So basically, you are only limited to your imagination, and you can do anything so long as both parties agree to it and can be contextualized within a D/s framework.
As the dominant (Dom, master, or sir if you identify as male. Domme, Domina or mistress if you identify as a female/femme), you are the assertive one, the director of your "play" or scene. According to sex and relationship coach, Azaria Mezes, your role as the dominant is "to lead, guide, protect, enforce, decide, etc. But most importantly, your role is to hold the space of trust and exercise control with responsibility".
Sure, whipping someone, edging them or using them as your personal footrest may seem fun in theory, but in practice, you cannot "domineer" people just for the sake of controlling someone else (that is the type of person who shouldn't be a dominant in the first place). A responsible dominant embodies humility and mercy as you are responsible for the safety of your submissive.
As I have mentioned in my previous BDSM articles, any kind of BDSM play requires health and safety precautions, self-knowledge, communication skills, and emotional maturity to have a mutually gratifying experience for all parties involved. This is especially important when playing the role of the dominant!
Here's what you need to do to be an amazing dominant
1. Educate Yourself
There is just so much information about being a dominant out there that I cannot possibly squeeze all of it into one article. I cannot stress enough, both as a submissive and sometimes practising Domme, that one must educate oneself before having someone else in their control.
First off, sexologist Carol Queen, PhD, recommends researching "what kinds of Dom-sub styles are out there, what they involve, what you might need to engage in it, and what kind of focus are you drawn to". This can be done by engaging with your local or online BDSM community (for online, there's Kink Academy and Fetlife), seeking out Kink educators, and doing some readings.
There are some amazing readings out there about being a dominant and D/s relationships, such as BDSM Mastery-Relationships: a guide for creating mindful relationships for Dominants and Submissives by Robert Rubel PhD and Jen Fairfield, a comprehensive guide on D/s relationships and the power dynamics that play into them.
Other readings I would recommend are:
2. Communication is Important AF
Like any good relationship, communication is key and, in a D/s relationship, it is vital! Both parties should be able to discuss with each other their concerns, innermost sexual desires, and turn-offs openly and comfortably. This is very important if you want to have an enjoyable and safe BDSM session.
As previously mentioned in my article, A Crash Course in BDSM for Newbies, nothing goes without the submissive saying so and consenting. This applies to the dominant as well! Just as the submissive can stop the scene with an agreed-upon safe word(s) when they feel they are reaching their limit, the dominant can stop too when they reach their limit.
Before commencing a BDSM session, either as a dominant or submissive, always have a sit down beforehand. Go over your boundaries and limits, check that both of you are on the same page as each other and ensure that communication is open, both outside of and in the session.
3. Prioritize Safety and Know Your Toys
Safe, sane, and consensual sex is the motto for the BDSM community and BDSM play (God, I say it so often I should consider embroidering it somewhere). According to Antonia Hall, transpersonal psychologist, sex educator, and author, both the submissive's and the dominant's physical, mental, and emotional safety are extremely important. Hall further goes on that "it is the dominant's responsibility to stay clear of mind, limit drug and alcohol use during role-play, stop the role-play before getting tired, and always be aware of the submissive's state of being".
Another dominant's responsibility is to be knowledgeable about the sex toys they want to use on their submissive. In a D/s relationship, which involves some level of discipline, caregiving and punishment, there is always potential harm or danger in D/s play, especially when it involves impact implements or rope.
Whether you are using vibrators, rope, riding crops, floggers, or blindfolds, make sure you know how each one works, how to correctly use them, what body parts to avoid hitting and what sensations each provides. If you don't, you run the risk of accidentally going too strong on your submissive or even hurting them.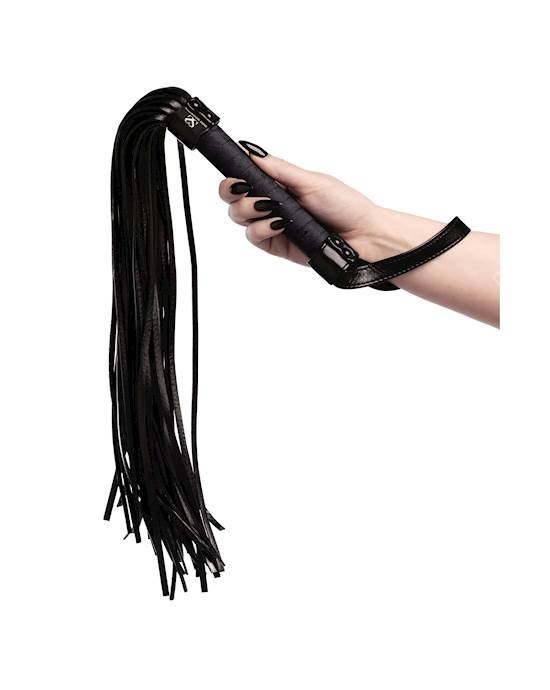 Bound Luxury Flogger $32.95Shop Now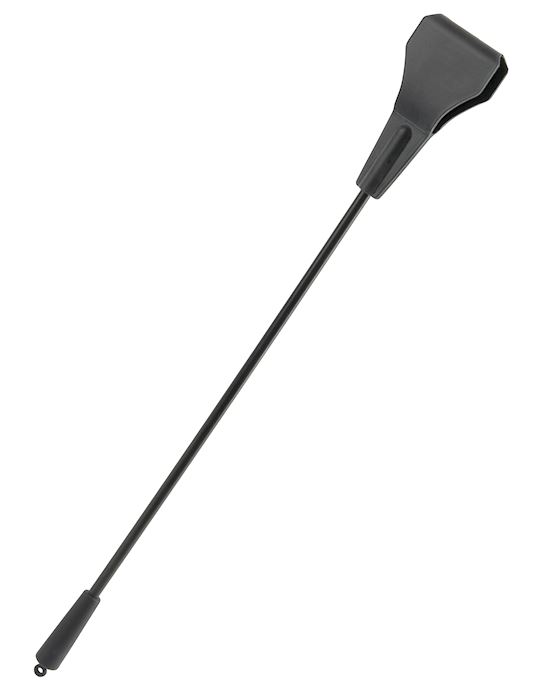 Fetish Fantasy Series Silicone Crop$21.95Shop Now
4. Establish Your Safe words
While discussing with your submissive about boundaries and limits, it is always important to establish a safe word. The safe word is there to stop or pause the session at any time when one has gone beyond their limit, comfort zone or pain threshold. This is a non-negotiable aspect of any safe and sane BDSM play and D/s play is no different.
I always recommend avoiding the words "stop" or "no," as they sometimes are used to heighten the excitement. For example, I use words like "Yellow Light" when I want to pause the scene, "Red Light" to stop the scene completely, and so forth.
When using restraints, such as handcuffs and mouth gags, establish "non-verbal" safe words or cues to use in the session. This can be from having a squeaky within easy reach, tapping the dominant's thigh or other parts of their body or doing two finger snaps.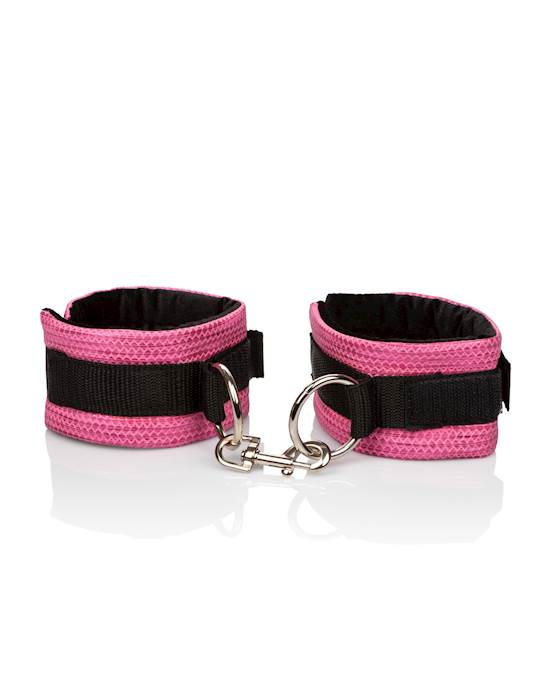 Calexotics Tickle Me Pink Universal Cuffs$49.95Shop Now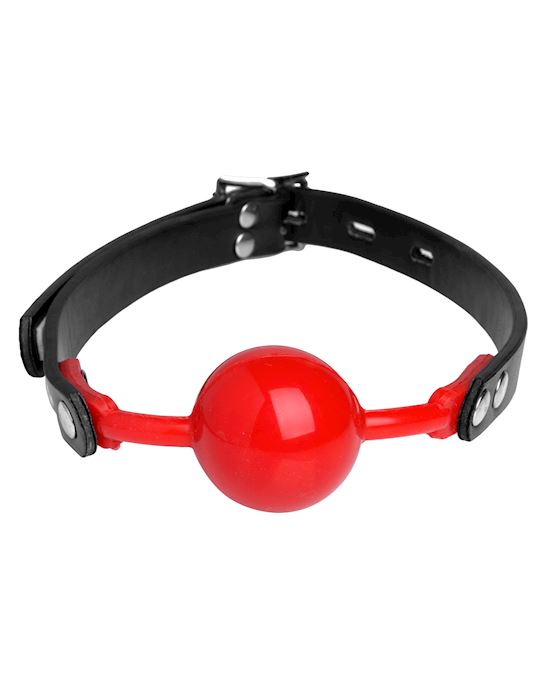 The Hush Gag Silicone Comfort Ball Gag$52.95Shop Now
5. Always Check in With Your Submissive
Even after you have discussed with your submissive their boundaries, limits, and safe word, you, the dominant, are still responsible for monitoring their safety, comfort, and pleasure levels – after all, both of you want mutual enjoyment!
During your D/s session, periodically check with your submissive how they are feeling. Saying a simple "you like that, don't you?" is a good way to ask without breaking character!
6. Do Not Skimp on the Aftercare!
As a dominant, providing aftercare both for yourself and your submissive is extremely important, as BDSM and D/s play is intense. There is where both of you can emotionally reset, have a chance to connect after the session ends and feel grounded and safe.
There are different types of aftercare such as tending to any wounds, icing bruises, giving a massage, offering food and drink, and cuddling each other. Aftercare is also a great time to discuss with each other what you liked about the session, what you didn't like, how you are feeling now and what could be improved the next time.
Artwork by the amazing@aimeeisokay.
References and further reading:
Read More:
Content disclaimer:
The information in this article has been fact-checked and reviewed for accuracy by Adulttoymegastore's team of content specialists and sexual wellness experts.
Adulttoymegastore does not provide medical advice, diagnosis, or treatment for illness. Any information published on this website, either by Adulttoymegastore or its authors, is not intended to be a substitute for medical advice, and you should not take any action before consulting with a medical professional.