Standard condoms are too big for the average penis
Condoms are TOO BIG for the average penis
When it comes to wearing condoms, men often complain about having to wear them because they reduce sensation during sex. But it turns out that there's another reason why men are refusing to wrap their tools – it's because standard condoms are actually too big for the average penis!
As it turns out, the standard size of condoms is all wrong.
Despite the well-known fact that condoms are the only birth-control method that protects against most sexually transmitted diseases, condom usage in Australia and New Zealand is on the decline.
A recent study of single, heterosexual men in Australia found only one in three (35 per cent) used a condom at their last sexual encounter with a casual partner.
And a report from the Centre for Social Research in Health found that less than half of the gay and bisexual men surveyed (47 per cent) always used condoms with casual partners.
Men often complain of discomfort, diminished sensation and poor fit when it comes to wearing condoms. The real reason for this decrease in sensations may be due to standard condom sizes being too big for the average penis!
Until recently, standard condoms had to be at least 6.69 inches (17cm) long, but studies find the average erect penis is roughly 2.5cm shorter, the New York Times reported.
"The idea was it had to be long enough to fit most men, and excess length could just be rolled," Debby Herbenick, a sexual health expert at Indiana University said.
She and her colleagues published a study of 1661 men living throughout the United States that found that 83 per cent had penile lengths shorter than standard condoms. The average length was 5.57 inches (14.15cm).
According to a more global study by British researchers published in the BJU International journal of urology, the average penis is 13.12cm in length when erect.
Buying sized condoms is easy
Condom brands with different sizing available are becoming more popular, because they give men a tighter, better fit that allows for optimum sensation during sex.
My.Size is one of the most popular sized condom brands, offering seven different sizes for a perfect fit. You can buy My.Size condoms here.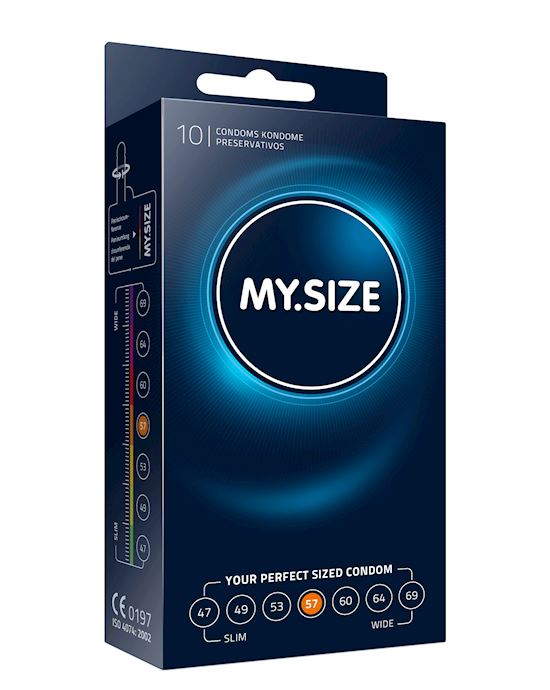 My Size Condoms 57mm 10pk$31.95Shop Now
RELATED ARTICLES:
Is it time to stock up on condoms?
Condoms come in all shapes, sizes and flavours so make sure you find the right style for you and your partner. Also remember that condoms can be used during either vaginal or anal sex.