Beginner's Guide to Cock Ring Plugs (Penis Rings with Butt Plugs Attached!)
Did you know that there's such thing as cock rings with butt plugs attached? Well there is, and they're AMAZING! Here's everything you need to know about them.
Combining the power of a cock ring with the pleasure of a butt plug, cock ring plugs are a must have toy for those wanting to achieve harder and longer lasting erections while enjoying the titillating sensations of an anal toy.
If you're new to the world of cock ring plugs, then picking out the right one can be a bit of a challenge. That's why with the help of local sex educator Emma Hewitt we created this ultimate beginner's guide to selecting and using a cock ring plug, so you know everything you need to know before you get started!
What are cock ring plugs?
Cock ring plugs are unique toys that include both a cock ring and a butt plug all in the same unit. Some cock rings may also include an extra ball loop too. These unique toys provide both anal stimulation and the benefits of a cock ring in one!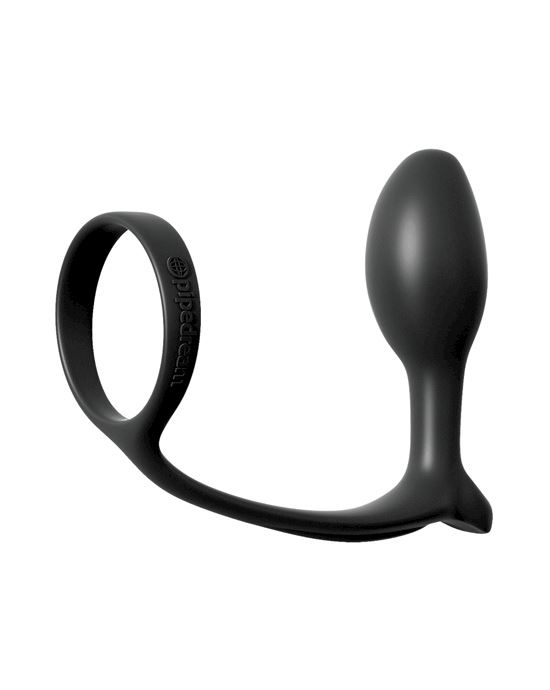 Anal Fantasy Collection Ass-gasm Cockring Beginners Butt Plug$27.95Shop Now
Why would you use a cock ring plug?
Cock rings prevent the blood from flowing out of an erection helping you to maintain that erection for longer, and it can help to make it feel stronger too. It can also make your orgasm feel more intense when you get there.
On the other hand, butt plugs are all about creating more intensity and stimulation to your play. Butt plugs stimulate the nerve endings of the booty which feels super pleasurable, they create a feeling of fullness and depending on the size and shape of your plug, they can offer prostate stimulation too which can make your orgasm feel a lot more intense. This toy combines all of that into a small package making them, ideal for more experienced users.
"They aren't for the faint hearted and I would recommend this type of toy to those that already have cock ring experience and hopefully some anal play experience too." – says Emma Hewitt, sex educator.
What do I need to know before using a cock ring plug?
When it comes to anal play, lube is your friend! The booty does not self-lubricate so you need to apply lots of lubricant to the toy to ensure that you can insert and remove it safely and comfortably.
Putting on a cock ring plug can be a little tricky as it can involve some tugging and maneuvering. We recommend using lube on both the plug and the inside of the ring as well to help get it on comfortably and get the ring on first before inserting the anal plug.
With stretchy materials like silicone, it tends to be easier to get the ring on while you are already erect, whereas a firm material like metal requires a flaccid penis.
Learn how to prepare your body for anal play: Read more
What are the different types of cock ring plugs?
What are the most popular types of cock ring plugs, you ask? Well, there are six of them! Here are the different types of c-ring plugs and Emma's top recommendation for each type.
1. Classic Style: Ass-gasm Cock Ring Plug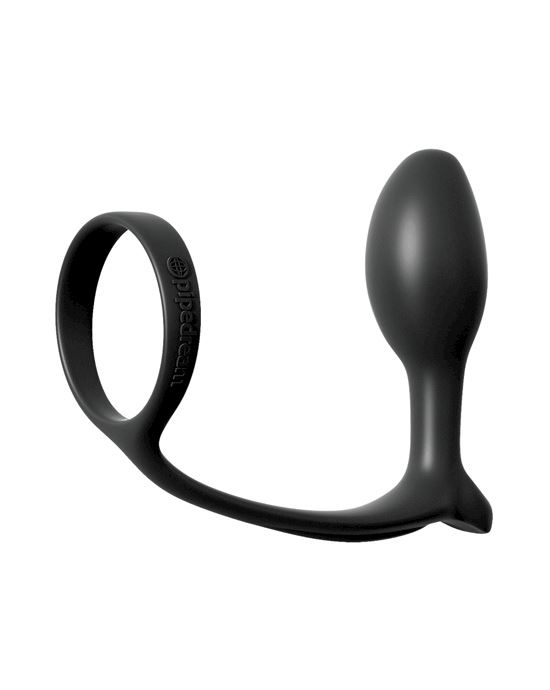 Anal Fantasy Collection Ass-gasm Cockring Beginners Butt Plug$27.95Shop Now
Starting with the Ass-Gasm by Anal Fantasy; we already know what you are thinking, it's a funny name.
This toy is made from soft silicone making the ring and connector nice and stretchy so it's fairly easy to get on and off. The ring is also pretty large so it's not too tight a fit. If you are looking for a tighter fit, you can use the ring around the penis and the scrotum. The plug is somewhat firm with a bit of squishiness around the outside making it great for applying pressure to the prostate and even more so as you orgasm and your muscles clench around the plug.
"The product looks good, feels good inserts easily with lube." – Verified Purchaser
2. Vibrating Cock Ring Plug: Ass-gasm Cock Ring Vibrating Plug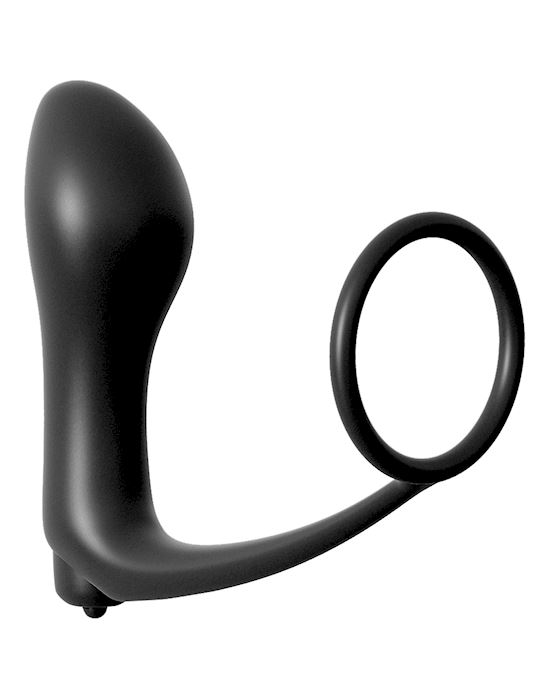 Anal Fantasy Collection Ass-gasm Cockring Vibrating Plug$48.95Shop Now
Wanting to add some vibration into the mix? Then the Elite Collection Rechargeable Ass-Gasm Pro is all you could want and more.
This cock-ring plug is the exact same toy as the Ass-Gasm plus 10 impressive vibrating functions which can be cycled through at the simple click of a button. This will stimulate deep into the prostate targeting more of the area than massage can achieve. The bullet is really long meaning that it reaches to the top of the plug so you can feel the vibes throughout the length of the toy.
"Perfect for beginners, adds a new sensation of pleasure." – Verified Purchaser
"Really enjoyed the standard plug but having the vibration has just made it sooo much better" – Verified Purchaser
3. Anal Bead Cock Ring Plug: Fetish Fantasy Ball Cinch with Beads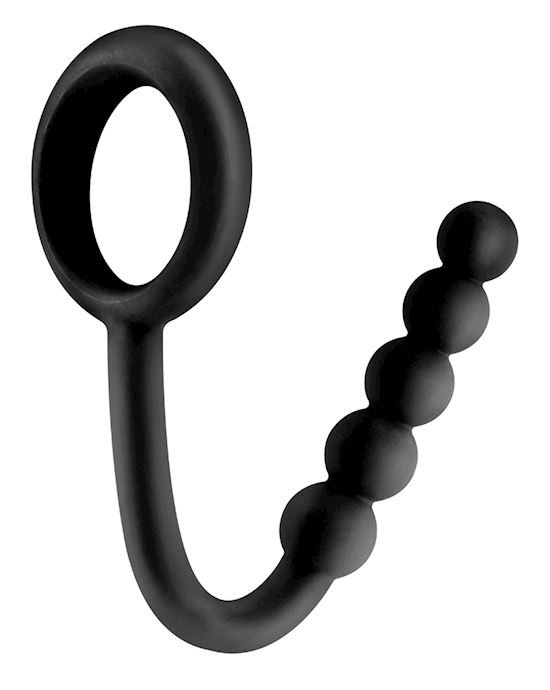 Fetish Fantasy Elite Ball Cinch With Anal Bead$29.95Shop Now
If a plug isn't your thing, then maybe anal beads are more up your alley? The Elite Ball Clinch with Anal Beads toy by Fetish Fantasy is another silicone option with a set of anal beads in graduating sizes. It's also silicone and flexible with the beads being firm enough to insert easily but still with a little squishiness so they are really comfortable to wear.
The ring is designed to be worn around both the scrotum and the shaft of the penis, so it is pretty stretchy but feels secure once in place. Rather than simply leaving the beads in place you can move them in and out of the body slowly to experience the full effect of each bulb stimulating the sphincter muscles.
4. Joystick Style: Optimale C-ring P-spot Massager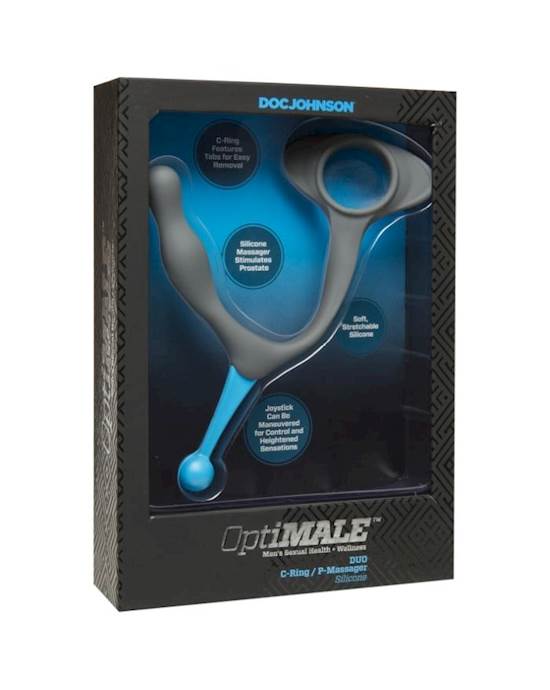 Optimale - Duo C-ring & P-massager $91.95Shop Now
If you want total control over the prostate massager then a toy that has a control handle, or 'joystick' as Optimale calls it, is likely the perfect option. With the Duo C-Ring & P-Massager you get the cock ring which is quite a firm ring with a snug fit and these wide wings for extra stimulation. The anal section is relatively thin and quite firm silicone. Then you have the plastic handle that stays outside the body so you can use it to massage the prostate.
"It's important to remember that a slimmer shaft makes it more difficult to locate and stimulate the prostate so having a handle like this makes it a lot easier to use." – Emma explains.
5. Double Loop Style: Rocks Off Ro-Zen Ring & Plug
Some cock ring plugs have multiple loops for your penis and testicles for a comfortable and secure fit. The Ro-Zen by Rocks Off has a silicone loop for the penis and this second one for the testicles to go through. It has a big bulbous butt plug and some extra fun little knubs here for stimulating the perineum. With a removable bullet vibrator with multiple speeds and vibration patterns, this toy is perfect for some extra stimulation.
6. Metal Cock Ring Plug: Kink Range Ring & Anal Anchor
For those with some experience under their belt, a metal style toy can be a whole lot of fun. The Anal Anchor Ball Ring by Kinki provides pleasurable heaviness while adding extra pressure to your body. Made out of stainless steel, this toy can be heated or cooled prior to play for totally different sensations.
"As you can guess, metal has no flexibility like the other silicone toys so you will need to be flaccid to get it on and it will only be removed while flaccid again too." Explains Emma.
"As there is no flexibility, you need to ensure you get the right fit for your body as it is too large or too small, it's not going to fit comfortably and it's not going to do what it's meant to do."
Are you keen to give a cock ring plug a try?
Great! Check out Adulttoymegastore's full selection of cock ring anal plugs to find one perfect for you!
Related Articles:
Content Disclaimer:
The information in this article has been fact checked and reviewed for accuracy by Adulttoymegastore's team of content specialists and sexual wellness experts, including Sex Educator Emma Hewitt.
Adulttoymegastore does not provide medical advice, diagnosis, or treatment for illness. Any information published on this website, either by Adulttoymegastore or its authors, is not intended to be a substitute for medical advice, and you should not take any action before consulting with a medical professional.