Glass Sex Toy Reviews: Lucent by Share Satisfaction
Curious about glass sex toys and what they feel like? Our sex toy testers reviewed glass toys by Lucent to help you decide which one's best for you! Here's what they thought.
But first, here's a little background about glass sex toys and the Lucent range.
Glass sex toy sales are on the rise, with sales of glass toys increasing by a whopping 47.59% in Australasia since 2020, according to data from Wholesale Solutions, Australasia's largest distributor of adult products.
Lucent was launched by popular New Zealand sexual wellness brand Share Satisfaction in March 2022. The collection contains 30 gender neutral sex toys made from super strong borosilicate glass that can be warmed up or cooled down for experimenting with temperature play.
The firmness and heaviness of glass toys are a key reason people love them—they're perfect for providing internal massage of the g-spot and p-spot. Due to the materials used, glass sex toys are a more environmentally friendly option, are 100% body-safe and they'll last a lifetime if you look after them.
Want to learn more about glass toys? Check out the article or video below to learn everything you need to know:
Now for what our reviewers thought about the Lucent range!
Lucent Dragon Tail Glass Massager Review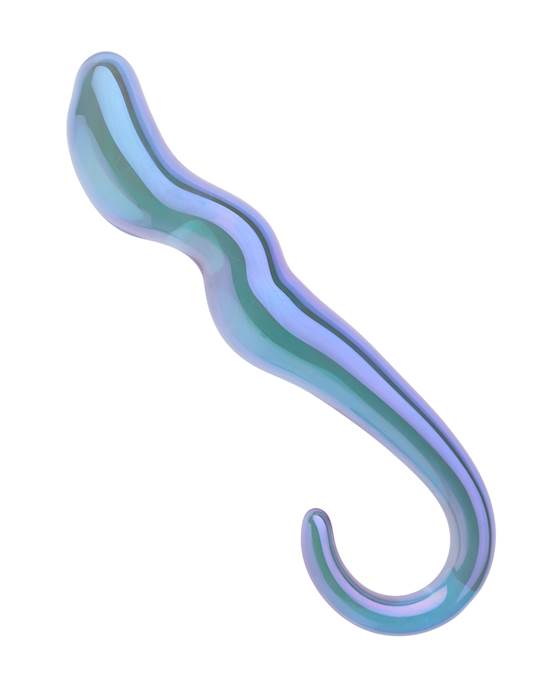 Lucent Dragon Tail Glass Massager - 7 Inch$87.95Shop Now
First of all, just wow! Glass is a material I had never explored before, and I was very impressed. The firmness of glass and the curved shape of the Lucent Dragon Tail Glass Sex Toy is perfect for g-spot and p-spot stimulation. Such a firm internal massage was not something I had experienced before, and my life has now been changed for the better!
In fact, I actually managed to squirt for the first time in my life which was a very welcomed surprise (my poor sheets!).
Accessibility wise, the long curved handle made it incredibly easy for me to hold and move independently. Both with the loop facings towards you or away allows for a highly pleasurable experience, without causing hand and wrist pain. Glass tends to be a heavy material; however, I found this toy to be very light and did not cause fatigue in my hands. I would say this toy is suitable for a wide range of hand mobility capacities, as long as you can grasp a looped end.
Aesthetics are something I highly value, especially within sex toys. This toy surpasses expectations and honestly the photos do not do it justice. The way it captures light with shades of purple, blue, and green is mesmerising to look at, and I am very impressed.
Sensation play is something I have dabbled in, but this brought it to a new level! Through heating or cooling in a mug of warm/cold water, you can experience unique sensations. This toy retains temperature very well and lead to some very pleasurable experiences.
Overall, I am highly impressed with this toy and will definitely experiment more with glass toys! The new Lucent range is stunning, and I would highly recommend to anyone with any level of experience with glass! 5/5! - Evan Johnson.
Lucent Azure Glass Butt Plug 4.5 inch Review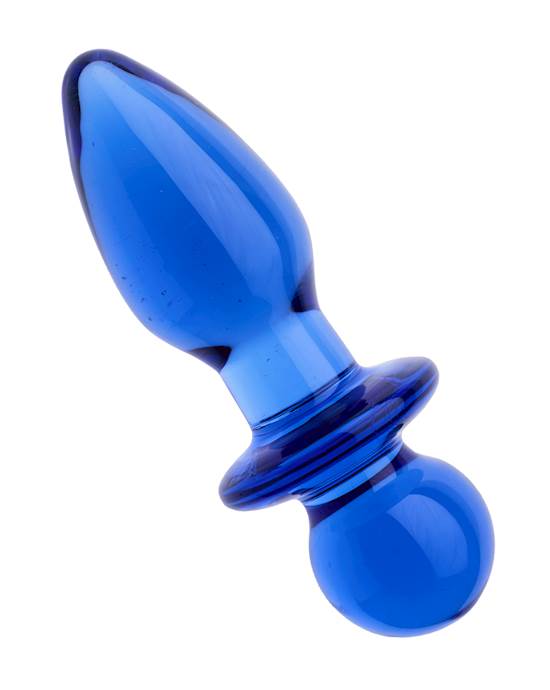 Lucent Azure Bulbed Glass Butt Plug - 4.5 Inch$62.95Shop Now
The 4.5-inch Azure Glass Butt Plug by Lucent was actually my first experience with a glass toy AND with a butt plug, so I was pretty excited to receive it in the mail! The package and product itself are very luxurious in aesthetic, and I like that the box can be kept and used to store and protect the toy.
The shape and style of the blown glass is very pretty, and I suddenly understand why some people buy this type of product for decorative reasons, but of course that was not my intended use for it…
As a complete butt plug newbie, the size and shape weren't too intimidating – bigger than a couple of fingers but not so girthy that it would make you faint! Insertion was incredibly easy with the use of lubricant to help, and I think the smooth glass made it even easier. Unsurprisingly a glass toy has quite a hard feel to it, and there isn't any flexibility to its edges, which is by no means a bad thing!
It actually makes for a more sensitive experience with the slightest of movement. If you're the type to enjoy wearing a plug throughout the day, you should just be aware that with this toy there would be no chance of you ever forgetting it was there!
It was very enjoyable to use on my own and would be easy to incorporate with a partner for a bit of extra fun and feeling. One critique I have is that once lube is thrown in the mix, the toy can become quite slippery due to the smooth glass, and so maintaining a grip during use can take a little effort.
Overall, when considering aesthetic, size, and ease and pleasure of use, I would score this beautiful butt plug a solid 4 out of 5! – Laura Gardner.
Lucent Nessa Vibrating Glass Massager Review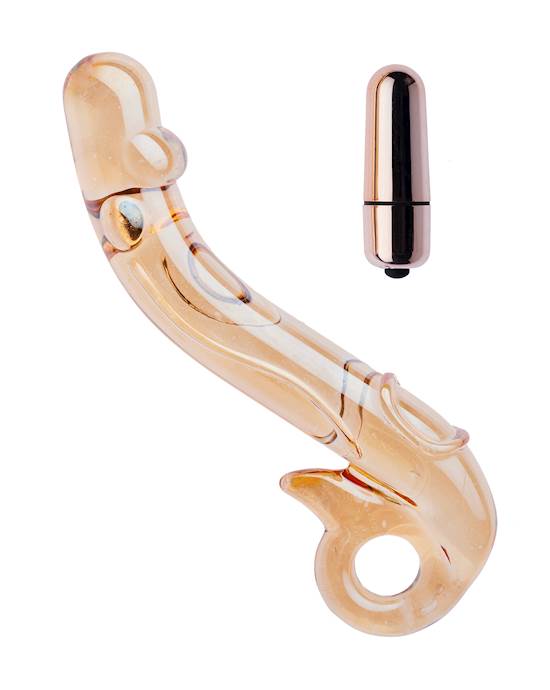 Lucent Nessa Vibrating Glass Massager - 7 Inch$88.95Shop Now
"Sex + Art = the Lucent Nessa Vibrating Glass Massager" – Vanessa de Largie, Sex Columnist & Podcast Host.
This charming piece is a must-have for fellow sex-toy collectors. The light orange sex-toy, which is shaped like a seahorse is light-weight and 7-inches in length.
A bullet vibe comes with the Lucent Nessa Glass Dildo and fits snugly in the tail of the toy – making the shaft vibrate. I prefer the curves in this toy in comparison to a more linear design because it's great for g-spot orgasms and much easier to use in the bath.
My only complaint about this glass massager is the larger raised bump on the insertable tip. The toy would have been more pleasurable for me without it.
I'm grateful to have this glass massager as part of my sex-toy collection and feel it's a piece that would be most appreciated by artists, hedonists and creatives. I give the Lucent Nessa Vibrating Glass Massager 4/5 stars! - Vanessa de Largie.
Lucent 7-inch Vibra Glass Vibrator Review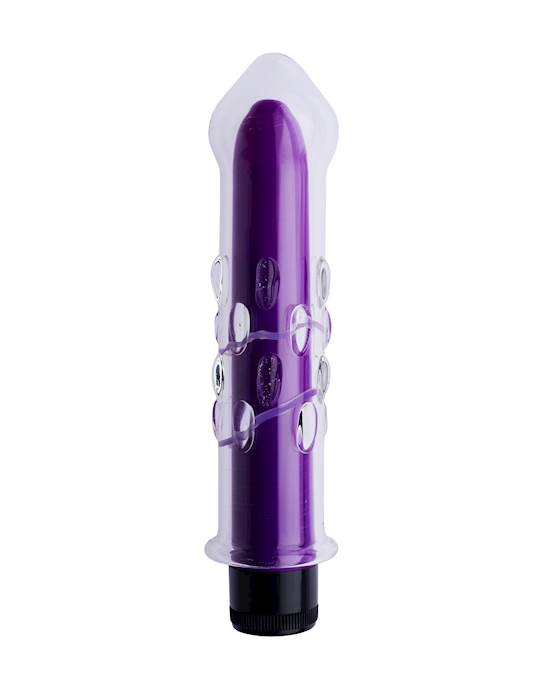 Lucent Vibra Glass Vibrator - 7 Inch$85.95Shop Now
I had never tried glass sex toys before, so I was very excited to get the opportunity to try one out for myself! First, the packaging is beautiful, beautiful enough to have out as a display case! The 7-inch Vibra Glass Dildo by Lucent is also stunning visually, made of strong handblown glass with teardrop bumps, it's nice to touch as well.
However, things went downhill for me as soon as I tried it out. First off, it is annoying to put the glass part of the dildo back onto the vibrator as the silicone O-rings used to stabilize the vibrator in the glass pushes against you. This is especially annoying if you popped the batteries into the vibrator too. So, this was going to be an effort every time it was time to use and clean the toy.
The vibrations and glass felt so good when rubbed against my clit and general vaginal area, the mix of the vibrations and the nice, smooth exterior of the glass really got me going during foreplay. That soon ended when I tried to insert the toy inside me. It was too girthy for me!
The widened head and teardrop texturing was a plus when it was rubbed against me, but inside me was a different story. These two features made it very uncomfortable for me, where it would be a plus for others. Because of the nature of glass, it was unyielding and not as accommodating as a silicone sex toy.
Because this was my first glass toy, I probably should've gone with something less girthy, but I do enjoy the aesthetic and feel of a glass toy, so it hasn't scared me off completely! Honestly, will still use this toy for clitoral stimulation. 3.5 out of 5 for me! – Rita Kim.
Is it time to try a glass dildo?
We think yes! Shop the collection of Lucent glass and crystal sex toys here. What are you waiting for? Buy glass dildos here and add a beautiful glass toy to your collection today!
Learn more about glass toys:
Expand your knowledge by reading these guides by our sexperts:
Content disclaimer:
Adulttoymegastore does not provide medical advice, diagnosis, or treatment for illness. Any information published on this website, either by Adulttoymegastore or its authors, is not intended to be a substitute for medical advice, and you should not take any action before consulting with a medical professional.