10 Best Anal Training Kits for Beginners (Sex Educator's Picks)
Anal training is essential for easing yourself into safe, pleasurable and pain-free anal play. Here are the 10 best anal training kits according to a sex educator and anal expert!
Introducing anal play into your solo or partnered sex life can be a thrilling and rewarding experience. But despite this excitement, it's important to know that you need to learn to walk before you can run. That's where an anal training kit comes in. These kits are specifically designed to help you ease into anal penetration for the most pleasurable and gentle experience.
So, with the help of sex educator and self-confessed 'Anal Queen' Emma Hewitt, we have hand-picked the 10 best anal training kits for beginners to help you find the perfect booty kit!
Why use an anal training kit?
Before we dive right in, let's quickly go over why anal training kits are the perfect way to ease into anal play, including anal toys and anal sex.
Sex educator, Emma Hewitt, said anal training kits are the safest way to ease yourself into anal sex and other forms of play.
"Anal training kits are all about giving your body the adequate time, care and stretch to move up to those larger sizes. It's the safest way to reach your size goals without harming your body," she explained.
"If your plan is to use a kit to prepare your body for anal play with a penis, you need to make sure the largest plug in the set is about the same size or slightly larger than the penis. That way, when it comes to having anal sex, your body should be pretty well prepared."
Now with that in mind, let's discover the 10 best anal kits to begin your anal training journey!
1. Anal Trainer Set by Share Satisfaction
You can't go wrong with a classic sleek black butt plug. And with the Pop by Share Satisfaction Anal Trainer Set you can have three! This kit includes three silicone butt plugs with suction cups. Graduating in size, these butt plugs have a tapered shape which makes insertion a breeze and maximizes pleasure. The suction cup bases allow you to stick these plugs to most flat surfaces so you can enjoy some hands-free fun!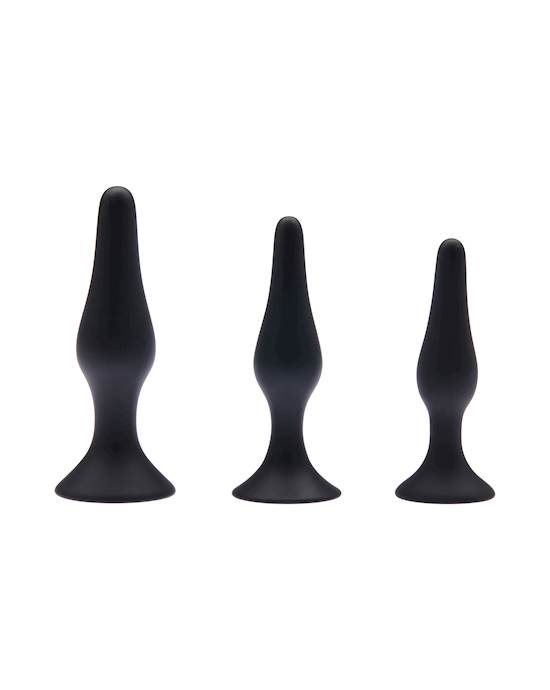 Share Satisfaction 3 Piece Plug Kit$49.95Shop Now
2. Share Satisfaction Anal Trainer Kit
Another great option by luxury sex toy brand Share Satisfaction, is this super fun purple Anal Trainer Kit. Made for beginners, this entry level kit includes a finger plug, suction cup butt plug and anal beads.
Both plugs feature soft rounded heads that gradually widen before tapering in towards the base for easy, pain free insertion. When you are ready to spice things up, the graduating anal beads provide exciting sensations hen inserted and pulled out. Using the nine different beads, you can also get an indication for how well your anal training progress going.
"Great value for the price plus the material is great for getting into plugs as they were very forgiving on newbies." – Verified Purchaser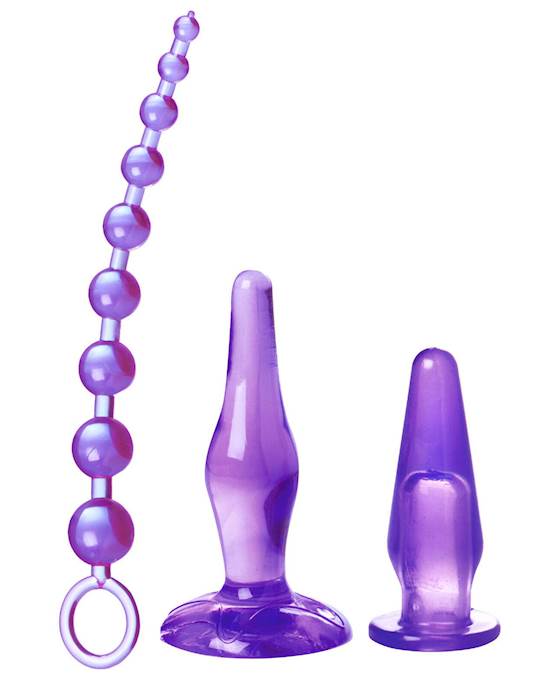 Share Satisfaction Anal Trainer Kit$26.95Shop Now
3. B-Vibe Anal Training and Education Set
Say hello to the ultimate Anal Training and Education Set by the experts of anal toys B-Vibe. This kit has everything you need to safely ease your way into anal penetration. With three different anal plugs graduating in size, this kit allows you to start small and work your way up at your own pace.
Once you are comfortable, the medium butt plug has as vibration option so you can enjoy thrilling vibration that stimulate the G-Spot or Prostate! But that's not all, this comprehensive kit also features a lubricant applicator, an anal enema, zipper travel bag and a complete guide to anal play. With this set, you will be an anal expert before you know it.
"Good quality, nice selection, super informative!" – Verified Purchaser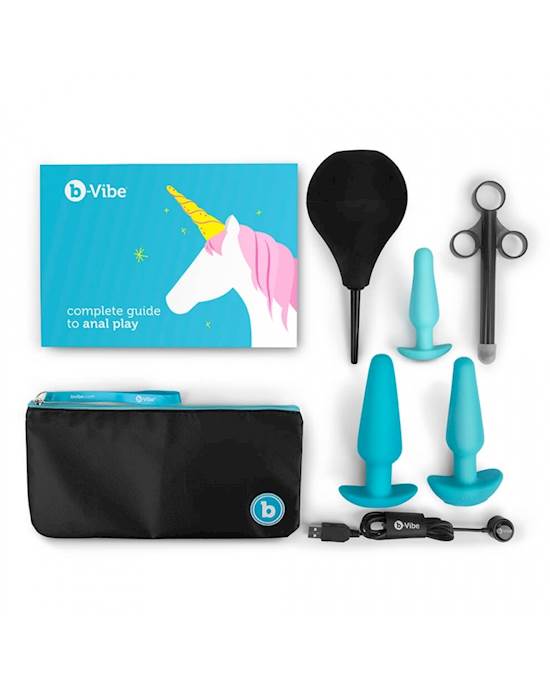 B-vibe Anal Training And Education Set$204.95Shop Now
4. Chrome Hearts 3-Piece Anal Plugs with Gems
Need a little sparkle in your life? This Chrome Hearts 3 Piece Anal Plugs Set, will bedazzle your back door while providing you with comfortable stimulation. Made out of durable metal, these three graduating plugs are compatible with all lubricant types and are more weighted than their silicone counterparts so you can enjoy a fuller feeling.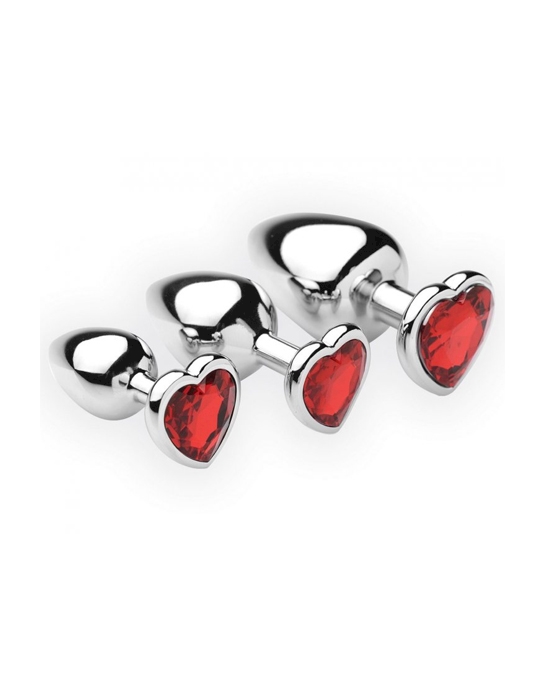 Chrome Hearts 3 Piece Anal Plugs With Gems$157.95Shop Now
5. Firefly Trainer Kit Multicolor
Add a pop of colour into your anal training with the Multicolour Firefly Trainer Kit. This colourful set of three graduating anal plugs provides an enjoyable and safe way to explore anal play. Most exciting of all, these three plugs have suction cup bases for hands-free fun and are glow in the dark so you can turn off the lights and turn yourself on!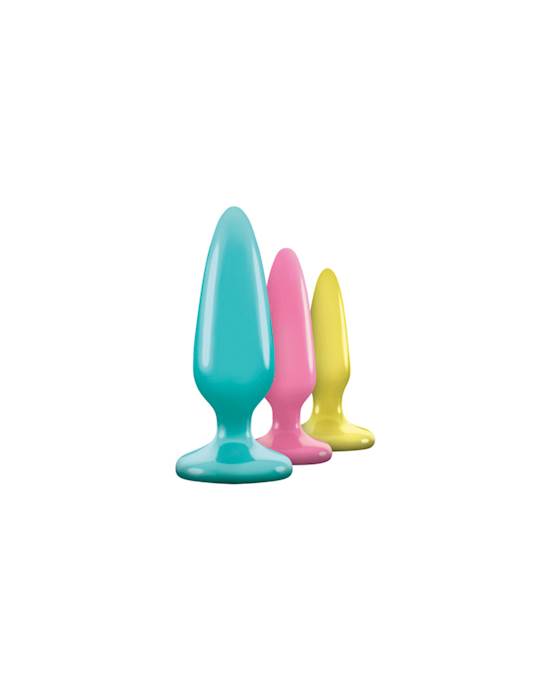 Firefly Trainer Kit Multicolor$43.95Shop Now
6. 3-Piece Prostate Stimulator Set
If you have a prostate and have not yet explored the incredible sensations of P-spot stimulation, then you are seriously missing out! Perfect for exploring one of your most sensitive areas, the 3 Piece Prostate Stimulator Set will take your personal pleasures to all new heights. The sleek tapered shape of these prostate massagers ensures that you P-spot is perfectly targeted. Made from velvety-smooth medical grade silicone, these massagers feel super comfortable inside the body. The external tickler simultaneously stimulates your perineum for earthshattering orgasms!
Learn more: Everything you need to know about milking the prostate and p-spot orgasms.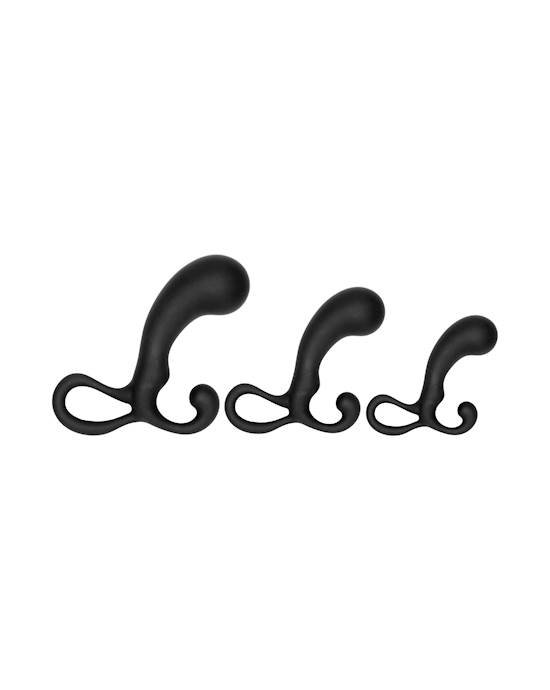 3 - Piece Prostate Stimulator Set $55.95Shop Now
7. 3-Piece Anal Play Kit
With a range of different shapes and sizes, this 3 Piece Anal Play Kit allows you explore different forms of exciting anal stimulation. Tapered for easy insertion, each plug has a curved ergonomic base to help keep in place even when during your wildest sexual ventures.
"First time use definitely spiced things up for my partner and I, perfect for a rookie" – Verified Purchaser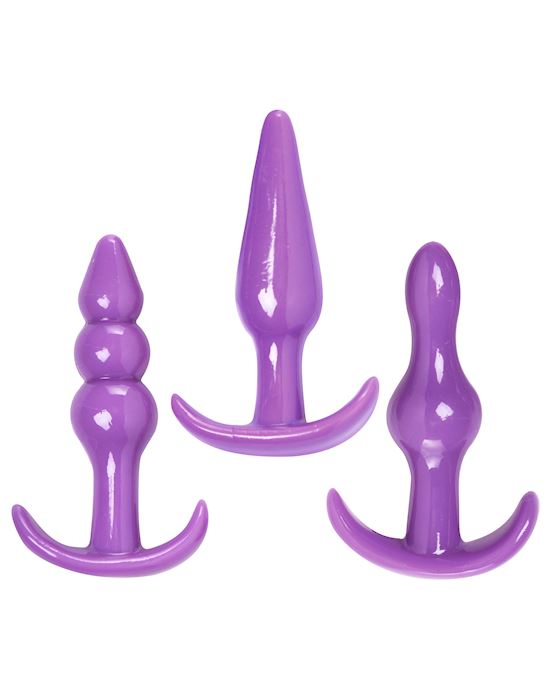 3 Piece Anal Play Kit$43.95Shop Now
8. Fifty Shades of Grey Pleasure Overload Take it Slow
Experience anal play red-room-style with Fifty Shades of Grey Pleasure Overload Take it Slow anal training kit. This four-piece anal set features an anal douche, butt plug, anal beads and a vibrating butt plug.
Each toy has a flared based and/or finger loops so you can fully indulge in anal play without any worries. With 10 vibration patterns, the butt plug provides titillating full body stimulation. The six graduating anal beads feel incredible upon insertion and when pulled out.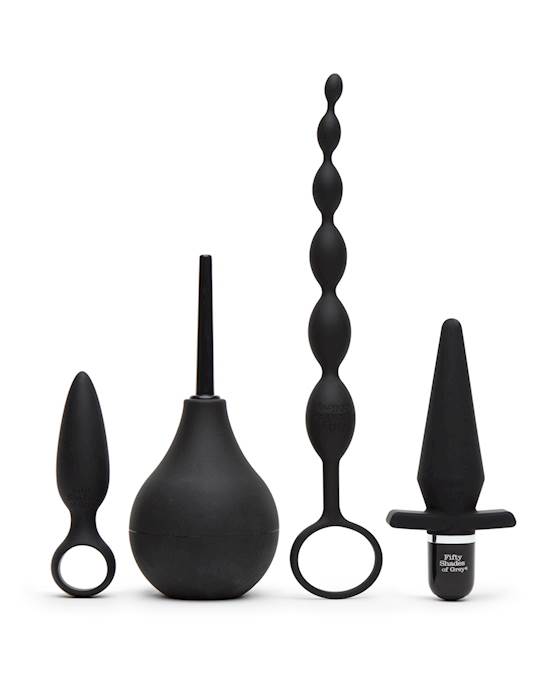 Fifty Shades Of Grey Pleasure Overload Take It Slow$77.95Shop Now
9. Anal Training Kit by Hustler Sex Toys
Invigorate your sex life with this hot pink Anal Training Kit by Hustler Sex Toys. This set includes a a variety of sizes so you can gradually work your way up at your own pace!
"My partner and I just ventured into anal play, and these toys have made it so easy! Great toys for anal training to work your way up to anal sex." – Verified Purchaser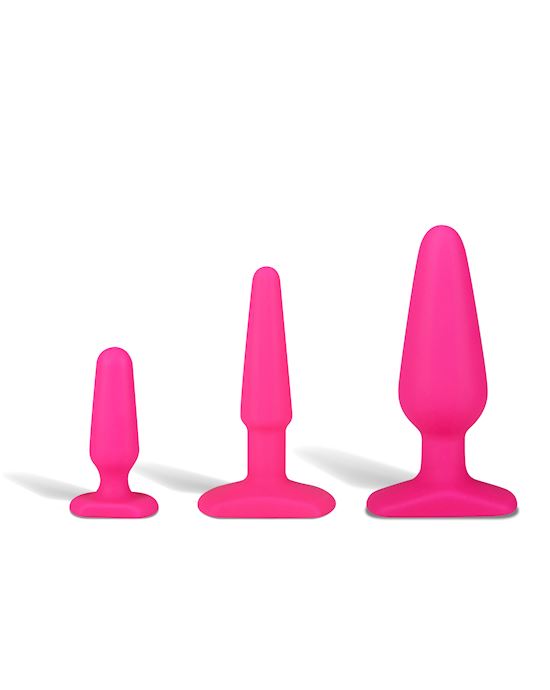 Anal Training Kit$56.95Shop Now
10. Anal Fantasy Collection Deluxe Fantasy Kit
We're finishing this list off with a bang. The Deluxe Fantasy Kit by the experts in back door fun, Anal Fantasy, leaves no grounds uncovered. This kit includes a grand total of six anal toys and even contains a five-piece prep kit to help you ease into comfort and clean up afterwards.
With a 9-Function Prostate Vibe, Boyfriend Beads, a Suction Cup Anal plug, Deluxe Vibro Balls, Beginner's power beads and a tushy teaser, this kit has everything, and we mean EVERYTHING you need to ease your way into comfortable anal play and to help with the clean up afterwards!
"All you need to start exploring" – Verified Purchaser
"This is so much fun for me and the boyfriend as we can play together" – Verified Purchaser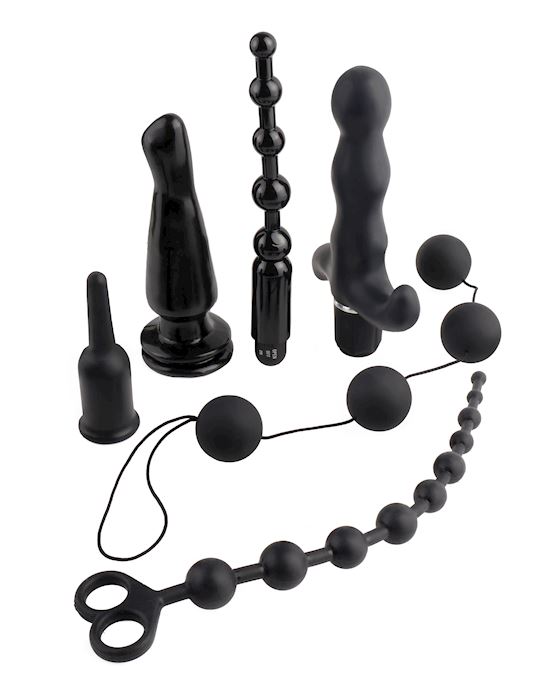 Anal Fantasy Collection Deluxe Fantasy Kit$140.95Shop Now
Quick tips for using anal training kits
Now that you have plenty of great options for anal training kits to get started with, Emma said it's important to know how to play safe and has offered her top tips.
"The butt is an area with a really high concentration of nerves endings meaning there is a lot of pleasure potential in this area if you are willing to explore it! Keep in mind the three pillars of amazing anal play," she explained.
Lubrication
Relaxation
Communication
"Communication usually refers to play with a partner, but I consider it staying in touch with your own body too and paying attention to any signs of discomfort. If you need to stop, stop. Add more lube, stimulate elsewhere on your body to help you relax or try again another day. It's doesn't always go the way we want to and that's ok," Emma said.
"Always remember to lube up when exploring anal play of anal kind!"
Watch the short video below where Emma will explain how to prepare your body for anal play.
Shop anal toys and begin your anal exploration
Still unsure whether an anal training kit is right for you? Why not check out Adulttoymegastore's full selection of anal toys and order something new today. And don't forget the lube!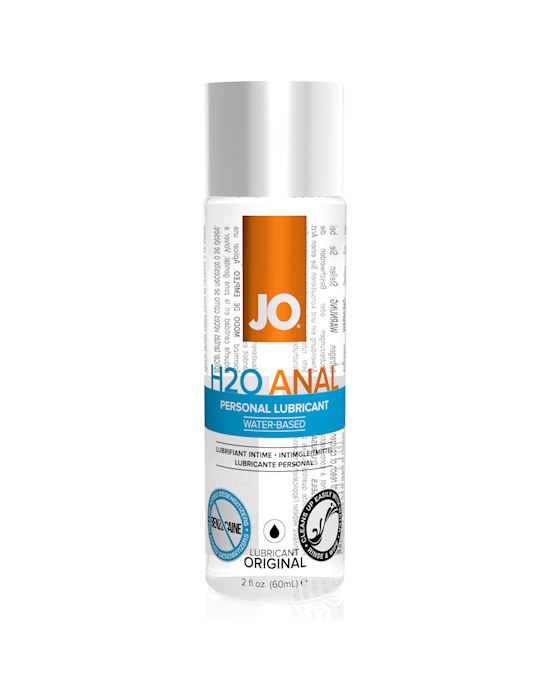 System Jo Anal H2o Lubricant 60 Ml$18.95Shop Now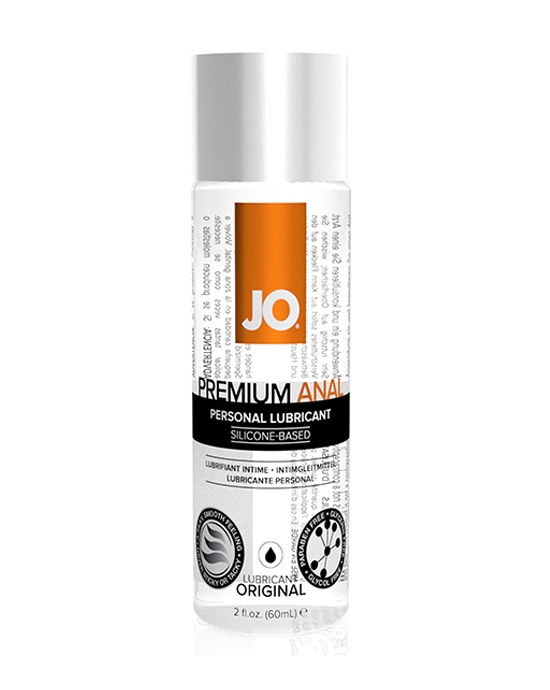 System Jo Premium Anal Silicone Lubricant 60ml$27.95Shop Now
Learn more about anal play:
Content Disclaimer:
The information in this article has been fact checked and reviewed for accuracy by Adulttoymegastore's team of content specialists and sexual wellness experts, including Sex Educator Emma Hewitt.
Adulttoymegastore does not provide medical advice, diagnosis, or treatment for illness. Any information published on this website, either by Adulttoymegastore or its authors, is not intended to be a substitute for medical advice, and you should not take any action before consulting with a medical professional.