Where can I buy a rabbit bullet vibrator?
Right here of course! You can get a Rabbit Bullet Vibrator. And maybe you should! ATMS reviewer Jed tested out the Rabbit Bullet Vibe to see if it lives up to the hype.
Despite this toys small and cute design, it definitely leaves one hell of an impression.
I've always been a fan of the small and simple pleasure inducing toys, and this guy is no exception. The silky smooth silicone and dual stimulation design, really helps to slowly build up a noteworthy and intense rush of toe curling orgasms.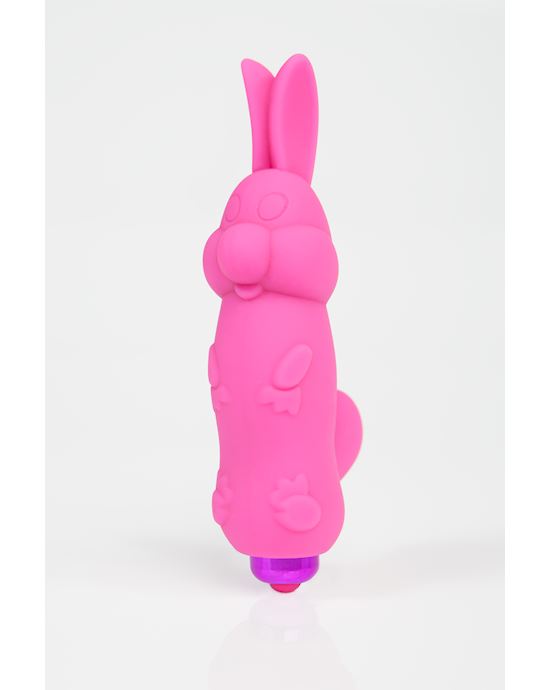 Rabbit Bullet Vibrator$27.95Shop Now
This toy isn't just exclusive to your clitoris either. Test it out on other sensitive parts of your body, too (nipples, inner thighs, and anus). Get creative. It's the prefect toy to lightly stimulate yourself and prime your body as you progress into further sexual experiences, by getting your nerve endings firing.
An added bonus to this toy, is just how discreet it is. It barely even resembles a vibrator, and is small enough to throw into your bag without the worry of turning any heads. Just remember to disarm and remove those batteries. It's always best to avoid any impromptu buzzing, followed by a panicked rummage through your bag to stop the room full of strangers staring in your direction.
I'd highly recommend this toy for beginners, as it's probably the least intimidating sex toy you'll be able to find on the market. The pulsations are just strong enough to tip you right over the edge without leaving you feeling numb or sore afterwards.
I'm proud to say I have quite the impressive collection of bullet vibrators now, and this is most definitely one that I reach for frequently. The soft silicone ears sit perfectly for my anatomy in a way that teases me just the right amount. As much as I hate to say it, it's the perfect toy for those lazy nights where you just want a little pleasure buzz before bed. The design of the rabbit is built in a way that it not only stimulates the clitoris, but also the vaginal opening.
This is the first time I've used a toy designed for this particular purpose, and I can whole heartedly say that it will most definitely not be the last. It's also one of my more quiet bullets I own, which is great for me currently living in a flat with four other flatmates. It's the first time I've had to worry more about me making noise rather than my toy.
This toy is also a great addition to include in foreplay with your partner for some added stimulation. I found that it's best used for a slow and teasing build up to sex. It's also great to use on additional areas of the body whilst simultaneously working on a separate area.
Take my word for it, at this price, there's absolutely no reason why you shouldn't give this little guy a chance to impress.