Five anal beads for beginners - and how to use them
Looking for a fun new anal toy to add into the bedroom? Look no further! Your next purchase should be anal beads. Why? We'll we will tell you!
Anal toys are heaps of fun
It's true. Anal toys can be extremely pleasurable for all genders. They're an equal opportunity toy (everyone has a butthole!) and they add a totally new sensation to your sex life. They are great for solo or partnered play. They're also a great beginner's toy.
Why are beads so good for beginners?
Anal beads are quite small so they are easier to insert than other toys and you can work your way up or down around your own comfort levels. They are also incredibly versatile, which makes them an awesome toy to add to your collection!
If you're uncertain about putting anything in your booty, then anal beads might look daunting. But don't judge a toy by its look! They are very user friendly! As long as you start out with something small and manageable, you will uncover the pleasure of anal very quickly. And while everyone's different, it's always worth giving it a go anyway, right?!
How should I prepare when using anal beads?
It's important to be prepared before using anal beads, especially if it's your first time. This will help ensure that you don't experience any pain or discomfort at any point!
Like trying anything new, it's good to be aware of what feels good and what doesn't. Especially if you're experimenting with a partner. Make sure you feel comfortable saying if you want to stop.
The key is to use plenty of lubricant for the best experience – seriously, more lube the better! The anus is not self-lubricating, so lube will be your best friend.
Our Top Five Beginner Beads
__Anal Fantasy Collection First-time Fun Beads __
If you've never tried anal play, the First-Time Fun Beads are just what you need to explore the amazing world of anal stimulation. The First-Time Fun Beads have a tip of just .63cm to ease entry before gradually expanding to 2.54cm. The flexible shaft bends with your body's contours to hit just the right spot, while the sturdy retrieval handle offers safe and easy handling. Enjoy the thrilling sensations of anal pressure and pleasure by popping one bead in at a time, inserting as many as you feel comfortable with before gently tugging the handle to release each bead for even more stimulation. Try tugging your First-Time Fun Beads mid-orgasm for the most explosive climax you've ever imagined!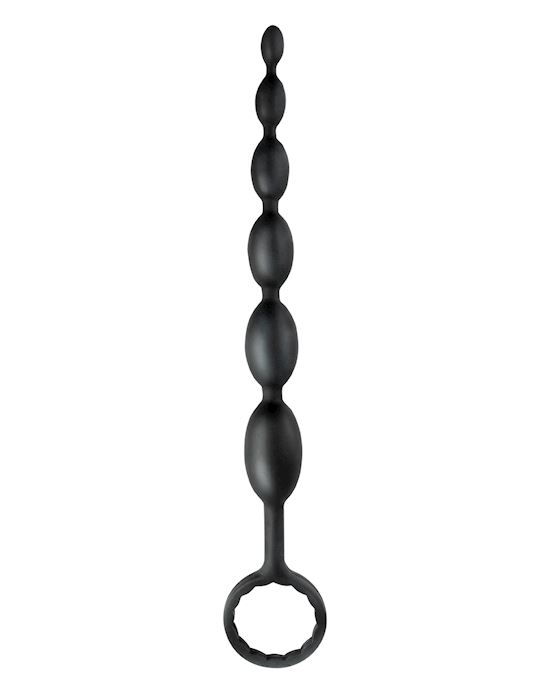 Anal Fantasy Collection First-time Fun Beads$24.95Shop Now
__Amore by ATMS Beaded Anal Chain __
ndulge in unmatched pleasure with this silky set of silicone anal beads that gives thrills with every single bead!
Graduating in size towards the base, these beads allow for easy insertion and maximum sensation as each bead progressively fills you up more and more. Each pleasing bead gains further pleasure when contorted and pulled out as the lengthy chain pops upon each nub exits the body.
The base has a two fingered loop hole to make for easy removal and control during anal play.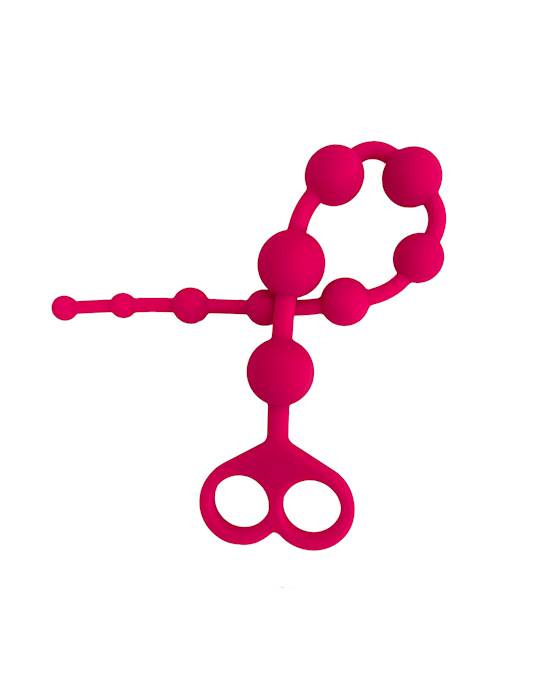 Silicone Beaded Anal Chain$24.95Shop Now
Satisfyer Anal Beads
Bead up your love life and dive into a world of sensual anal adventures with the Satisfyer Beads. Whether you use them for steamy solo sessions or want to introduce them to your love life as a couple: you can't go wrong with these seductive joy bringers. They come in a sensual set of two and want to make you and your back passage happy.
Thanks to their ascending shape and rounded tips, these five-piece bead chains are ideal for newcomers to anal training and those who wish to explore anal pleasures.
The smallest element of the pink chain is 2 cm in diameter, while the largest is 3.4 cm. In the diamond-shaped chain, the diameters range from 2.1 to 3.7 cm. Experience the tingling excitement as you pull the chain out bead by bead, stimulating your back passage in an arousing way.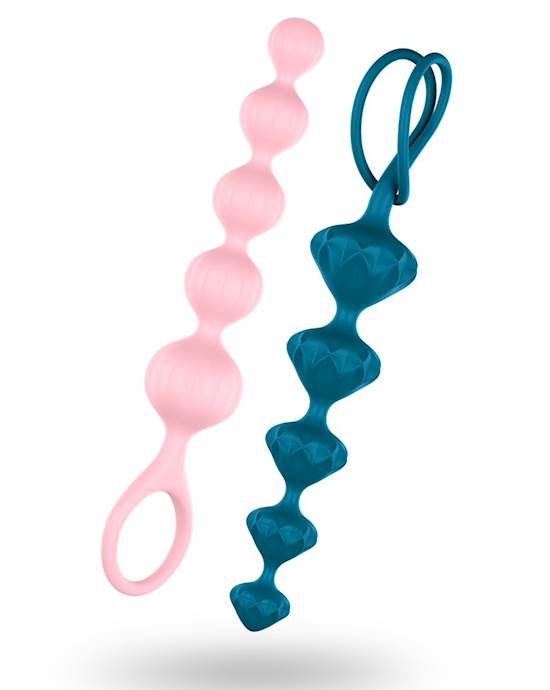 Satisfyer Anal Beads$24.95Shop Now
First Time Love Beads
Introduce a new level of intimacy to your personal and pleasurable playtime, with the First Time Love Beads. Made from safe and durable Phthalate-free PVC, these slim, graduated, round beads are flexible, pliable and versatile. They are also suitable for first-time users and experienced anal adventurers.
These pleasure beads are an exciting addition to any intimate toy collection. The round anal beads are strung together and arranged in size order along a slender column. The beads also have an EZ retrieval ring for comfortable insertion, controlled manipulation, and easy removal. The plushy soft, pliable beads are designed for internal insertion and unlimited pleasurable sensual sensations. Insert one bead at a time, and experience a new level of satisfaction and heightened ecstasy. The retrieval ring allows you to maintain full control of the pleasure.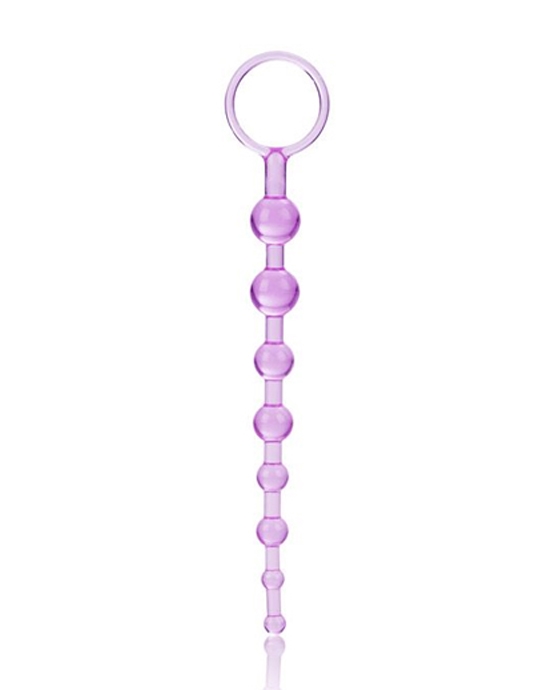 First Time Love Beads$10.95Shop Now
Anal Fantasy Collection Beginner's Bead Kit
If you've never tried anal play, this Beginner's Bead Kit is just what you need to explore the amazing world of anal stimulation.
Begin with the smallest set of beads, which features a tip of just 1.27cm to ease insertion before gradually expanding to 2cm. Once accustomed to the size, experiment with the stringed beads before graduating to the largest set. No. 1 and No. 2 feature a flexible shaft that bends with your body's contours to hit just the right spot, while the sturdy retrieval cords of No. 1 and No. 3 offer safe and easy handling.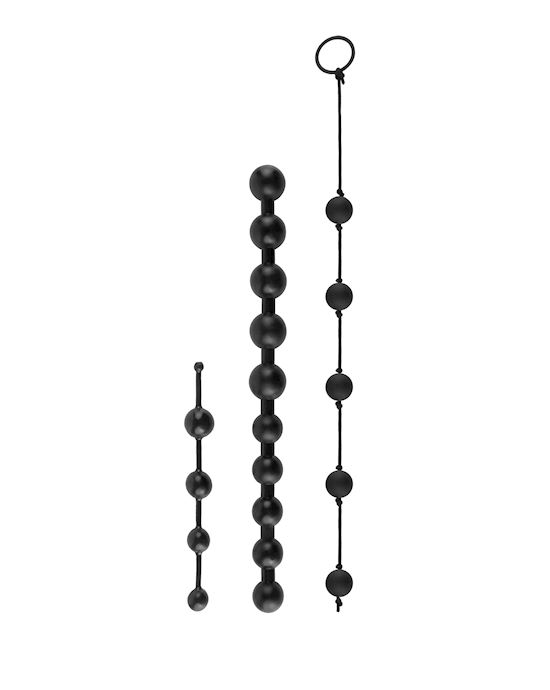 Anal Fantasy Collection Beginner's Bead Kit$33.95Shop Now
Want more?
Adulttoymegastore is an online retailer of sex toys distributing across New Zealand, Australia and the USA. ATMS was opened in 2009 and is still proudly New Zealand owned and operated, with over 8,000 products from more than 45 brands to choose from! We take great provide in providing the best products to thousands of happy customers, and have many benefits such as a loyalty programme, free samples with every order, and personalised notes.
Adulttoymegastore has a huge range of sex toys including vibrators, dildos and cock rings for every occasion! With fast, 100% discreet shipping, and price guarantee, ATMS has everything you need to make good sex, great!