Beginner's Guide to Pegging Strap-Ons
Want to give your man the most intense orgasm ever? Want to see his knuckles turn white as he grasps at the sheets with uncontrollable pleasure? Let us introduce you to pegging – the act of a heterosexual man being anally penetrated by a woman wearing a strap–on dildo.
Just as women have G-spots, men have P-spots – the common term for the prostate gland which is most easily accessible via anal stimulation. When stimulated correctly, the P-spot can provide the most powerful orgasms a man can have – couple this with the psychological aspect of having your partner in full control while begin anally penetrated, and you have a winning formula.
While it's not for everyone, if your man has never experienced the intense pleasure of a P-spot orgasm, you can guarantee it'll be one he'll never forget.
Pegging allows the woman to be the giver in a way that is new and tantalising. This alone is a huge turn on. Whether the drive is pure domination or they are fantasizing about making love to another woman – the power is all theirs. Just like guys get turned on by anal sex because it's a little naughty, woman do too, and hearing the pleasure their man is experiencing can be highly arousing.
Lastly, there is physical pleasure to be had by the women too. Specially designed double ended dildos like Feeldoe allow the woman to stimulated at the same time as the man. What do I need for pegging?
You'll need a good harness, harness compatible dildo, long lasting silicon or oil-based lubricant and an open mind. We suggest you start small Bend Over Beginners Harness. As you grow in confidence and your desire for more pleasure increases, you can move onto something a little more advanced.
Strap-ons and their intricate harnesses can be pretty intimidating, especially if you're only seeing one for the first time. What are all the straps for? Where is it supposed to sit? If I have a penis, where does it go? Et cetera, et cetera. Thankfully, once you get the hang of it, pegging harnesses are a breeze to put on and whip off for some fun.
Strap-ons tend to consist of the same three key elements: A waistband, a gusset, and a method of securing the dildo to the harness. The waistband sits above the hips and must be tightened so the harness won't move during sex, but not so tight that it is uncomfortable. The gusset goes between the legs and adds another level of security and stability to the apparatus. Then there is the method of attaching the dildo to deal with. If the pegging dildo is not already attached to the harness it is likely that it slips through a hole in the harness and rests against the wearer's pubis.
When it comes to wearing the harness, don't be overwhelmed by the buckles, straps, and holes. Simply grasp the harness by its waistband and step into it like you would a pair of underwear. Then tighten the waistband and gusset until they sit comfortably around your waist and between your legs. Check out these great beginner harnesses: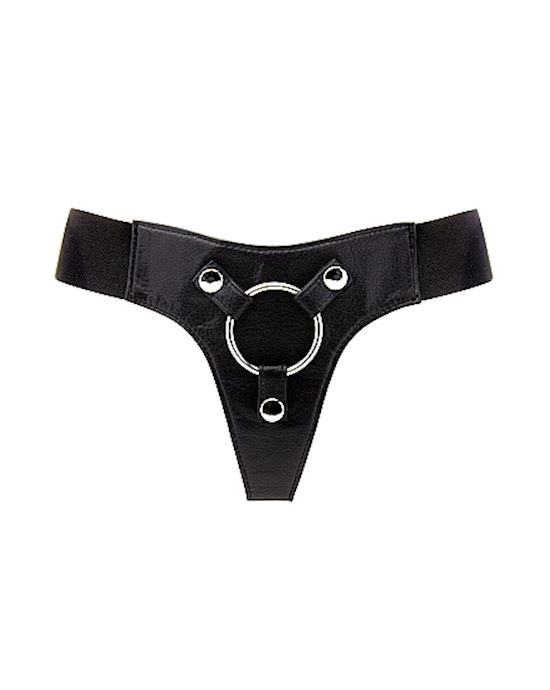 Elastic Harness$26.95Shop Now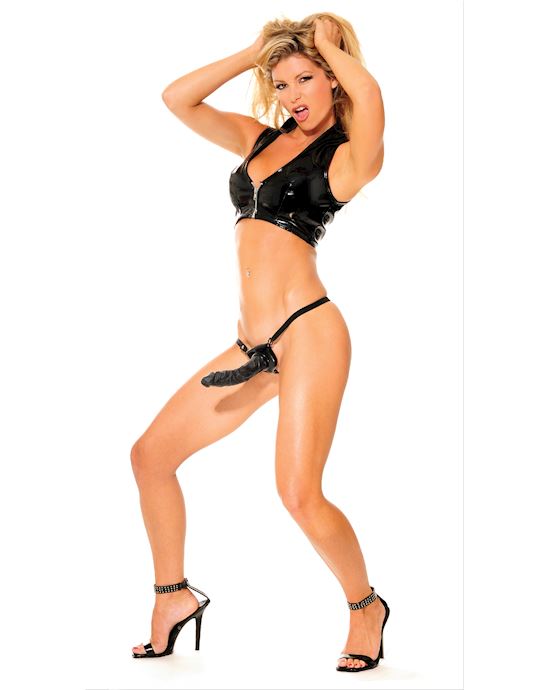 Posable Partner Strap-on$41.95Shop Now
When it comes to strap-ons that is not all! Some strap-ons are designed specifically for people with penises to wear. Now, that's not to say that people with penises can't wear the style of harness mentioned above, this is just a variation. These pegging strap-ons are used for double-penetration sex, i.e. sex involving penetration of both the vagina and anus. There are two straps attached to the dildo, one to be placed over the shaft, and one over the balls. These are particularly popular with heterosexual couples who feel like experimenting in the bedroom!
Fetish Fantasy Elite Double Trouble$37.95Shop Now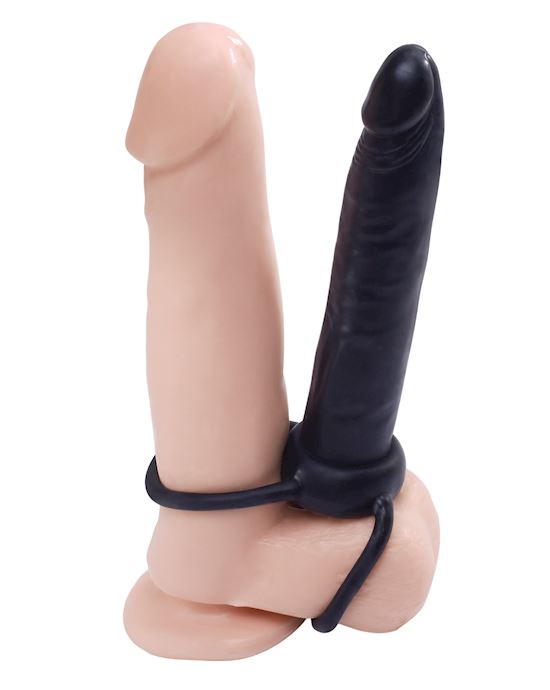 Ff Double Trouble Dildo$45.95Shop Now
Then there is the 'strapless strap-on' designed to be worn by someone with a vagina so they can stimulate themselves while pegging their partner. These strap-ons work by being held inside the vagina by their 'handle' and the pegging dildo extends outwards for use. This is a common toy for couples to use when they want to change up traditional gender roles, experiment with anal play or explore the power dynamic in their relationship. Lesbian couples also use these toys to simulate 'mutually beneficial' anal sex.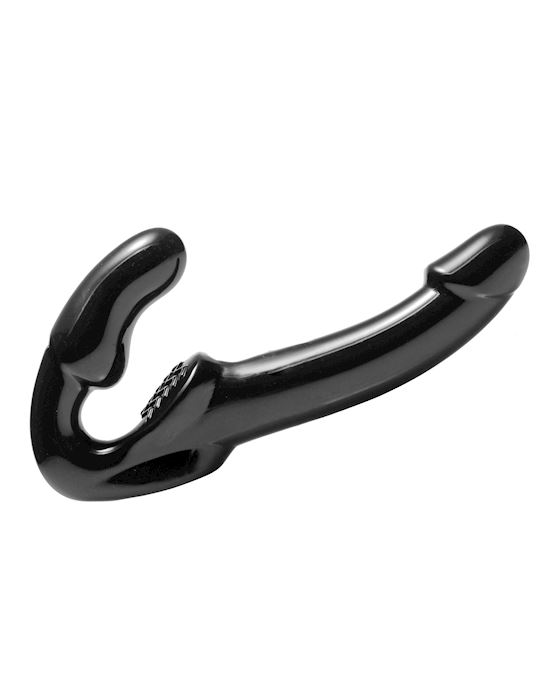 Revolver Strapless Strap On G-spot Dildo$86.95Shop Now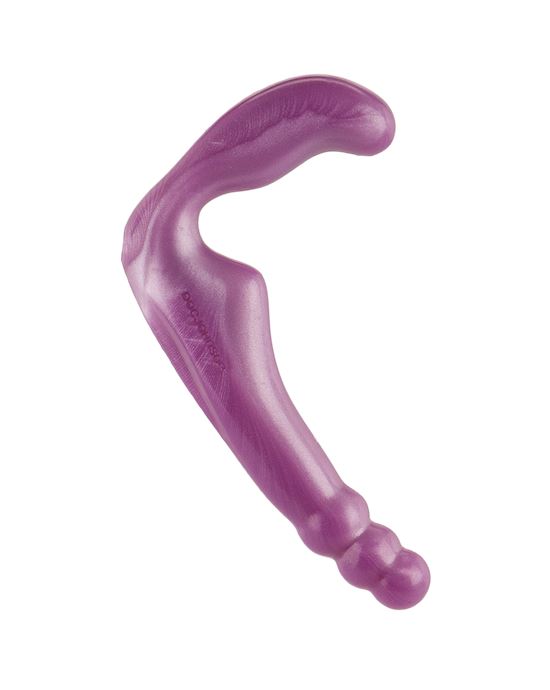 Platinum Premium Silicone The Gal Pal$44.95Shop Now
Many straight men enjoy being pegged as it can massage their prostate (the walnut sized gland between the bladder and the penis) allowing for a more intense orgasm.
Here are the top 5 toys for pegging newbies
Fetish Fantasy Elite Double Delight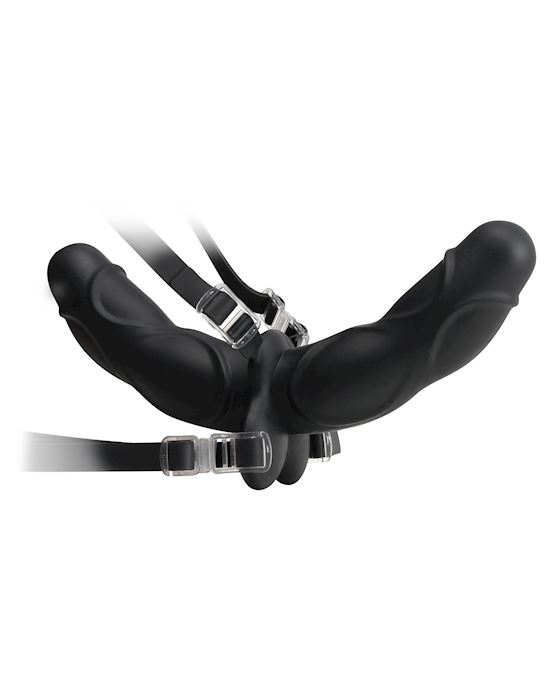 Fetish Fantasy Elite Double Delight Strap-on$120.95Shop Now
Make sure you are getting yours while he's getting his! This double-ended strap on is designed to stimulate the wearer's G-spot while tickling their partner's P-spot. If you like efficiency, this may be the toy for you.
Strict Leather Strap On Harness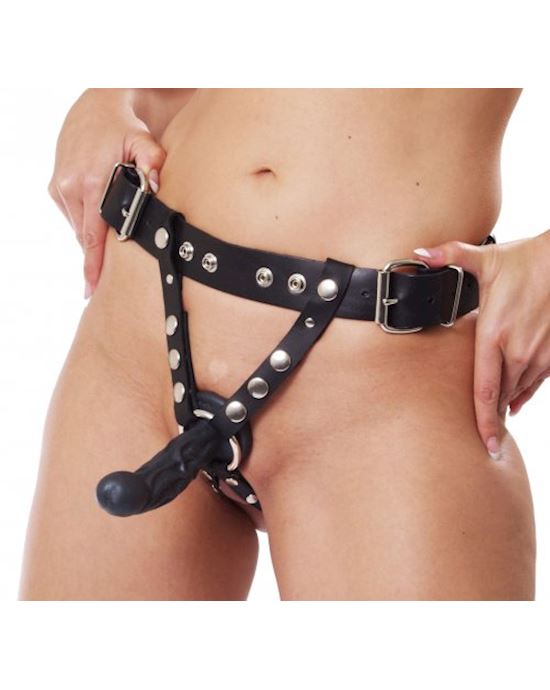 The Strict Leather Premium Leather Strap-on Harness$120.95Shop Now
If you're into bondage ad you like to look good while getting down to it the Strict Leather Strap On Harness is perfect for you. Stylized with studded leather straps and matching buckles this harness is ideal for beginners and will last you throughout your pegging journey!
Shi Shi Ripple Dildo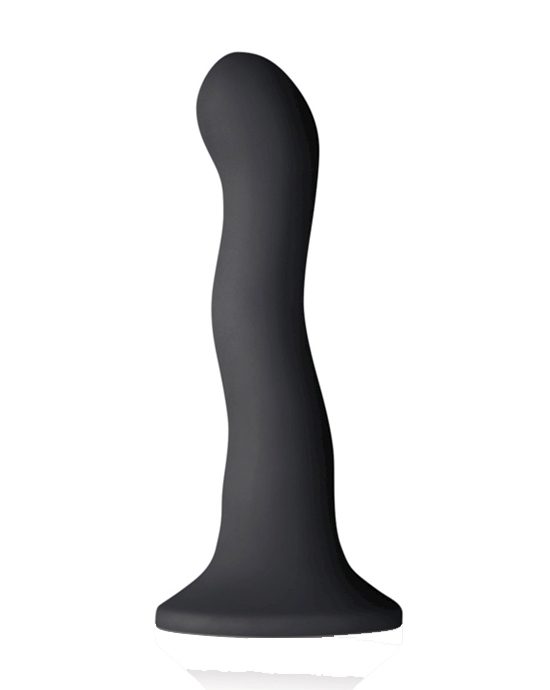 Shi Shi Ripple Dildo$51.95Shop Now
This suction cup dildo is curved for maximum stimulation and pleasure so you can hit all of the right spots. A versatile sex toy, this dildo can be slipped into a harness or used as a regular suction cup toy on any flat surface!
Vac U Lock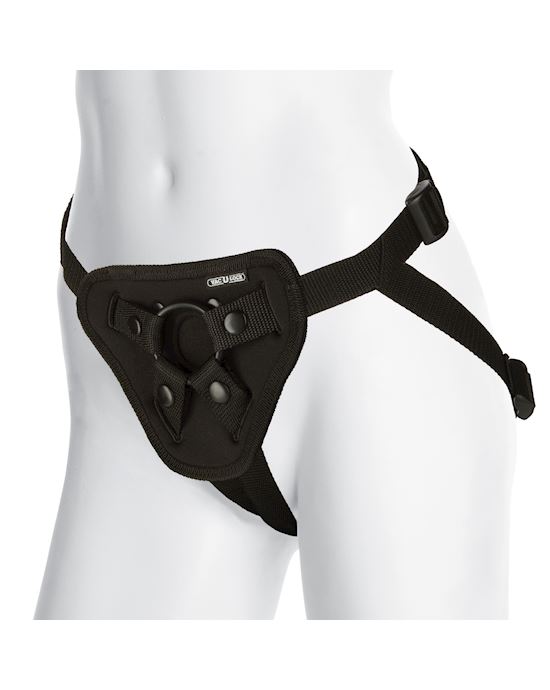 Vac-u-lock Platinum Luxe Harness With Plug$93.95Shop Now
The Vac U Lock range by Doc Johnson is revolutionary in the world of strap ons. All Doc strap on dildos are compatible with their harnesses, allowing you to use a wide range of their toys without having to buy different harness for each schlong. The snap front system also make swapping out toys a breeze!
Lube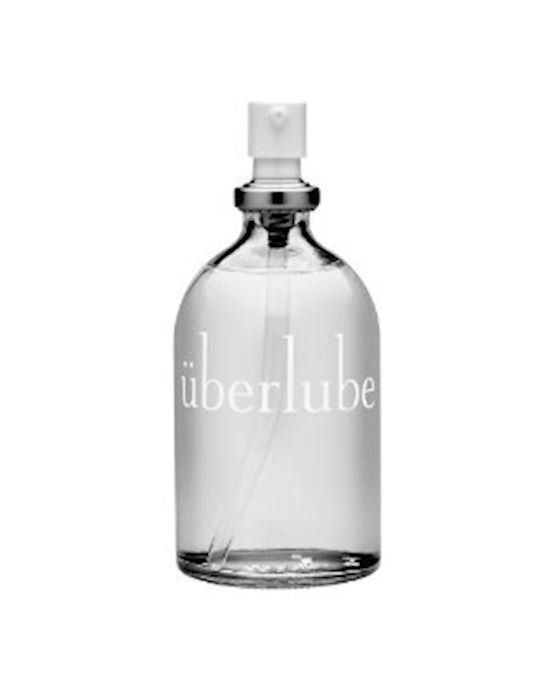 Uberlube Luxury Lubricant 50ml$32.95Shop Now
Okay, so not technically a sex toy, but when you are engaging in butt play lube needs to be on that strap on like white on rice. Your strap on and lube need to be like Portia and Ellen, Posh and Becks, Will and Jada. You get the idea. More lube is always merrier when it comes to anal play.
How To Start Pegging
Before you begin, you need to make sure you have all the right tools. You will need a sturdy harness, a strap on dildo (preferably one with a curved end for direct p-spot stimulation), and a lot of lube! If you want to add more pleasure to her pegging experience she can put a bullet vibe in the inside of the dildo to stimulate her clitoris, or if she is feeling even more adventurous you can use a double ended dildo or vibrator to penetrate both partners at once.
Pegging is fantastic when it works, but it isn't always easy to achieve, especially if you're unsure of where to start. So here are the best pegging positions for beginners to help you get started on the right track.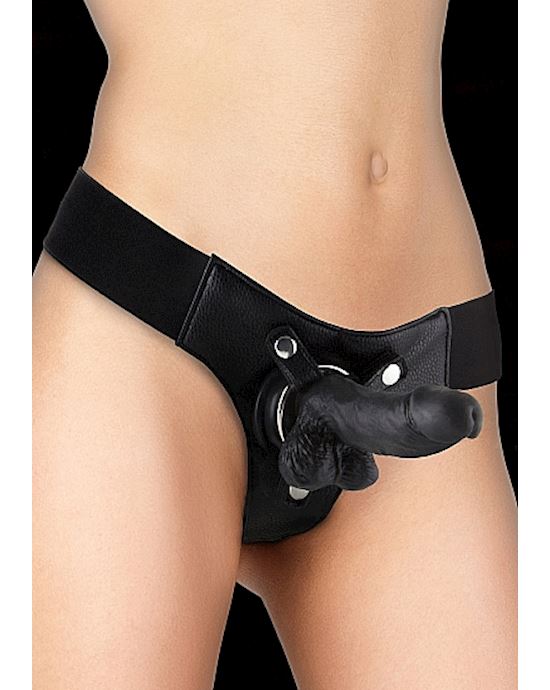 Realistic 6 Inch Strap-on$57.95Shop Now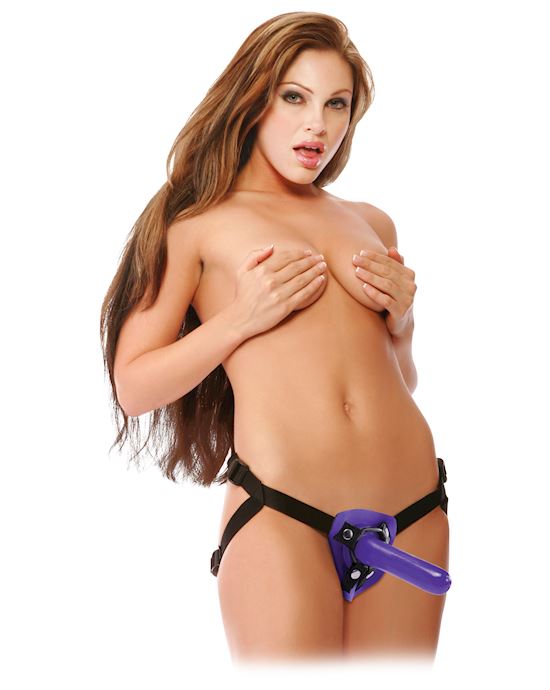 Fetish Fantasy Strap On$29.95Shop Now
Doggy Style Pegging
Doggy style is a common favourite when it comes to finding a comfortable yet satisfying position for pegging. Anal sex often works better if the receiver's hips are higher than their shoulders, which is what makes this position so good for pegging. This position allows the pegger to take control by grabbing their partner by the hips, while they also take some control by moving their body back and forward at their desired pace. They key is to make sure you aim the curve of the dildo downwards towards his navel in order to massage his prostate.
Pegging Face-to-Face
Pegging face-to-face is an incredibly popular position amongst couples and beginners as you are able to see the pure look of satisfaction written all over their face! To make sure you experience maximum amounts of pleasure, pop a pillow under his hips to raise his booty, providing easier access. You can also prop his head up with a couple of pillows in order to create a C curve through the body to allow for easier p-spot stimulation.
To make this position even more satisfying, have the receiver raise his knees to his chest in order to relax the pelvic muscles and straighten out the curves of the rectum in order to give you easier access.
Pegging Whilst Spooning
Spooning is a great position for those who are new or a little nervous about pegging as it is more relaxing then other positions. Have the receiver lie on his side and bring his knees up to his chest so that you can be the big spoon, wrap your arms and around him and put your leg up over his body in order to get the best angle. He can control the depth and speed of penetration by moving back and forth, while the pegger remaining still.
Cowboy Pegging
The Cowboy position is a more exciting variation of face-to-face! In this position the pegger lies back on the bed and allows the receiver to straddle them. This gives him complete control over the angle, depth and speed of the movements so that the pegger can relax and enjoy the show and perhaps even partake in some hand job fun!
This position allows the receiver to move their hips forward and back, side to side or around in circles, whatever motion feels best and hits the p-spot exactly where he likes it.
Reverse Cowboy Pegging
A play on cowboy, reverse cowboy is the same but instead he is straddling you backwards. Just like the cowboy position, the receiver has complete control – even with himself as he will have a free hand or two to stroke himself as he rides you. All the pegger needs to do is lay back and enjoy the view of his sexy ass!
Bent Over Pegging
Another fun variation of doggy is to have him standing on the floor and bent over the bed, chair or kitchen table. This position puts the pegger in complete control, while the receiver can lean forward, support himself on the surface and let you take over. If you are quite a bit shorter, or your man has tight hamstrings so he isn't able to bend down far, either put on some sexy heels on to add some extra height, or prop something under his heel to loosen up his hips to allow for a wider range of movements. Reach around and start stroking his penis to make this pegging position even more mind blowing!
Pegging in the Shower
The shower is the perfect place to take the bend over position to the next level. The shower offers general sexy, soapy slipperiness, plus the advantage of the easy clean-up afterwards. The heat will help relax his muscles, easing penetration and comfort. The key to a successful wet peg is to make sure you are both holding onto something sturdy and to make sure all your pegging equipment is waterproof!
Pegging on a Chair
Sit in a low chair and have him straddle you, slowly letting the strap on dildo enter his booty as he sits down. If he is hesitant about letting you take complete control, this is another good position to try because he can control how much he's willing to take on. Plus, you're in the perfect spot to stroke his penis and watch as he realizes that he's found the best seat in the house!
Now you know how to wear one, grab your strap-on today for some unforgettably fun bedroom antics!
Check out Adulttoymegastore's entire range of sex toys online, including vibrating masturbators, cock rings, vibrators, dildos and anal toys at a price guarantee.