Whether you're new to the world of BDSM and bondage, or if you just want to spice some things up in the bedroom, you can try out some of these tools to get things started!
Missionary Enhancers
The standard missionary position is great, but often we don't take a minute to think about small changes we can make to improve it. Usual variations will include lifting your partners legs a bit higher, or spreading them wider.
These slight variations are often better for their ability as they allow deeper penetration, better angles and more clit stimulation. However, holding these positions for a long period of time can be tough on the body, especially when things start to get really heated! Unless you're a gymnast, or you've consistently turned up to those yoga classes you signed up for, you're in the same boat as the rest of us, the boat full of stiff horny boards.
Missionary enhancers are great for their ability in allowing us to hold positions for as long as we like. Usually involving a thigh sling so it's easier for the wearers legs to be spread open or raised high.
Visual arousal! Seeing your partner in a missionary bondage sling. Vulnerable positions are essential in bondage play when turning yourself into an irresistible submissive or desire driven dominant.
5 Awesome Missionary Enhancers
Missionary enhancers are bondage slings that will add visceral variation to your regular regular sex position.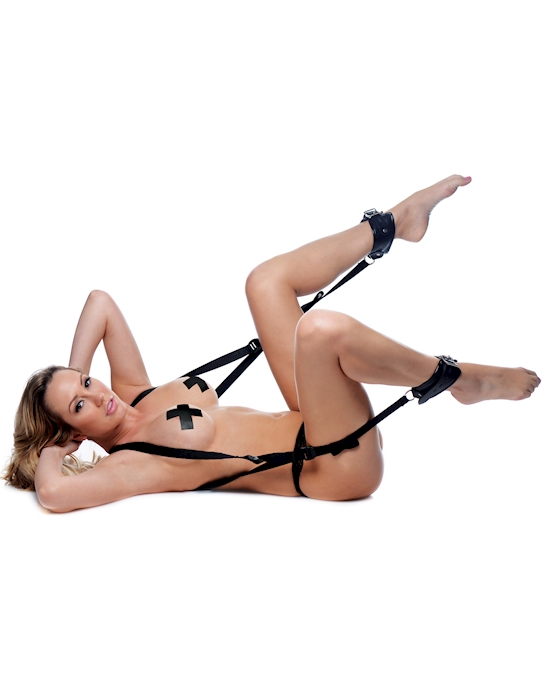 Strict Sex Position Support Sling$84.95Shop Now
When the bedroom door shuts, another one opens. This Strict Sex Position Support Sling is a comfortable way to experience some raunchy romping.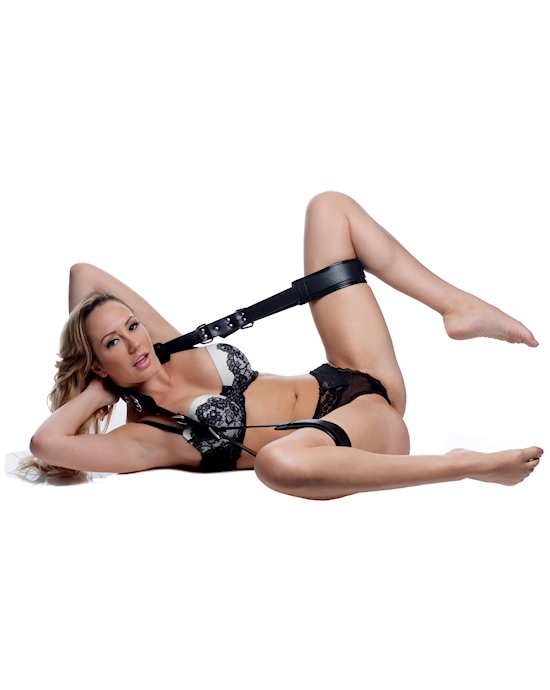 Strict Padded Thigh Sling Position Aid$64.95Shop Now
This Strict Padded Thigh Sling Position is another great introduction to bondage play and missionary bondage alike. Walking in on your partner wearing this bondage sling will have you wanting to dive in at the deep end! This piece features two d-rings on the neck strap to add more of your bondage favourites.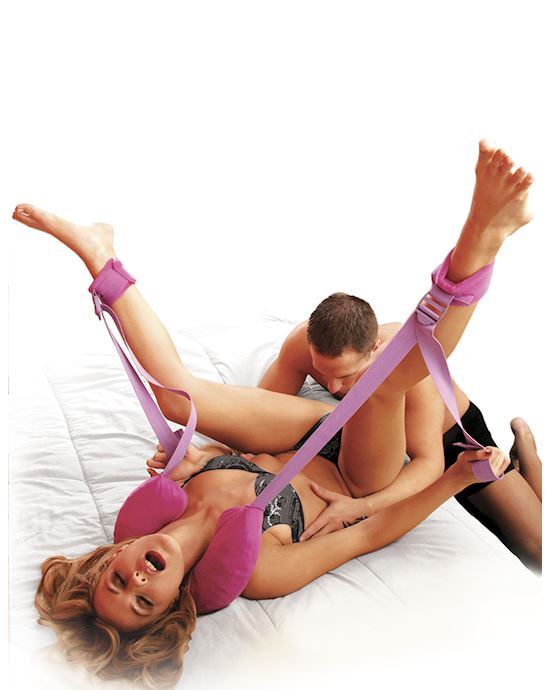 Fetish Fantasy Position Master$71.95Shop Now
It takes no stretch of the imagination to have a good time in this Purple Position Master from Fetish Fantasy. It may take a slight stretch of your legs though! The plush neck harness emphasises the comfort aspect.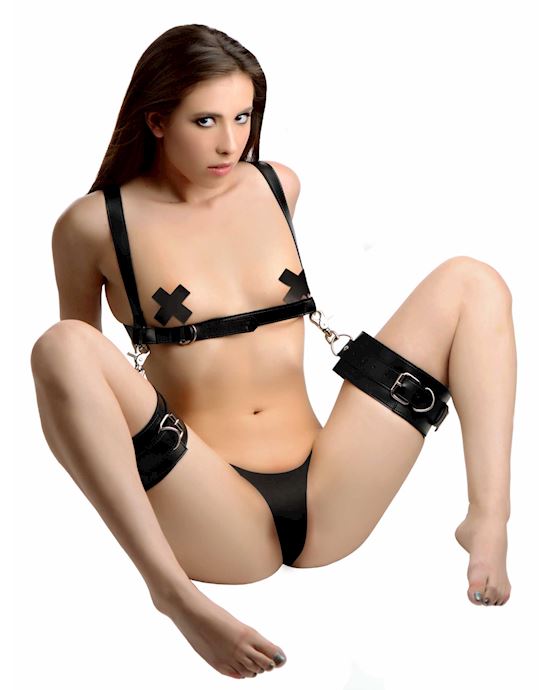 Easy Access Thigh Sling With Wrist Cuffs$143.95Shop Now
Fastening around your chest and back with additional wrist cuffs, this Easy Access Thigh Sling gives no chance of escape for your submissive. Better stimulation, deeper penetration and a comfortable bondage position will have both partners coming out in the open.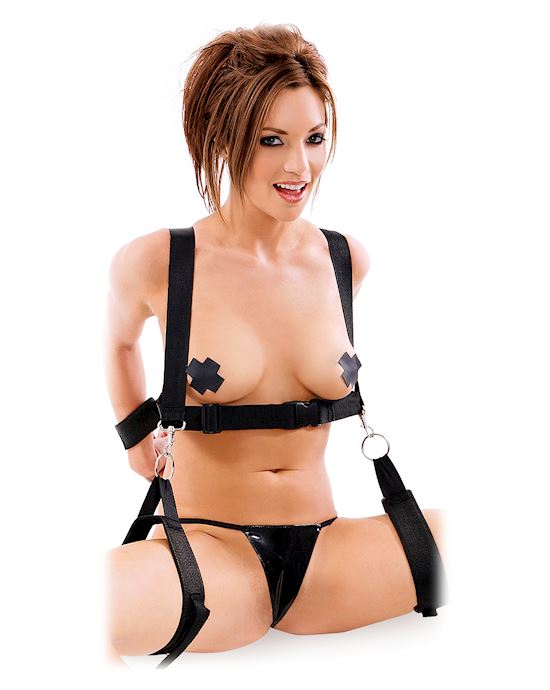 Fetish Fantasy Series Heavy Duty Position Master$70.95Shop Now
Sometimes when you're on an orgasmic mission. All that winding, turning and writhing... constant writhing can make us tired. With the Heavy-Duty Position Master you'll never tire out when things start to get really heated. Perfect for an unexpectedly horny hostage bondage scene!
Forced Orgasm Kits
A forced orgasm means completely handing oneself over to the dominant partner. The dominant has complete control over the stimulation, intensity, speed and rhythm that the forced orgasm kit provides.
Forced orgasms also require the submissive to resist the orgasm. The feeling of helplessness heightens the sensations the orgasm kits provide, until the point where their sensory control has almost gone haywire as the big o approaches!
Giving up the power of your orgasm changes the feel one has when experiencing an orgasm. This is not simply having your partner use a vibrator to make you cum, forced orgasms can be painful and rough. When talking about forced orgasm kits it makes more sense to call the sensations a sexual release, rather than sexual pleasure.
Forced orgasm is not to be confused with orgasm edging either. Forced orgasms mean having multiple orgasms continuously often without a break. Maybe your dominant will allow a few seconds downtime, or maybe a lower vibration setting.
After orgasming our bodies become sensitive, we can probably recall telling our partner to stop when things got so sensitive, we couldn't handle it anymore. This is where forced orgasm kits are used. They keep going so your body has no option but to orgasm again and again at the maximum peaks of sensitivity.
Hyper sensitivity causes pain, but this pain coexists with extreme pleasure. This is why forced orgasm kits are often used as a punishment during dominant and submissive play, as they are painful, but the sexual release of multiple orgasms also gives awesome sensations. Constant climax from a forced bondage kit creates such intense sensation that even the slightest touch anywhere on the body, especially erogenous areas can cause pain.
A forced orgasm kit is worn around the hips of the wearer, so the body massager easily stays in place for clitoral stimulation. The rest of the bondage kit will focus on binding down the limbs of the submissive, so they can't stop the pleasure they're receiving. Of course, you can mix forced orgasm kits with other bondage restraints if you'd like, this would usually be to bind down legs as the bondage kits often still allow leg some movement.
The Top 4 Forced Orgasm Bondage Kits
If you'd like endless sensation mixed with forced bondage, these top four forced orgasm kits are the way to. May the force be with you! Or... against you?
Forced Orgasm Kit Only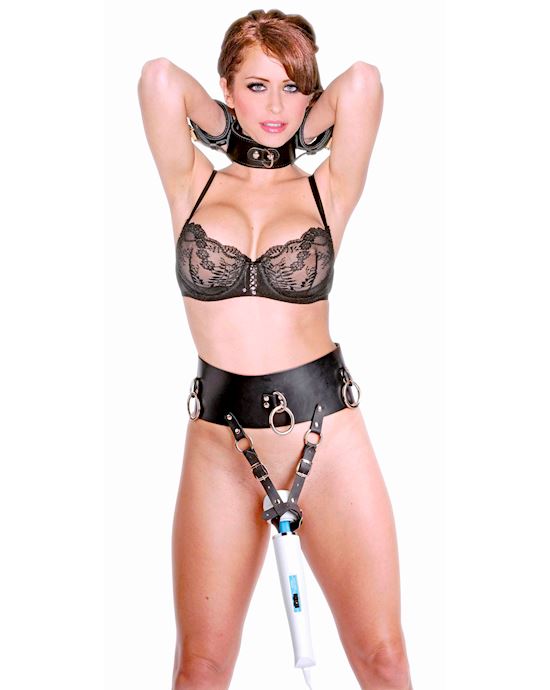 Premium Leather Forced Orgasm Kit$399.95Shop Now
This Premium Leather Forced Orgasm Kit mimics the unrelenting motions of the ocean. Made to bring wave after wave after wave of sensations. Your submissive will be moaning after each climax and crash.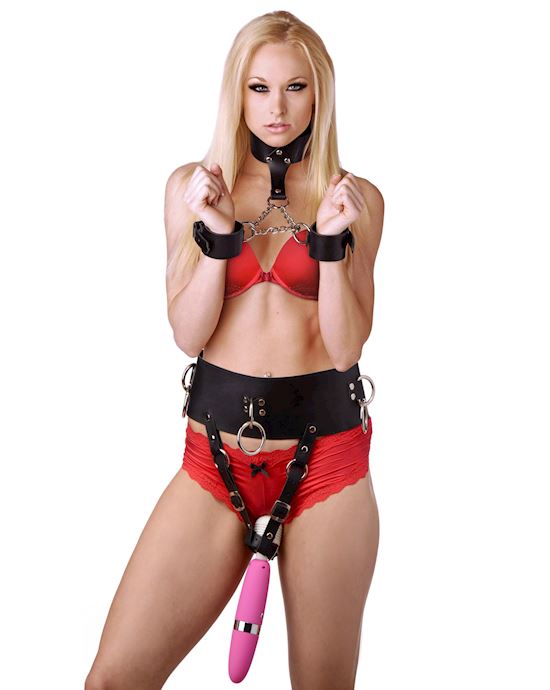 Deluxe Forced Orgasm Bondage Kit$199.95Shop Now
Sometimes not being able to escape causes a great release. This Deluxe Forced Orgasm Kit is the inescapable ultimatum in providing forced orgasms. The plug harness can also be used for anal stimulation.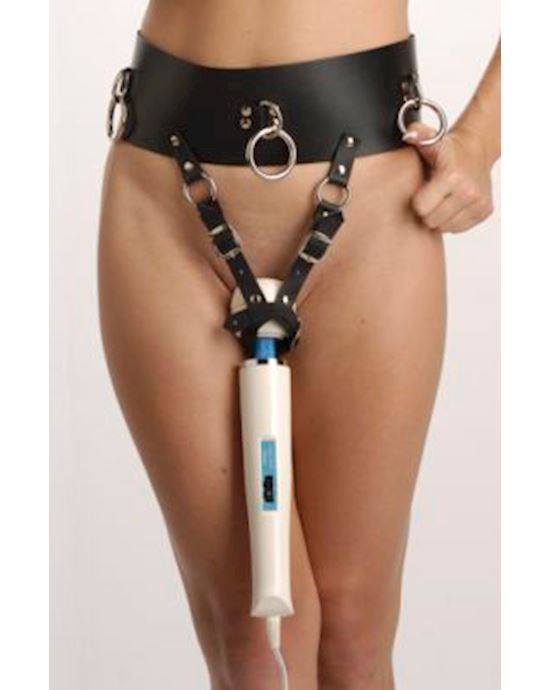 Strict Leather Forced Orgasm Belt$115.95Shop Now
Bondage aficionados are often hell-bent for leather. This Strict Leather Forced Orgasm Belt makes all the difference when your senses are being tested to the max. The slight touch or smell of high-quality leather meets you at the peak of delicious sensation.
Wand Inclusive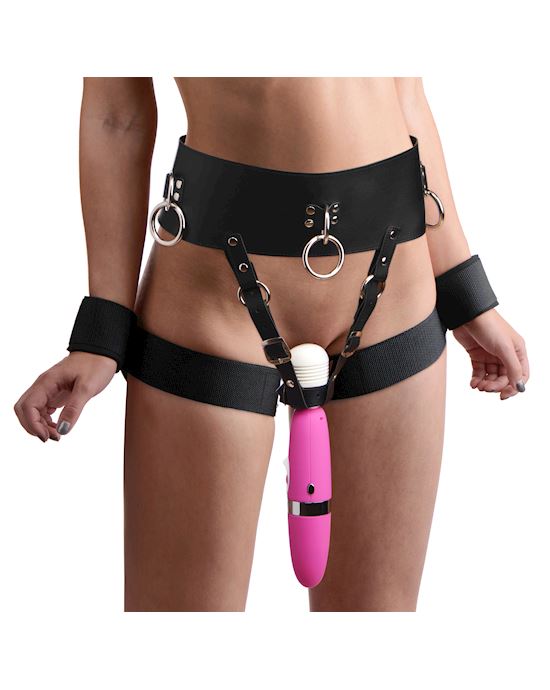 Forced Orgasm Belt And Wand Restraint Kit$342.95Shop Now
Orgasms ahoy! This Forced Orgasm Belt and Wand Restraint Kit will have your orgasms out in force. Repetition can often be boring, but not in this case! Make sure the included want is tight against the clit for maximum sensation.
Important things to remember
When using any forced orgasm kits, it's imperative to have complete trust in your partner! When it comes to more intense bondage play, your partners expressions are likely to be a mix of pleasure and discomfort so being able to read your partner is important.
Always identify a safe word to put a stop to anything that becomes too uncomfortable or painful. This may mean stopping stimulation or taking away any bondage binds.
Aftercare is unique when it comes to forced orgasm play. The receiver's body will be very sensitive and it may take some time to come down. Therefore, ask your partner whether they are ready to be touched, or if they'd like anything to make their comedown more comfortable.
What are Doggy Style Enhancers?
The main benefit of Doggie style enhancers is that they allow deeper penetration. Achieving deeper penetration can sometimes require positions that are difficult to hold for one or both partners involved. In turn, deeper penetration makes for better g-spot and clitoral stimulation. Deeper penetration of course means an increased amount of sensations and greater chances of a vaginal or clitoral orgasm.
It's easier to achieve a more pleasurable rhythm. The motion of the ocean is a real thing! A lot of women like a constant but even rhythm, consistency is key to reaching an orgasm. Doggy style enhancers allow you to have more control, so you can slow it down, speed it up, go harder or softer at your own leisure, quality and quantity!
Doggy style enhancers make the position effortless. A consistent stronger thrust can be the difference between taking stimulation from good to amazing! In the middle of passion, usually finding energy to give your partner pleasure isn't hard to do. But if your forearms are already aching from the gym workout after work, a doggy style enhancer will help a bunch.
Within bondage gear they're one of the easiest pieces to clean. Being machine washable just add them to your weekly wash to reset your opportunity for a hygienic hump.
5 of the Best Doggy Style Enhancers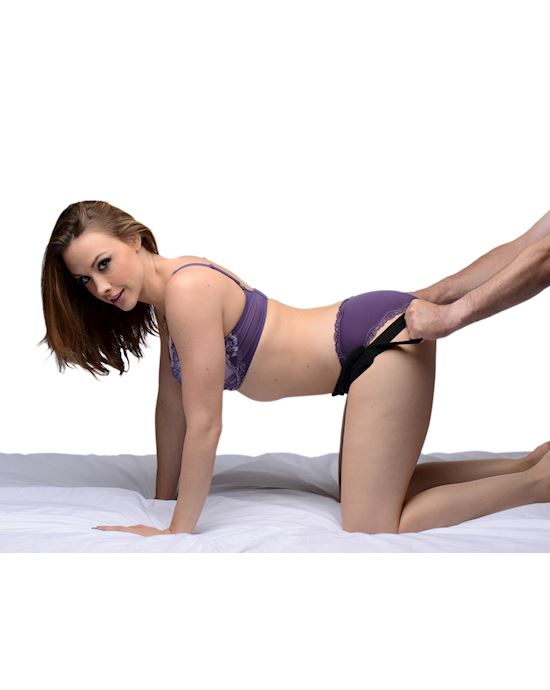 Ass Up Doggy Style Position Strap$21.95Shop Now
This Ass Up Doggy Style Strap is an introductory enhancer strap. Harness the ability for deeper and more comfortable penetration by holding the looped straps.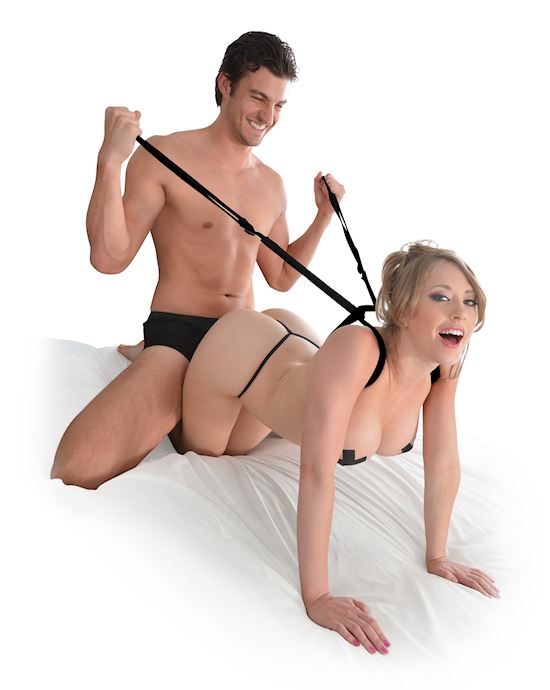 Fetish Fantasy Series Giddy Up Harness$30.95Shop Now
Hold your horses! Pulling on the reins of this Giddy Up Harness will provide the best in controlled penetration. Riding bareback never felt so good!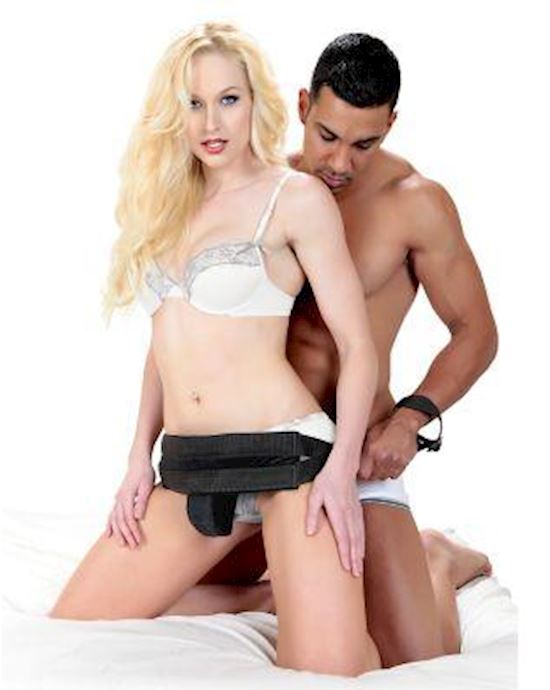 Vibrating Doggie-style Strap$39.95Shop Now
Doggy style is already one of the best positions to maximise pleasure. This Vibrating Doggy Style strap doesn't only make the position easier, but the vibrating cushion stimulates the clit for you!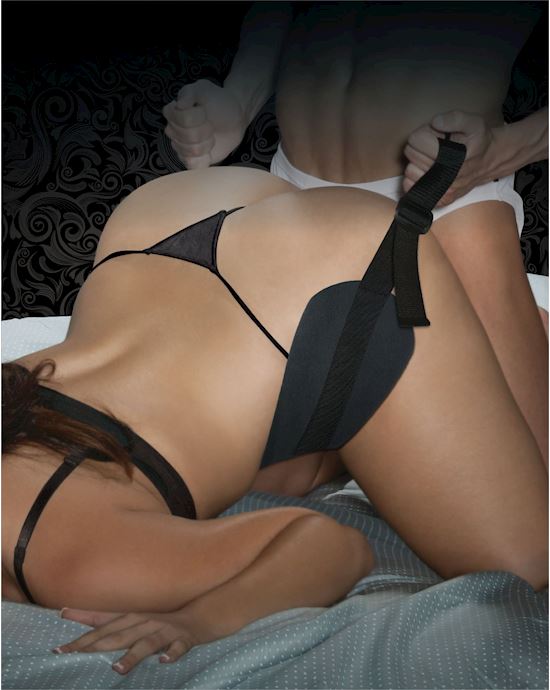 Plus Size Doggie Style Strap$24.95Shop Now
Doggie style is a favourite for all! Sometimes holding love handles can create unflattering marks. This Pluz Size Doggy Style Strap is the best when you're lusting for better leverage.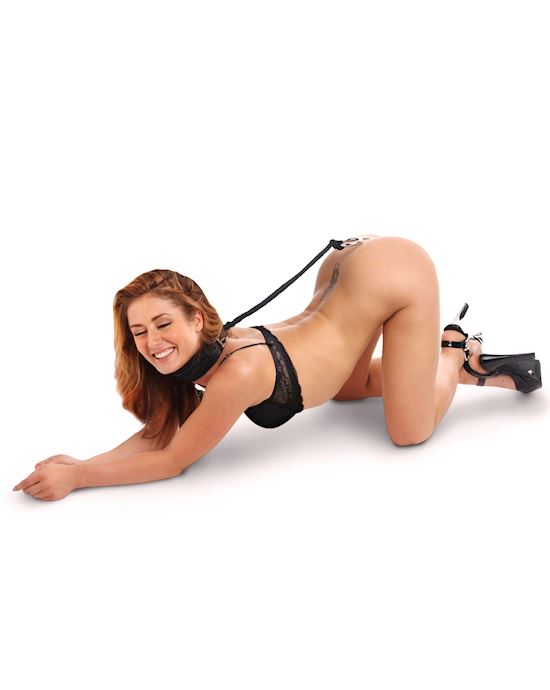 Arched Back Forced Posture Kit$226.95Shop Now
"There's a good girl/boy." Whenever you need your submissive to stay firmly in place this Arched Back Forced Posture Kit is your go to. This bondage kit is recommended for those who are used to more extreme bondage play.
Remember
Whenever participating in any bondage play communication is essential. Communicate whether any bondage sling is becoming too uncomfortable. Especially when we are talking about stretching limbs, a pulled hamstring is a mood killer for sure!
Be sure to identify a safe word to put an immediate stop to any positions, angles or scenarios that are undesirable.
It's Not a Dog's Life? Or Is It?
To get the most out of your doggy style experience, see our full range of position enhancers here!