How to Store Your Sex Toys Safely (Adult Toy Storage Guide)
Adulttoymegastore's Guide to Safe Sex Toy Storage
Your sex toys are wonderful tools, but they can become a lot less wonderful if you don't care for them properly! Here's how to store your sex toys correctly and safely to ensure they get a long life and you get the most enjoyment from them.
*Editor's note: This article was updated in July 2021. *
Not cleaning your sex toys properly, using the wrong lubricant, or storing them incorrectly can all lead to problems, whether that's a shorter life span of your favourite toy or a risk of an infection.
That's why cleaning your sex toys after each use and storing them correctly is paramount! Here's how to keep your sex toys safe, in good shape, and working their best for as long as possible.
Important to Note:
Many sex toys come with specific storage or care instructions, so make sure to look out for anything unique to your toy that these tips might not cover.
Before storing your adult toys, you must clean them thoroughly. The following article tells you how to clean your sex toy properly based on the material it's made from: How to clean your sex toys.
Unsure what material your sex toy is made from? Read Adulttoymegastore's sex toy material guide to find out.
How to store your adult toys properly
Don't toss your sex toys into your bedside drawer after use and call it a day. Dust, crumbs and germs will swarm over your sex toys, which could then end up inside of you or your partner – ick!
If you don't want that to happen, here's how to store your adult toys the right way.
Option 1: Use a cloth bag
For a cheaper way of storing your sex toys, you can wrap them in cloth or store them in a cloth bag to avoid them getting dusty. Many adult toys come with their own dust bags for safe storage, so please use them!
Once you put your toy into its own cloth bag you can tuck it away somewhere safe. DO NOT use plastic containers or plastic bags to store adult toys - depending on the material your sex toy is made from, the chemicals can leak into the toy over time, which is not something you want entering your body.
If you have a porous sex toy you need to be extra careful, as it can soak up bacteria. This includes rubber/jelly sex toys.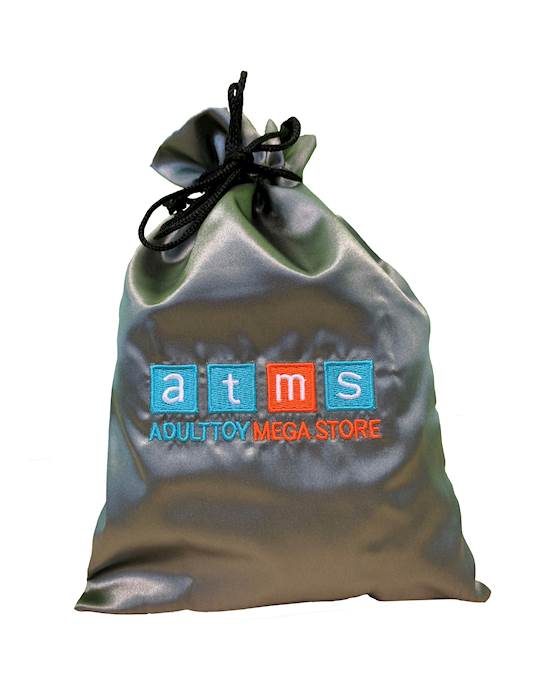 Atms Toy Storage Bag - Small$8.95Shop Now
Option 2: Use a Sex Toy Storage Box
If you're looking for something more secure than a humble cloth bag, a storage box specifically designed for adult toy storage is the answer. Lockable sex toy cases keep your naughty valuables a secret from prying minds and fingers. The keyless locking system makes them perfect for storing your sexy stash safely, cleanly and securely.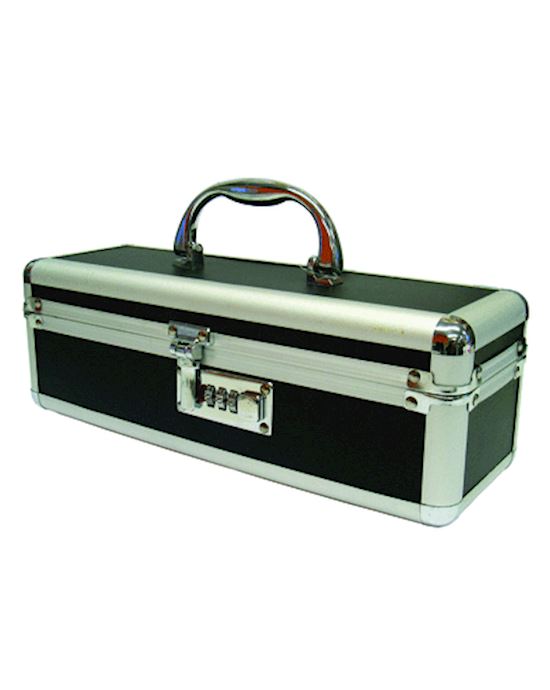 Lockable Vibrator Case$79.95Shop Now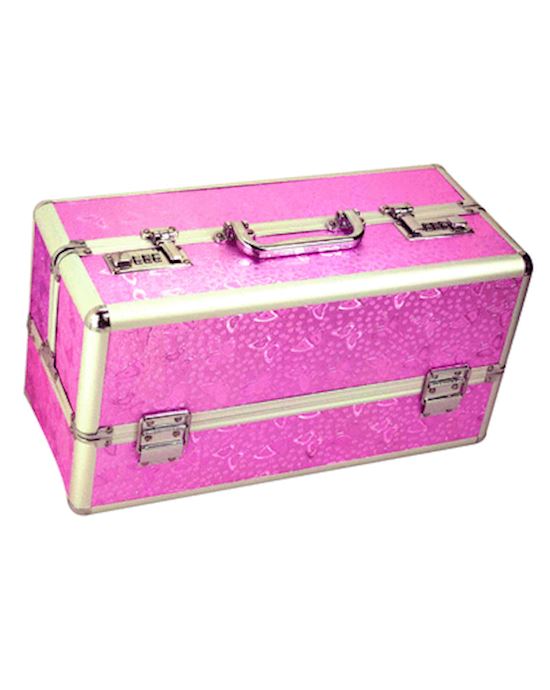 Lockable Large Vibrator Case$149.95Shop Now If you want to upgrade, the Joyboxx has a lock and dividers to keep things organized, and charging cords can be plugged in through it. Joyboxx is a hygienic storage system designed to handle pleasure products before, during and after use.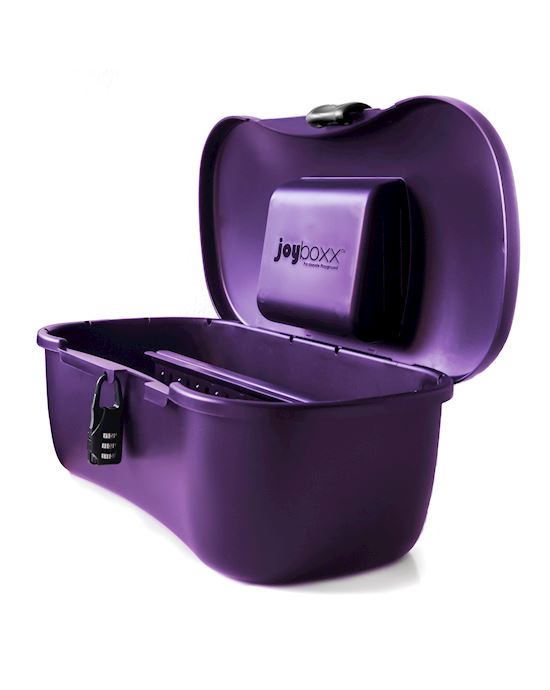 Joyboxx Hygienic Storage System Purple$85.95Shop Now
Safe Sex Toy Storage Tips
Now that you've got something to store your sex toys in, here are a few more tips for ensuring your adult toys are stored safely.
Tip #1: Remove the batteries from your sex toys when you're not using them.
Leaving the batteries in can actually corrode your sex toys and drain the battery life, since they're conducting at a low charge when in the toy. There's nothing sadder than the halfhearted buzz of a vibrator on low batteries, or worse - it running out of juice before you climax!
Tip #2: Do not store sex toys together - some materials react with each other and can ruin your toys!
When storing a sex toy collection, wrap each toy individually to prevent the toys touching. This is vital because some materials, such as silicone, TPE and rubber, can react with one another, which will tarnish and ruin your sex toys. Keep your toys separate to prevent needing to retire them early.
Tip #3: Make sure you're using the right lubricant with your sex toy.
Don't use silicone or oil-based lubricants with silicone sex toys because it will stick to the material and break down the surface of your toy. To aid the lifespan and safe-use of your sex toy, use water-based or hybrid lubricant for any porous sex toys. Non-porous sex toys, such as glass toys, are safe to use with any kind of lubricant.
Tip #4: Use a condom with your porous sex toys.
Some porous adult toys, such as those made from jelly, can't be completely disinfected. Wash it thoroughly after every use, let it dry out, then store it in a cloth bag.
Always use a condom if your toy is made of jelly, since jelly toys contain potentially dangerous chemicals called phthalates. While there isn't conclusive information on the health effects of them, it's better to be safe than sorry.
Tip #5: Always check to make sure your waterproof sex toys are still safe to use.
If the little rubber plug or O-ring that covers the battery compartment of your toy is missing, loose, or broken, no more shower fun for you. Sorry, but your adult toy is no longer waterproof. Check for cracks in your adult toys that could indicate that they're unsafe to use.
Tip #6: Look out for anything that might signal it's time to throw out your sex toy.
Even the best sex toys don't last forever. If your sex toys is looking a little worse for wear and is falling apart or no longer holds its charge for long, it's time to upgrade! If the sex toy is within warranty, make sure you organize a replacement by contacting the retailer you bought the product from.
Tip #7: Wash your adult toys after each use.
We don't think we need to delve too deeply into the reasoning behind this one, but sex toys are a breeding ground for bacteria if not cleaned after each and every use. Use a sex toy cleaner or hot soapy water. If you want to be really safe, wash your toys before each use, too. Particulalry if they've been sitting in your drawer untouched for a while.
Tip #8: Don't submerge any non-waterproof or splash-proof toys in water to wash.
If your sex toy has batteries, plugs into the wall, or buzzes in any way, you need to take extra precautions. Wiping it down with a warm, soapy washcloth or spray and wipe using sex toy cleaner is all you need to do. Don't submerge your adult toy in water if it's not completely waterproof, or it will die!
Your sex toy collection should be taken care of, by cleaning toys properly, drying them properly, and storing them in separate cloth bags in a cool, safe place.
Looking for new toys to add to your collection? Shop Adulttoymegastore's range and buy sex toys today!
Important Sex Toy Information for Beginners:
Editor's note: This article was originally published on 10 January 2018 and was updated on 5 July 2021 for relevance and comprehensiveness. The information in this article has been fact checked and reviewed for accuracy by Adulttoymegastore's team of content specialists and sexual wellness experts, including Sex Educator Emma Hewitt.
Content disclaimer: Adulttoymegastore does not provide medical advice, diagnosis, or treatment for illness. Any information published on this website, either by Adulttoymegastore of its authors, is not intended to be a substitute for medical advice, and you should not take any action before consulting with a medical professional.
For more product examples - shop all our
sex toys
here.