8 of the Best New Toys from Satisfyer
Satisfyer is back again with even more new toys to feast your eyes on! This brand is known for their affordable and high-quality toys, all made from body-safe silicone with waterproof designs and USB recharging.
While they are best known for the famous Satisfyer Pro 2, the brand has a range of other amazing products that have helped change the sex toy industry, like their innovative multi-use couple's toys. They also have a range of app-controlled toys, which are extremely budget-friendly compared to others on the market, and can be used for long-distance relationships.
You could say Satisfyer are definitely leading the way in sex toy design! Adding to their impressive line-up, Satisfyer has recently released two different clitoral toys, two vibrating anal beads (a first for the brand!), three finger vibrators, and a panty vibrator. All in fun new colours that are sure to brighten up your collection. Some of these toys are also compatible with the Satisfyer Connect app!
Let's take a look at the range and see what new goodies Satisfyer have blessed us with…
Satisfyer Dual Pleasure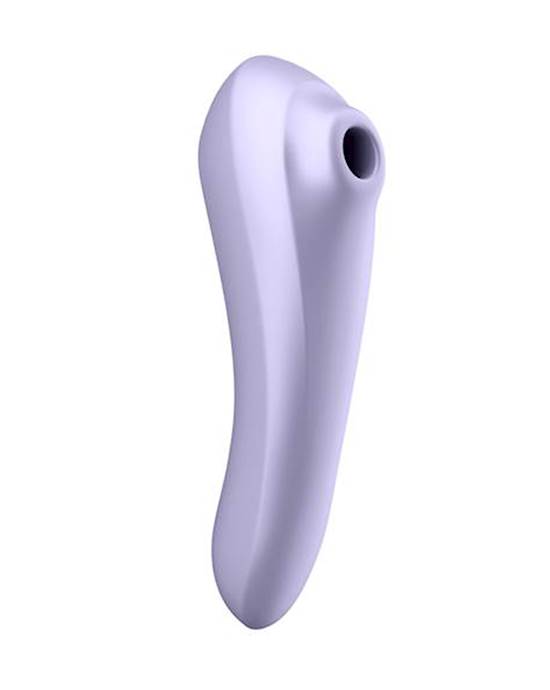 Satisfyer Dual Pleasure$69.95Shop Now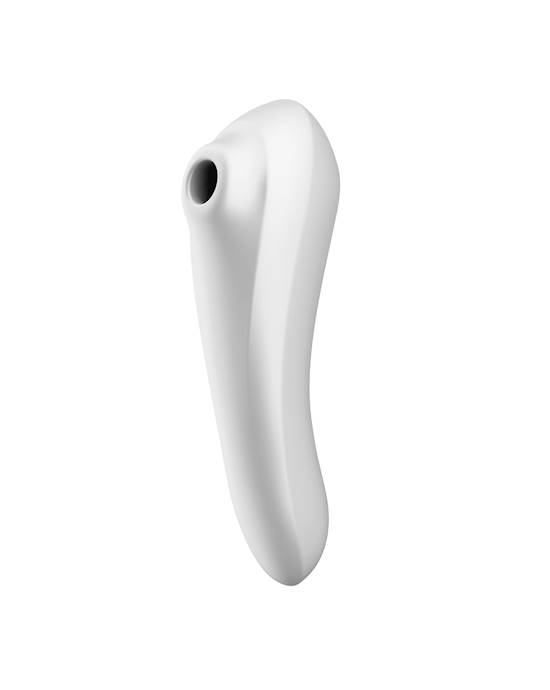 Satisfyer Dual Pleasure$69.95Shop Now
You might be thinking… more clitoral toys?! Don't they all do the same thing? But the Satisfyer Dual Pleasure actually has a few differences when compared to the rest of the brand's clitoral toys.
You can use this toy for clitoral stimulation, with 11 suction modes to choose from and intense Pressure Wave technology that is sure to please. Or, if you prefer internal stimulation, you can use the handle as a G-spot vibrator and cycle through the 11 vibration settings. It's pretty much two toys in one, which is great value for the price!
Satisfyer Twirling Fun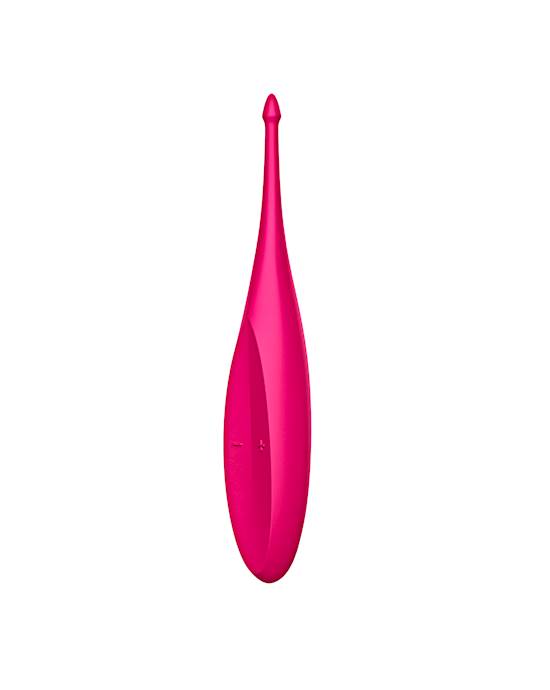 Satisfyer Twirling Fun $41.95Shop Now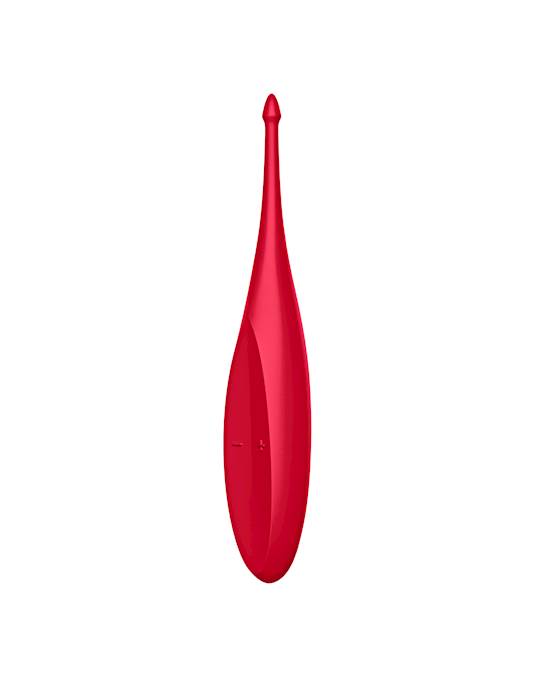 Satisfyer Twirling Fun $41.95Shop Now
The other clitoral toy in the range is super unique and totally different to what Satisfyer already sell. The Twirling Fun has a narrow tip to provide super precise, pinpoint stimulation. This can be very intense, so is only for those who like strong stimulation – although you can also use the side of the toy to make the vibrations a little less intense.
With 12 vibration programs, including 5 intensities and 7 rhythms, this toy is a great option for someone who wants something a little different!
Plus, you don't have to use it exclusively on the clitoris – stimulate the nipples or anywhere else that feels pleasurable too.
Satisfyer High Fly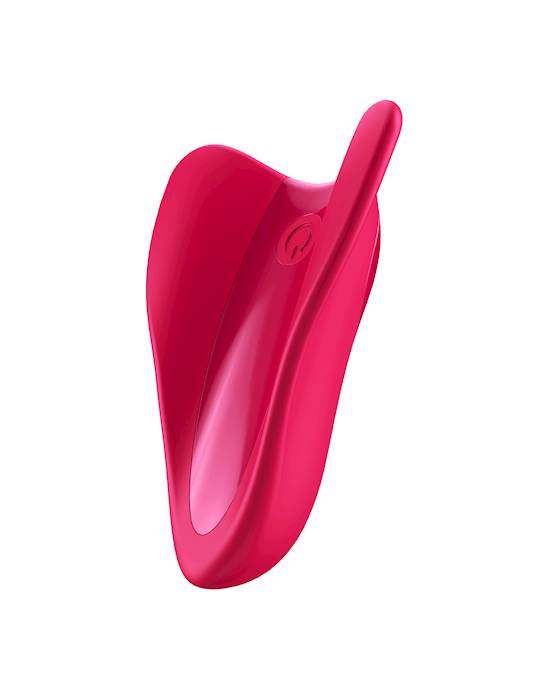 Satisfyer High Fly $53.95Shop Now
Is it a bird? Is it a jet plane? Nope, it's just the Satisfyer High Fly!
While this toy might look like a plane, it's actually a small and discreet finger vibrator. Simply place your finger conveniently between the flexible wings of the vibrator, and let it glide over your skin. Use it to stimulate any external erogenous zones for ultimate pleasure!
Satisfyer Teaser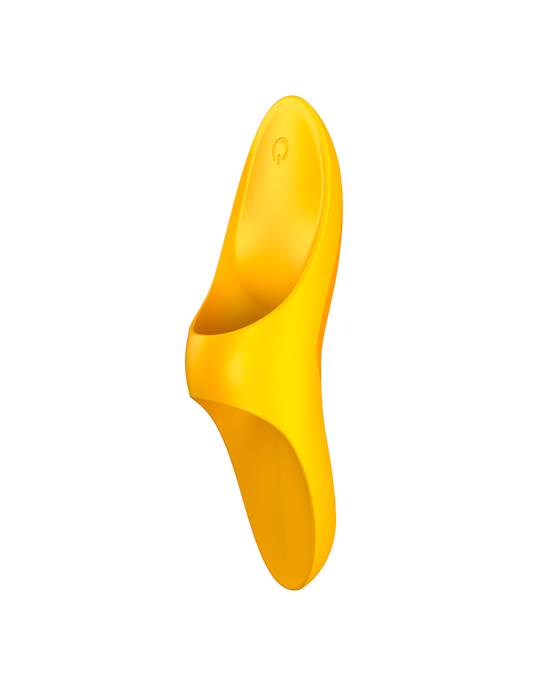 Satisfyer Teaser$39.95Shop Now
The second finger vibrator in the range is the Satisfyer Teaser, the ideal toy for versatile stimulation. Slip your finger through the loop and turn it into a vibrator to tease and please!
This toy is particularly good for playing with a partner, as it won't get in the way and can be easily added into partnered play to add a little extra stimulation. It's small, but the strong vibrations won' disappoint!
Satisfyer Candy Cane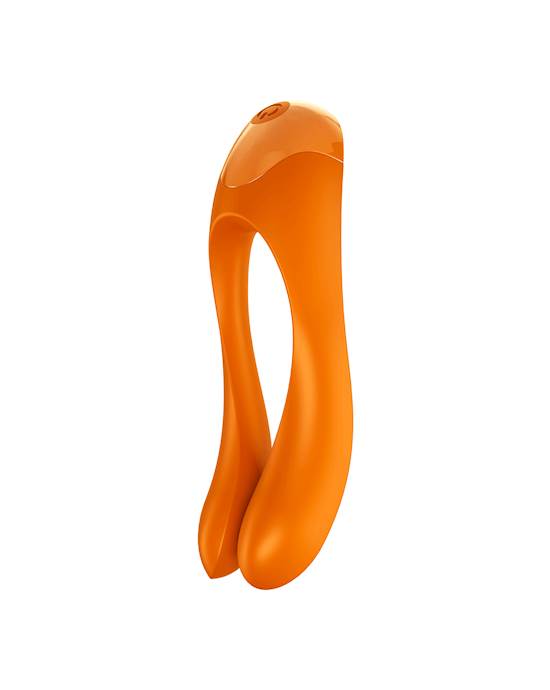 Satisfyer Candy Cane$44.95Shop Now
Another unique toy in the range, the Satisfyer Candy Cane might not look like a finger vibrator, but it is! This toy fits over your finger and helps provides pinpointed stimulation, with two arms that are perfect for sitting either side of the clitoris or nipples. Of course, the vibrations can be used to stimulate anywhere else externally or internally too!
12 vibrations will keep you on your toes and give you plenty to choose from. The two powerful motors also ensure this toy provides maximum pleasure!
The arms have a little bit of flex to them, however they are not designed to be super flexible, so definitely keep this in mind for the Candy Cane.
Satisfyer Lollipop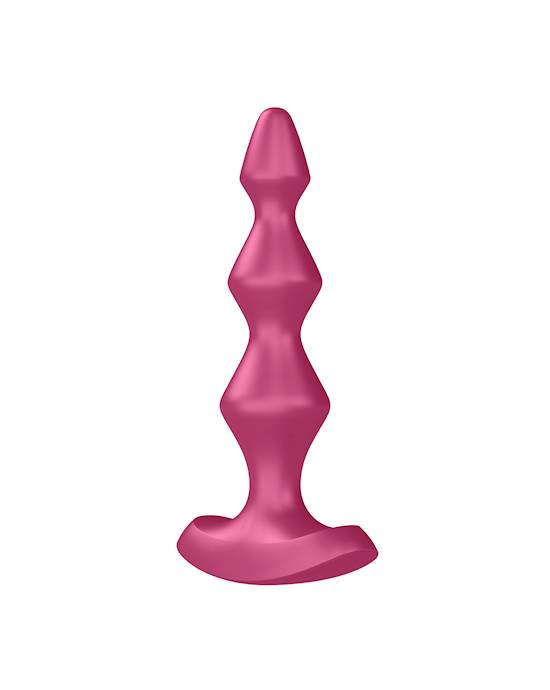 Satisfyer Lollipop Plug 1 $45.95Shop Now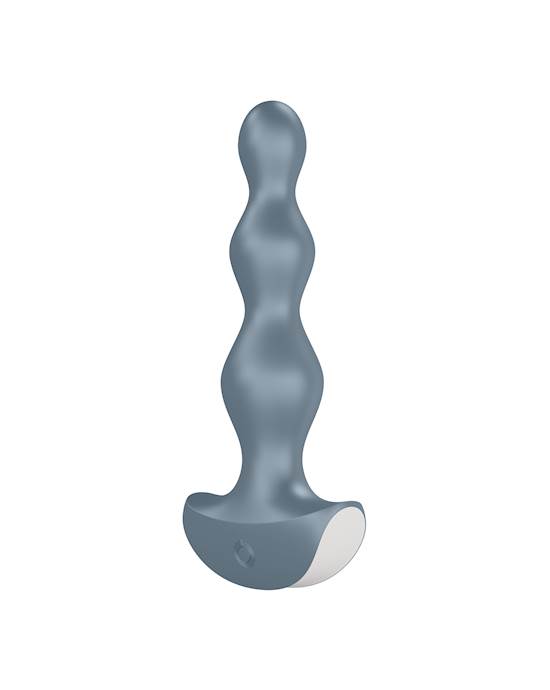 Satisfyer Lollipop Plug 2$45.95Shop Now
While Satisfyer have created anal beads previously, the Satisfyer Lollipop Plugs are their first vibrating butt plugs, and they don't disappoint!
The Lollipop Plug 1 is 5.4 inches in length and 3.9 inches in girth, with a unique conical design that will feel amazing as it goes in and out of the body.
The Lollipop Plug 2 has a slightly longer length at 5.5 inches, and slightly smaller girth at 3.7 inches. With a spherical design, this plug might be more suitable to beginners given the bumps are smoother and will slide in easier.
Both of these have 12 vibration features and are great picks for those who want to level up their anal play!
Satisfyer Sexy Secret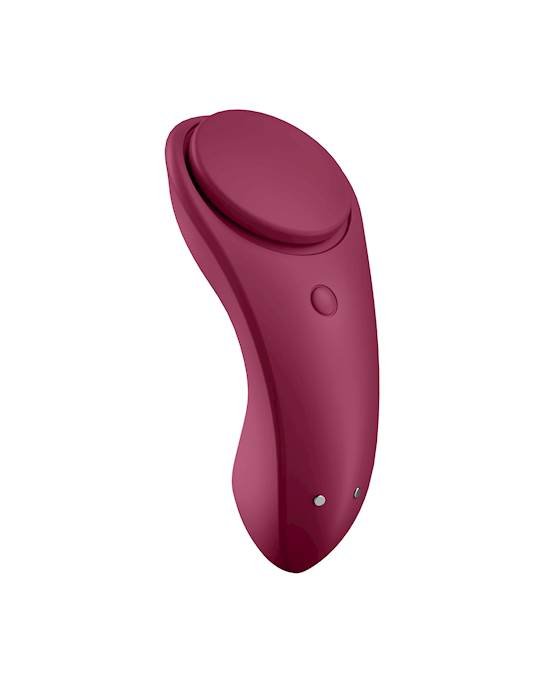 Satisfyer Sexy Secret$52.95Shop Now
Lastly, the much-anticipated Sexy Secret is the last newcomer to the range. This unique toy is unlike any others that are currently on the market, and is much cheaper than other similar toys.
Sexy Secret is a panty vibrator that works by connecting via a magnet to your favourite pair of panties. This means you can easily use it with a range of panties that you already own, compared to other panty vibrators that are attached to an uncomfortable G-string. The magnet also keeps the vibrations securely in place to ensure the toy won't slip while you're wearing it. If you've ever used a panty vibe before, you'll know it can be difficult to keep the vibrations where you want them, so this can definitely help enhance your experience!
The Sexy Secret is also relatively slim and curved to fit the contours of your body, making it perfect for wearing under clothes out in public, or in the bedroom. Connect via Bluetooth to the Satisfyer Connect app and control the vibrations from your phone, or hand the control over to your partner for a seriously hot time!
With an ergonomic design, USB recharging, and super smooth body-safe silicone, the Sexy Secret is one of Satisfyer's best designs yet. And compared to other similar products on the market, the price point is super affordable.
How do I look after and clean my Satisfyer toy?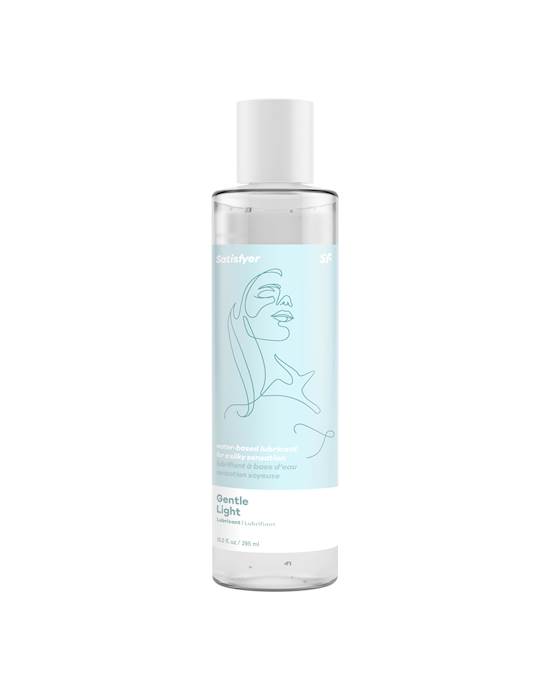 Satisfyer Women Lubricant Gentle Light - 295ml$14.95Shop Now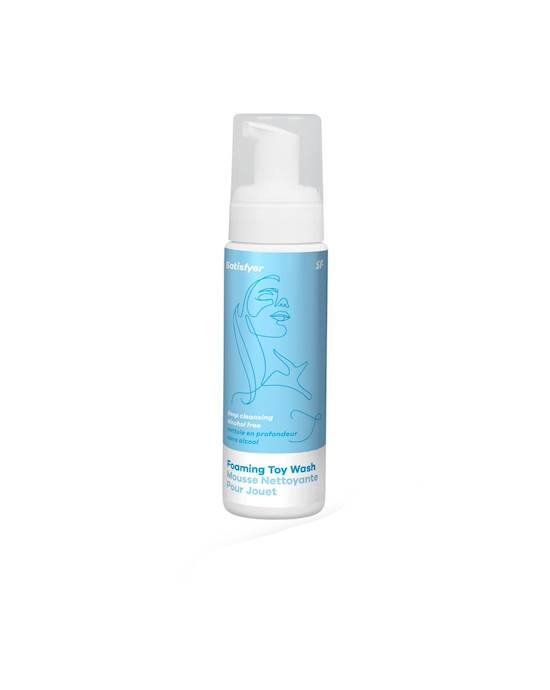 Satisfyer Women Cleansing Foam - 220ml$18.95Shop Now
As most of Satisfyer's toys are silicone, you want to ensure you use a water-based lubricant with them. Lube can help reduce friction and make everything feel a whole lot better! Water-based lubricant is the best option as it is safe to use with all sex toy materials.
Once you're finishing playing with your toy, always use some sex toy cleaner and rinse with warm water to ensure your toy stays clean and hygienic. This will remove any bacteria and also help your toy last longer!
Having trouble with your Satisfyer toy? The Satisfyer brand has a 15-year warranty, so if you think your toy is faulty, don't hesitate to get in touch with us to discuss warranty options.
It's time to Satisfy yourself!
Be sure to check out Satisfyer's full range of toys to choose the perfect one for you!