BDSM for Beginners: The Bondage Kits You Need
BDSM for Beginners: The Bondage Kits You Need
Many people might associate bondage with pain and advanced restraints, and while bondage can involve more intense play, there are plenty of options for beginners and those wanting to ease their way in!
Bondage is the act of tying or restraining someone for aesthetic or erotic reasons, and can also help you enjoy power play in the bedroom, where the dominant partner retrains the submissive. Bondage can be a really fun way to restrict movement and increase pleasure, as well as being a great way to incorporate some role play into the bedroom too.
Before you get started
The key with bondage play, and any form of BDSM, is ensuring that everything is 100% consensual at all times. This is especially important when you're just starting out, as it can take people a while to understand what they feel comfortable with, and what their limit is!
Take things slow and make sure you communicate before, during, and after. If need be, set a safe word that all partners involved know they can use to take a break at any time. If your play involves restricting speech or covering the mouth in any way, a safe action is a great idea too.
After care should also become part of your regular routine after any BDSM play. Essentially, after care is just making sure everyone is physically and mentally okay with everything that happened, and is the perfect chance to chat about you did and didn't enjoy. For more intense play, after care is important to help bring you back to the real world again, which can be particularly important when roleplaying or with a sub/dom relationship.
After care will look different for everyone! It might involve getting into comfy clothes and cuddling, watching a movie, having a bath, tending to any sore areas, and so on. The key is reassurance!
What are bondage kits?
Bondage kits are a great option for beginners as they come with products as a set, allowing you to try out different forms of restraint. Many also include a blindfold, spanker, or other bondage play that you can utilize at the same time! A lot of people are excited to try new things in the bedroom, however aren't sure where to start or get overwhelmed by the number of options available. It can be hard to know where to start! That's why a bondage kit is the perfect starting point and way to get involved. Plus, you can find some at really affordable price points so you can get more bang for your buck! Let's take a look at some of the best bondage kits...
What are the best bondage kits?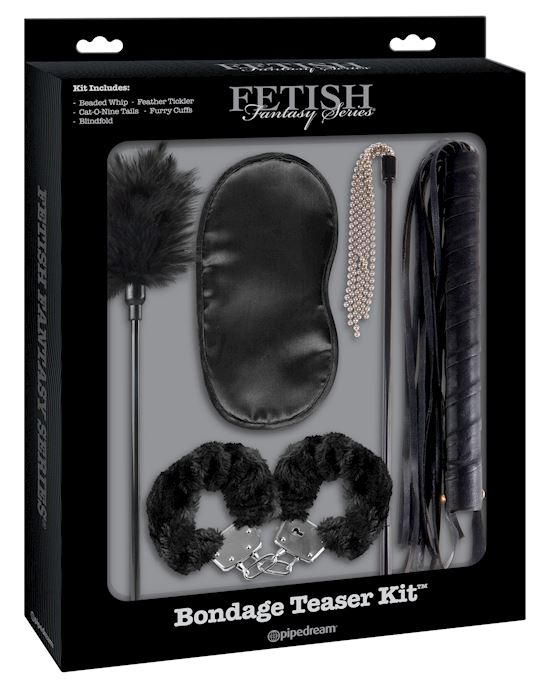 Fetish Fantasy Limited Edition Bondage Teaser Kit$70.95Shop Now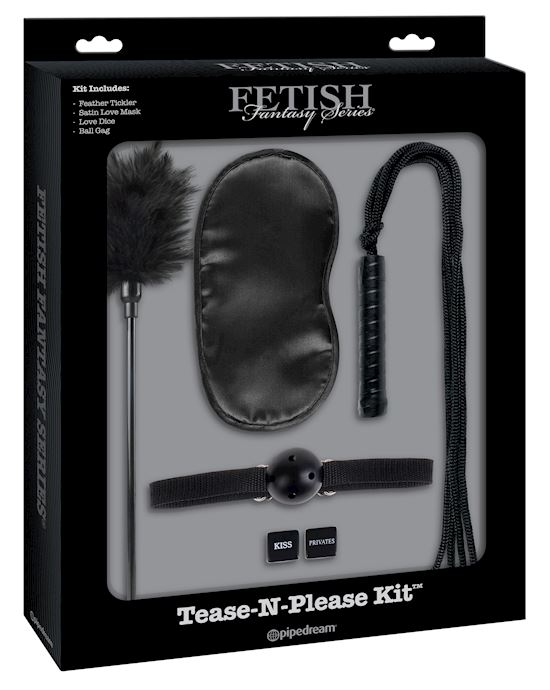 Fetish Fantasy Limited Edition Tease-n-please Kit$39.95Shop Now
The Fetish Fantasy Tease-n-Please kits help you explore your fetish fantasies with a range of beginner-friendly products! Restrict the senses with a blindfold, attach your partner to the bedpost, or tease them with a tickler. The possibilities are endless with these kits!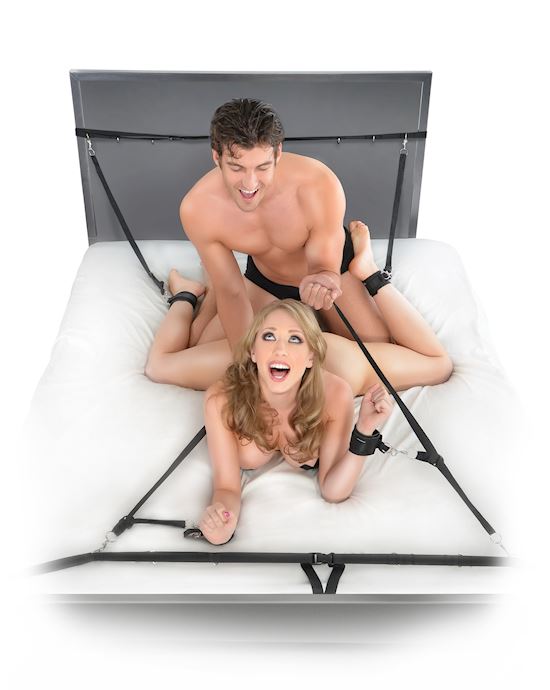 Fetish Fantasy Series Ultimate Bed Restraint System$139.95Shop Now
Transform your bed into a passion playground with the Fetish Fantasy Series Ultimate Bed Restraint System! This is a great bondage kit as it is super easy to install and allows for fun in a range of different positions and ways, while ensuring ultimate comfort for beginners.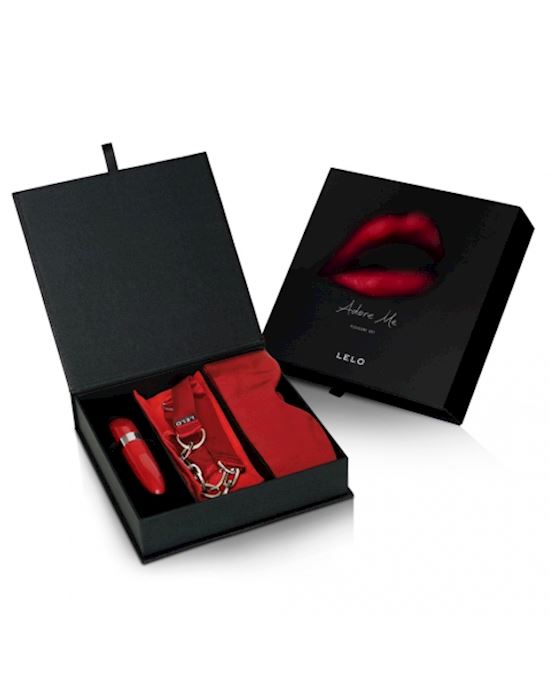 Lelo Adore Me Pleasure Set$257.95Shop Now
The Lelo Adore Me Pleasure Set adds a touch of luxury and sophistication in the bedroom, with the Mia vibrator, silk blindfold and chain-link cuffs included to help spice things up. This set makes the perfect gift or surprise for a loved one (or treat to yourself)!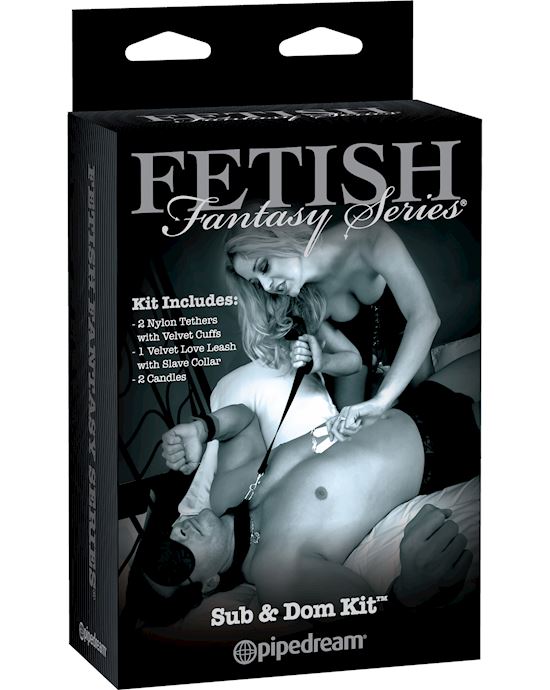 Fetish Fantasy Series Limited Edition Sub And Dom Kit$33.95Shop Now
Your wish is their command with the Sub & Dom Kit! Try out some power play in the bedroom by acting out your deepest desires and enjoy your wildest fantasies. This set includes 2 nylon tethers with velvet cuffs, 1 velvet love leash with slave collar, and 2 candles to set the mood.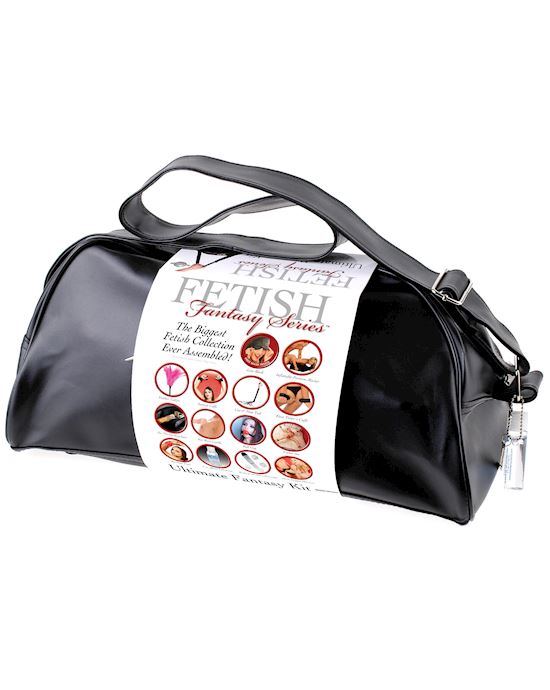 Ultimate Fantasy Sex Toys Bag$231.95Shop Now
Mix business with pleasure with the incredible Ultimate Fantasy Sex Toys Bag - literally a duffel bag full of sex toys! With loads of exciting toys, bondage items, and more, it will never be a dull moment with these products.
Want more?
Adulttoymegastore is an online retailer of sex toys distributing worldwide. ATMS was opened in 2009 and is still proudly New Zealand owned and operated, with over 8,000 products from more than 45 brands to choose from! We take great pride in providing the best products to thousands of happy customers, and have many benefits such as a loyalty programme, free samples, and personalised notes.
Adulttoymegastore has a huge range of sex toys including vibrators, dildos and cock rings for every occasion! With fast, 100% discreet shipping, and price guarantee, ATMS has everything you need to make good sex, great!