Sex Toy Review: The New Zumio Clitoral Stimulator
It's only once in a blue moon that a completely original sex toy comes out, so when the brand new sex toy 'Zumio' was released the team at Adulttoymegastore selflessly put their hands up to try it so they could report their findings to you.
The Zumio is different to every sex toy on the market at the moment, which in itself gives the new adult toy a thumbs up.
But how does the Zumio measure up?
Here's what we thought about the brand new Zumio clitoral stimulator.
What is the Zumio?
Ladies, put down your vibrators and dildos because the Zumio is here!
The Zumio is a completely new style of sex toy from a brand new company called Zumio Inc, designed specifically for highly intense clitoral stimulation.
Made by women, for women, rumour has it that the Zumio came about because a busy single mum wanted to be able to orgasm under a minute, but she couldn't find a toy fit for the job! obviously she hadn't visited Adulttoymegastore!
So, like a true superhero, she took the task upon herself to develop a sex toy that would be able to achieve intense, to-the-point orgasms in record time.
Three years later, the Zumio was born!
How quick is quick?
"Orgasm in less than a minute," is one of the taglines for this toy, and, when used appropriately, lives up to this promise.
The instruction manual even has a guide on the 'Zumio 60 Second Experience' with instructions on how to achieve orgasm within a minute.
Obviously actual results will vary from person to person, but we would suggest that in most cases people would be able to get there in less than five minutes.
Orgasms using the Zumio are very strong, and you'll climax without having much choice in the matter - which isn't a bad thing unless you're wanting to really draw out the experience.
With that being said, the Zumio is the kind of toy you can achieve multiple orgasms with quite easily, but its pin-point stimulation means it's hard to handle holding it in one place for very long.
The Zumio is best used around the clitoris region, but the vibrations are far too intense to be used directly on the clitoris.
The toy is certainly easy to use, it delivers quick results, and it's easy to clean because of its simple design, but it packs a lot of punch for a little toy - almost to the extent of being too much.
The Zumio's lowest vibration speed is still very intense, so naturally it's not going to appeal to everyone.
What's the design like?
Zumio has a very modern, sleek design that looks somewhat like an electric toothbrush. The Zumio head vibrates rather violently, and it's so small that it allows for pin-point clitoral stimulation.
It's important to note that Zumio is designed for external use only and isn't intended for vaginal insertion, so it'sstrictly a clitoral stimulation toy - but a good one!
A nice aspect of the toy's design is that it doesn't look like a sex toy when left charging on your nightstand. It's certainly an inconspicuous and unique little gem!
The body of the Zumio is made from strong plastic, while the antenna area and the buttons are made from silicone. The Zumio has three buttons, making it very user-friendly, including one to turn the toy on and off, and two speed controllers.
There's also a travel lock so it doesn't turn on by accident, which is a handy feature for travelers who want to avoid any embarrassment whilst making their way through customs!
There are three speed levels for the vibrations, all of which are very intense, but it's surprisingly quiet considering how intense the vibrations are.
It's small, lightweight, and has a non-vibrating handle for easy, ergonomic use, which makes this toy a pleasure to work with.
The Zumio uses a USB rechargeable stand and the toy itself is wireless. The instructions say it should take 16 hours to fully charge, and the charge will give you around four hours of playtime.
Who can use the Zumio?
The Zumio is perfect for quick self-pleasure sessions. In fact, you could use it in between making yourself a cup of coffee - you'll be done by the time the jug boils!
It's also a great toy for couples that enjoy introducing sex toys to the bedroom. It would be a great way to experiment with your other half giving them control of the toy to explore your pleasure points, but beware; if they hold it in one position for too long you'll jump through the roof!
So, what's the verdict?
If an intense clit toy is what you're after, the Zumio definitely won't disappoint. The toy is well made, body-safe, it's good value for money and delivers on its promise of quick orgasms - although we're not entirely convinced that the one minute orgasm promise will apply to everyone.
All in all, the Zumio is a great product and it deserves some recognition for its unique approach to pin-point clitoral stimulation. It certainly does what it sets out to do - and that's to provide clitoral stimulation and satisfaction in record time. Well done, Zumio!
Do you want to try the Zumio for yourself? Click here to get yours now!
If the Zumio doesn't sound like it's the right sex toy for you, you're bound to find a female sex toy you like from our most popular female sex toy category!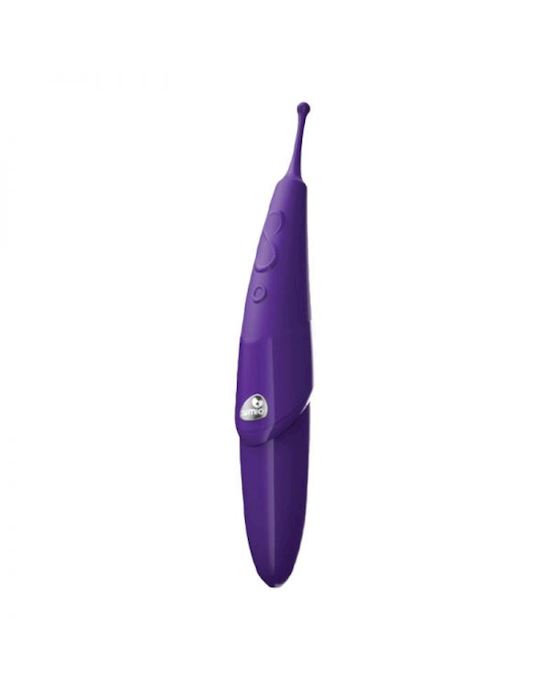 Zumio X$193.95Shop Now