Everything you Need to Know About the Vush Majesty – the toy in Cardi B's music video!
Say what?! Cardi B featured a sex toy in one of her latest music videos – let's take a look at the Vush Majesty and see what's so great about it!
It's amazing to see how sex toys have become more mainstream over the past year or so. What was once a taboo topic, is now being talked about among friends, on social media, and even in workplaces, with people feeling more comfortable than ever to discuss their sex lives and sexual pleasure openly.
We can thank many people and businesses for the boom in the sex toy industry. Mainstream media like movies and TV shows have helped normalise sex toys by featuring them on the big screen, with Facebook groups and sex-positive Instagram accounts opening up the conversation, and influencers and celebrities further supporting the narrative that it is something to be celebrated.
Recently, rapper Cardi B featured the gorgeous Vush Majesty in her music video for 'UP'. With over 180 million views on the music video, it's safe to say this product is definitely a popular one! Vush have taken the world by storm, working with hundreds of well-known influencers to promote their high-quality toys and products.
Let's take a look at the Vush Majesty, its main features, how to use it, and how to look after it.
What is the Vush Majesty?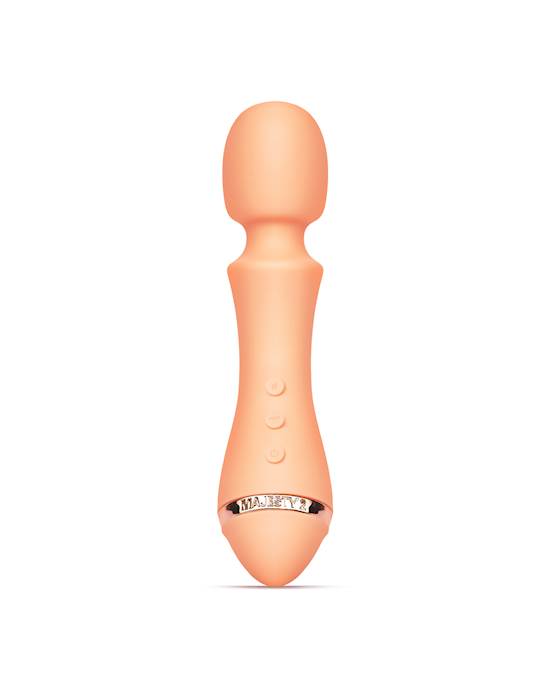 Vush Majesty 2 Wand Vibrator$161.95Shop Now
The Vush Majesty is a stunning wand vibrator that comes in a gorgeous peachy colour. This toy definitely feels like luxury. It comes in pink packaging with rose gold writing that reads "You're the Queen" inside. Without even using it yet, this toy already makes you feel special!
Inside the box, you'll find the product itself, a silky pink storage bag to keep the toy safe, and a USB charging cable. Everything you need to start your journey to pleasure!
The Vush Majesty is made from smooth, body-safe silicone that is medical grade. This means that it won't irritate your skin and is completely safe to be used and cleaned between uses. Choosing a high-quality silicone is very important to ensure your toy won't harbour bacteria and will last as long as possible!
The head of the vibrator is firm but has some flex in the neck, allowing you to stimulate all the curves of your body and mould the toy for your pleasure.
The Majesty has 5 varying levels of intensities and 10 different patterns of pleasure, meaning there is something for everyone and you can switch up the sensations with just a push of a button. This toy is also completely waterproof, which means you can take it into the bath or shower for even more fun!
The Vush Majesty is the perfect toy for someone who wants to explore external pleasure. Since it has a mix of different intensity levels and vibration patterns, it also suits those who are new to sex toys, as well as those who need something more powerful to get them off. The vibrations aren't as strong as other popular wand vibrators like the Doxy, however the smaller size is more versatile, and the USB recharging is a great feature for convenience.
Wand vibrators are also great to incorporate into the bedroom with a partner. In particular, the Vush Majesty sits comfortably in your hand and the flexible neck makes it easy to manoeuvre – perfect for pleasing each other!
How do I use the Vush Majesty?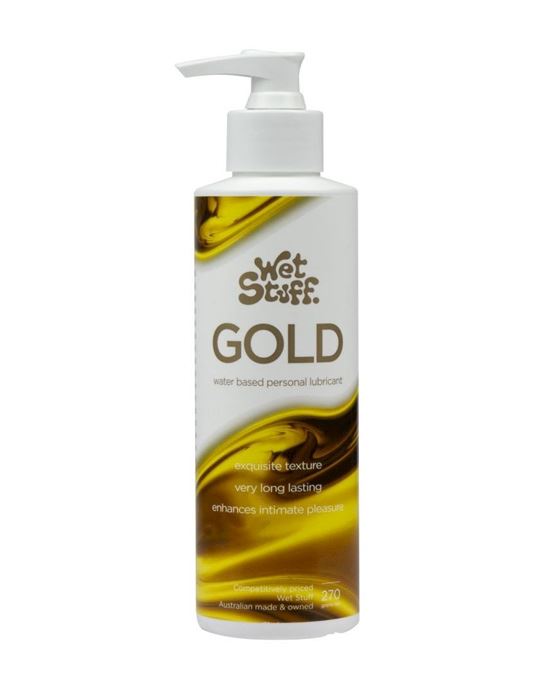 Wet Stuff Gold 270g Pump Top$21.95Shop Now
To get started with your Vush Majesty, you'll want to ensure you have plenty of water-based lubricant on hand. This can be applied directly to the toy and to your body. A simple lubricant like the Wet Stuff Gold is a great option.
To turn on the Majesty, hold down the power button for 3-5 seconds. There is a travel lock to ensure the toy doesn't turn on when bumped or inside your bedside drawer (genius!) so you will need to hold down the button for a few seconds to turn it on. Once it's on, use the middle button to switch between the different patterns, and the top button to switch up the intensity!
The Majesty is designed as an external vibrator. This means it can be used on the body anywhere externally, like the clitoris, nipples, inner thigh, even the balls or perineum. Anywhere that you enjoy being stimulated, the Majesty can help!
Wand vibrators also make great all-over body massagers, so get your partner to help you relax your muscles with the strong vibrations from this vibrator. Perfect for relaxing or for foreplay!
Once you're finished playing, hold down the power button for 3-5 seconds to turn the toy off.
How do I look after the Vush Majesty?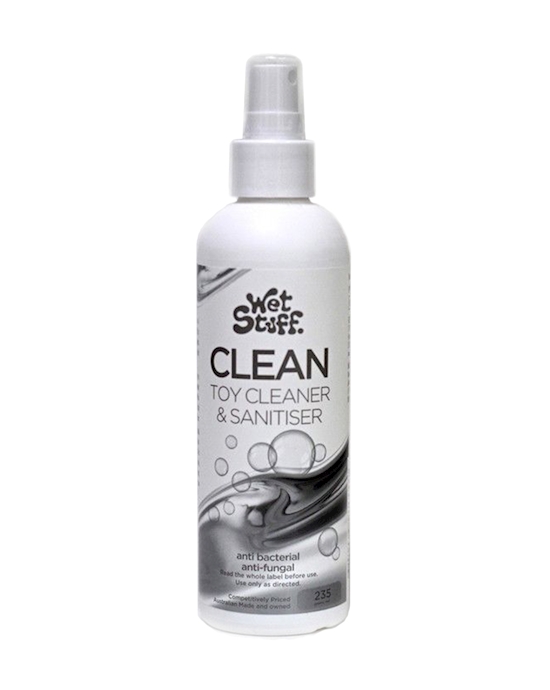 Wet Stuff Clean Spray Mist 235g$20.95Shop Now
Once you're finished using your Vush Majesty, it's important to take the proper steps to clean it and store it away. This will ensure any bacteria is cleaned from the toy, to keep you safe and also to help the toy last as long as possible. Just like anything else in your life, you need to look after it properly!
Use a few sprays of a sex toy cleaner, like the Wet Stuff Clean Spray Mist, and rinse the toy thoroughly under warm water for around a minute. Once you've finished washing the toy, leave it out to dry completely, or use a lint-free cloth to dry it.
Then you can use the handy silk bag to store your Vush Majesty away safely! This will ensure it doesn't come in contact with any other toys (some sex toy materials may bond to each other) and will keep it free from dust and dirt, and ready to go for next time!
Charging your Vush Majesty is super easy. On the back of the toy at the bottom, you'll see two metal circles. The charger simply attaches using magnets to this, and then plugs into any USB outlet to charge up – even your laptop!
This toy is also waterproof, with an IPX7 rating, which means you can use it in the bath or shower for up to 30 minutes, and in water up to 1 metre deep. Bath time just got a lot more fun!
Looking for something else?
Check out our full range of wand vibrators here!