Sex and Gynaecological Cancer: Sex Toy & Pleasure Guide
This sex toy and pleasure guide was created by Adulttoymegastore in conjunction with Talk Peach and health care professionals in gynae oncology.
We worked with a sex educator and gynaecological cancer experts, including clinicians and survivors, to provide the best recommendations for sex toys and intimate products for people who have recovered from gynaecological cancers to reconnect with their bodies and enjoy satisfying sex lives post cancer.
This guide is focused on pleasure, covering the following topics:
Improving sexual desire
Connecting with your body
Lubricant
Sex toys
Cleaning and storage information
Other ways to enjoy sexual pleasure
Product recommendations are provided for common issues including:
Following a hysterectomy
Shortened vagina
Fibrosis
Vaginismus
Following a vulvectomy
Vaginal dryness
Improving libido
Welcome
Before we start, it's important to note that reconnecting with ourselves and our interest in sexual pleasure post cancer is a journey and a process that takes time, and this journey will be different for everyone. Sex and intimacy often aren't front of mind with all the stress of treatments, surgery and everything that comes with it. Then after treatment we can be left with a body that can feel quite alien and may need to learn how to accept our 'new' bodies and feel like they belong to us again after being medicalised.
It's very common, and normal, to feel this way.
Reconnecting with our bodies post cancer is part of the healing process, and over time we can improve our sexual desire, intimacy, and our sex lives in general. We are all deserving of sexual pleasure, and this guide will give you the knowledge and the tools to get stated on your journey and know that you're not alone.
"I think when people have the opportunity to reflect on their experience of cancer in a safe and supportive environment, it can change the narrative and lead to a deeper connection to their body." – Jacqueline, Clinical Psychologist.
Improving sexual desire
Cancer can impact our levels of sexual desire in many ways. The whole process of a diagnosis and treatment is very stressful, and it is normal to feel worried about cancer returning, or worsening. This can have a big impact on how we feel about sex and pleasure.
Many of the symptoms of cancer can also affect our libido (sexual desire), for example pain, fatigue and bleeding, and a reduced sex drive can all be a normal side effect of some treatments. It's understandable that when your body has been through so much, it can take some time for your sex drive to return.
Here are a few ways you can help to improve your sexual desire, according to sex educator Emma Hewitt:
Exercise
Exercising and moving your body can increase your stamina, lift your mood, help you to feel connected with and positive towards your body and help to improve sexual desire. It's also a great way to lower stress levels, which is a big libido killer. Other habits like meditation and mindfulness can help with this too.
Exercise doesn't have to be boring either! There are lots of fun ways that we can move our bodies. Maybe check out a dance class or go for a walk with a friend.
Make time for intimacy
Set aside time for intimacy with yourself or with your partner if you have one. Find things that feel intimate and pleasurable to you that aren't necessarily sexual. Although if they are, that's great too. It could be scheduling a date night with a partner that includes a romantic dinner or scheduling a date night with yourself with a hot bath and some erotic or romantic reading or audio.
Try something new
It could be sensual massage, a new sex position, a tongue trick you haven't tried before (like spelling out the alphabet) or introducing a sex toy. Mixing things up and making time to explore with one another can be a great way to boost your libido and feel more connected.
"It's common to feel nervous about engaging in sex again after cancer treatment. It's often useful to start by reconnecting with yourself before approaching intimacy with a partner." – Anna, Health Psychologist.
The importance of reconnecting with yourself post cancer
After cancer, it's normal to feel differently about your body, and not to feel connected to it in the same way as before. It's important to take time to get to know your body again, and sensual touch and masturbation can be great ways of doing that.
Think about how your body might now feel different in some ways. What feels good to you now? Be gentle and kind as you explore your body and learn what works for you.
There are many benefits to exploring our bodies during sensual touch. Firstly, it feels good, and we all deserve to experience pleasure for the sake of it. But there are also benefits for the body and mind.
Here are some reasons why self-touch and masturbation is good for you, according to sex educator Emma Hewitt:
Release feel-good hormones.
"When your touch your body in a sensual way, the happy chemicals dopamine and oxytocin are released helping your body and mind to relax. The cocktail of hormones your body releases during pleasurable experiences also helps to allow you to drift off to sleep and has been shown to improve sleep patterns," Emma said.
Masturbation is a great teacher.
"The more we explore and experiment with stimulation of our bodies, the more we can understand which areas feel good and how to stimulate those areas for pleasure. If we play with a partner, we can better articulate how to pleasure our own bodies too!"
Masturbation is good for your body.
"Touching yourself is also good for your body. Orgasms work the pelvic floor in the same way as Kegels do and help to keep the muscles in great condition. They have been shown to reduce period cramps and pain too."
Tips for exploring and connecting with your body
Treatment for gynaecological cancers can often have sexual side effects such as lowered sex drive, vaginal dryness, pain or discomfort, and difficulty with arousal. The majority of cancer survivors find that they have little interest in sex for some time after treatment.
Other big factors that impact on how you may feel about sex include body image due to changes post-surgery and treatment, feeling a loss of one's gendered identity, such as after a hysterectomy, and not knowing how to restart intimacy with a partner. Partners can also struggle as they may be worried about hurting their partner.
Exploring sexual pleasure and reconnecting with your own body, and with a partner, sexually can be challenging post cancer treatment, but it's important to know that you deserve pleasure and to feel good!
It may take time and experimentation to find out what feels good, so to help get you started sex educator Emma Hewitt and Talk Peach founder and gynae cancer survivor Tash Crosby, and cancer support worker Lizzie have provided their top tips for easing your way back into enjoying sexual pleasure.
Tip 1: Set the mood
"Play around with lighting and clothing as these things can help you to feel more comfortable with your post-treatment body and help you to relax more. For example, wearing clothing that might cover up a colostomy bag if you have one and it bothers you, wearing cute lingerie that covers up scarring, or low lighting to help you feel sexy and less worried about how your body may look. These can all help to build confidence when you're connecting and exploring your body again," said Lizzie, a cancer support worker.
Tip2: Sensual touch and massage
"Exploring your body through sensual touch can help you to discover your pleasure zones, connect with your body and learn what feels good. This can be done using your hands and fingers. You can also experiment with adult toys, which we'll cover in this guide," sex educator Emma Hewitt said.
"Massaging each other is an amazing way to feel connected without having sex. Sharing physical touch and pleasuring each other's bodies in this way can still feel intimate and erotic without the stress that you may associate with sex. Grab a massage oil to ensure that things stay smooth and slippery.
"A massage candle is another great option. This is a delicious smelling candle that quickly turns into a liquid which can be poured onto the body and used for massage. These candles burn at a low temperature to ensure that they can be poured safely and won't burn your skin."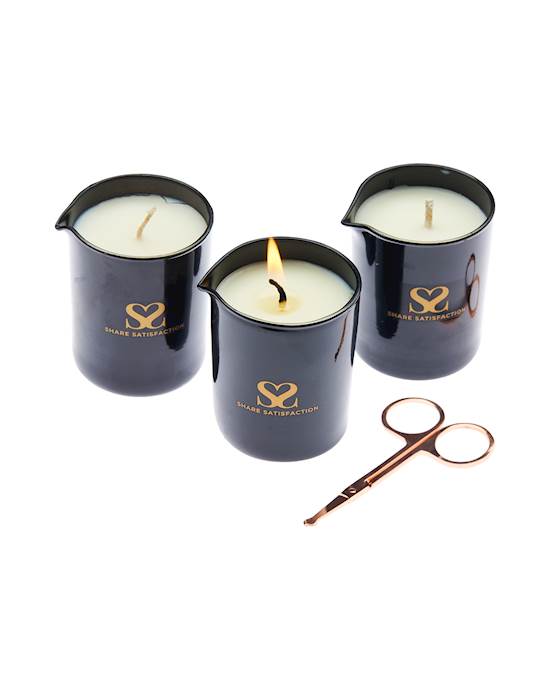 Share Satisfaction Massage Candle Set$54.95Shop Now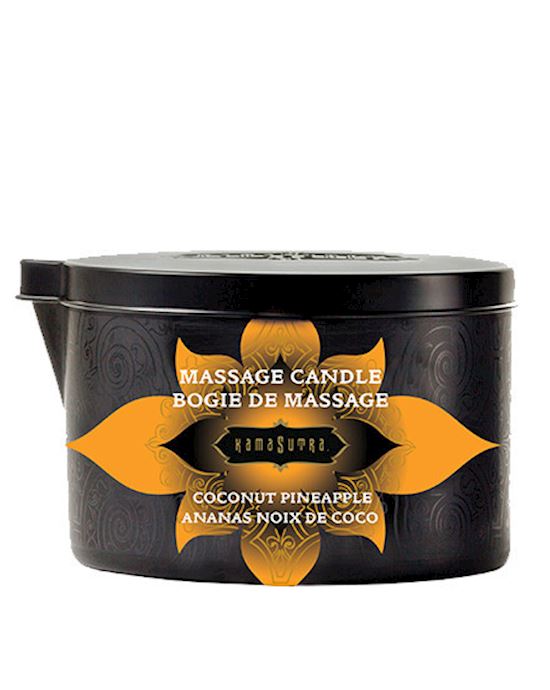 Kama Sutra Massage Candle$39.95Shop Now
Tip 3: Take things slow
"It may take time and practice to figure out what feels good, or you may need to build up to sex over time with smaller acts of intimacy like cuddling, or a massage. There is no right or wrong when you're reconnecting with your body as we are all different, it is about what works for you and your partner if you have one," said Tash Crosby, founder of Talk Peach.
Tip 4: Communication
"As you experiment with your own sexual pleasure and learn what feels good, be sure to tell (or show) your partner," Emma said.
Lizzie added: "Sometimes partners need reassurance that it's ok to be physically intimate after cancer. It's normal for them to be worried about causing pain or upsetting you. Sometimes, partners might take a little longer to be ready to engage in sex again because of this.
"Communication is also about listening to your own body. Consider what is feeling good, or not, and follow that. Your body will soon tell you if you are trying to move too quickly so connecting and listening to our bodies is important."
Tip 5: Pelvic floor awareness
"Pelvic floor awareness, exercises to strengthen pelvic floor muscles and relaxation techniques can increase your enjoyment of sex. Knowing what your needs are and being able to assert them can improve the quality of your sex life, and help you to feel more in control," Tash suggested.
Lizzie added: "For some, the issue can be a pelvic floor which is too tight and causing pain. It's about pelvic floor awareness and being able to control the muscles to tighten, but also to fully release and relax them. A pelvic physiotherapist can help with this."
Tip 6: Use a high-quality lubricant
"Lube on everything, lube all the time, every kind of lube for all for all the different purposes. Have that lube handy and re-apply whenever necessary," Emma explained.
Lubricant
Cancer treatments can really impact our body's ability to lubricate our vaginas. Vaginal dryness is probably the most commonly reported issue from people who are recovering, or have recovered, from gynaecological cancers, along with a loss of sexual desire. So, if you experience vaginal dryness, you're not alone! It can affect anyone, regardless of age, and this doesn't mean there's anything wrong with you. Sometimes our bodies just don't cooperate and that's okay. Lubricant to the rescue.
Here at Adulttoymegastore personal lubricant is one of our best-selling products. We recommend using it with sex toys to make their use more pleasurable, and we think lubricant should be used with all sexual acts, from masturbation to foreplay to sex.
Expert tip: Choose a lubricant with no active or stimulating ingredients or colours—nothing that doesn't need to be in there. Avoid lubricants with ingredients including Glycerine, which can contribute to an overgrowth of yeast, Propylene Glycol which can cause reduced hydration long-term, and avoid parabens too." - Sex educator, Emma Hewitt.
For vaginal dryness, we recommend the following lubricants:
Water-based lubricant
A Water-based lubricant absorbs into the skin. It's safe to use with all sex toys, latex condoms and is easy to wash off. However, due to this, it isn't particularly long lasting, so some reapplication may be required.
We recommend the following water-based lubricants: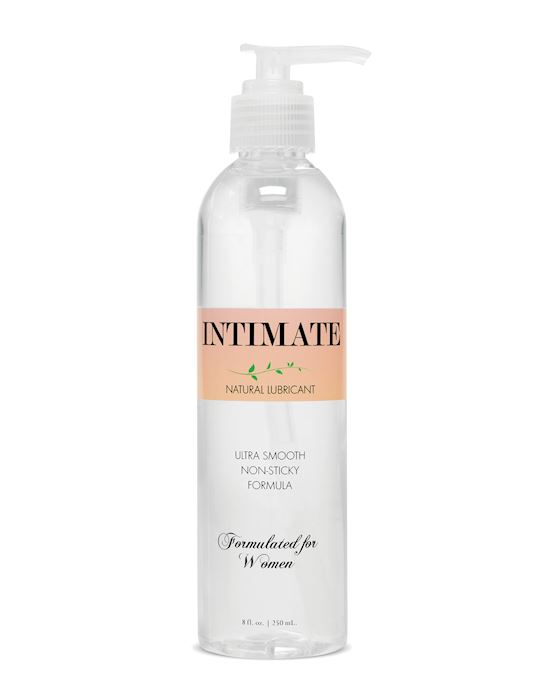 Intimate Natural Lubricant For Women 8oz$34.95Shop Now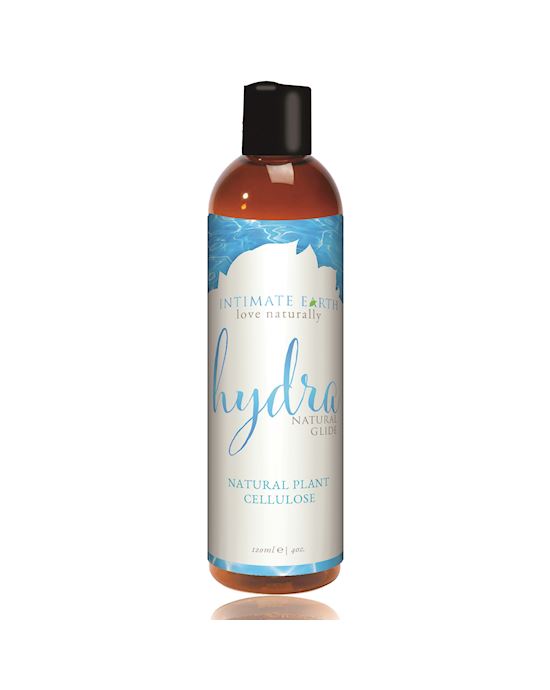 Intimate Earth Hydra Natural Glide 120 Ml$27.95Shop Now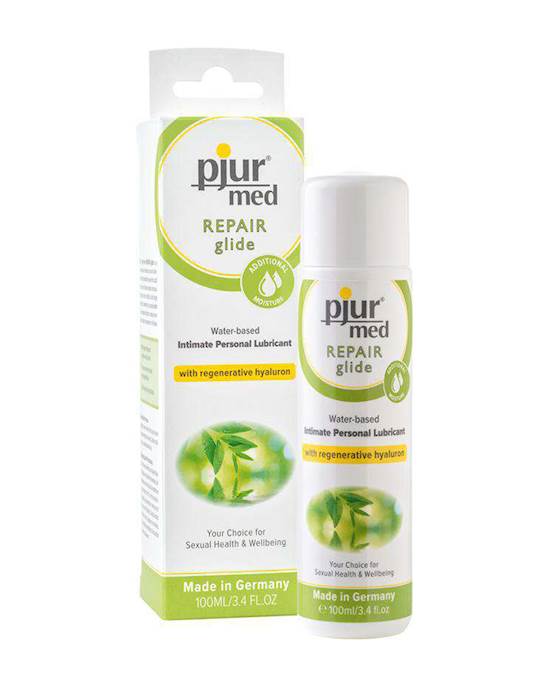 Pjur Med Repair Glide - 100ml$24.95Shop Now
Silicone or hybrid lubricant
A Silicone lubricant is long-lasting, silky-smooth lubricant that doesn't absorb easily into the skin like water-based lubricant. That means it'll stay lubricated until you wash it off.
A Hybrid lubricant is a mix between silicone and water-based lubricant, providing the best of both worlds.
Please note: Silicone lubricant isn't suitable for use with silicone sex toys as the silicone reacts together and can harm the toy. A sex toy that has been interacted with in this manner is no longer body safe and should not be used. It also shouldn't be used if you or your partner are allergic to silicone.
We recommend the following silicone and hybrid lubricants: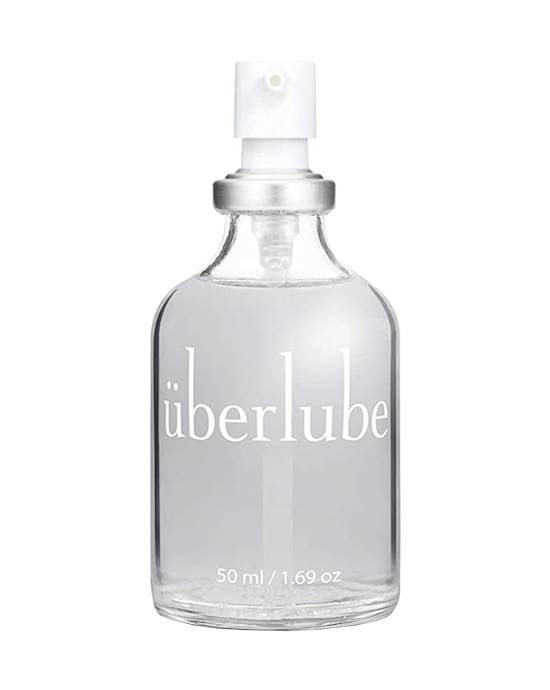 Uberlube Luxury Lubricant 50ml$29.95Shop Now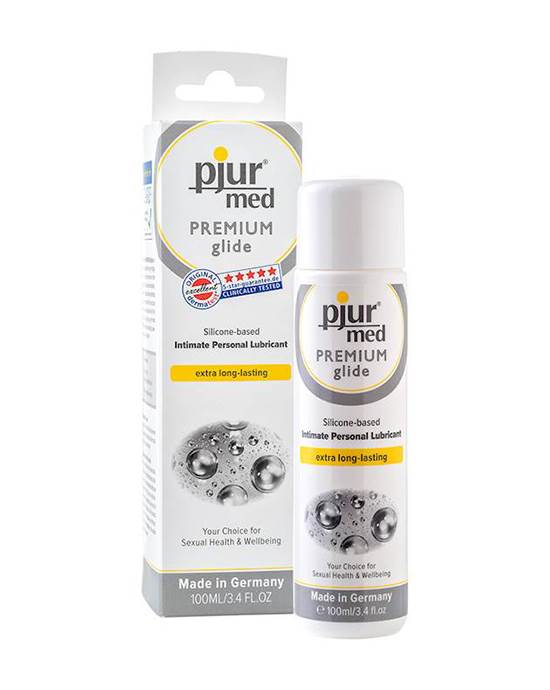 Pjur - Med Premium Glide $39.95Shop Now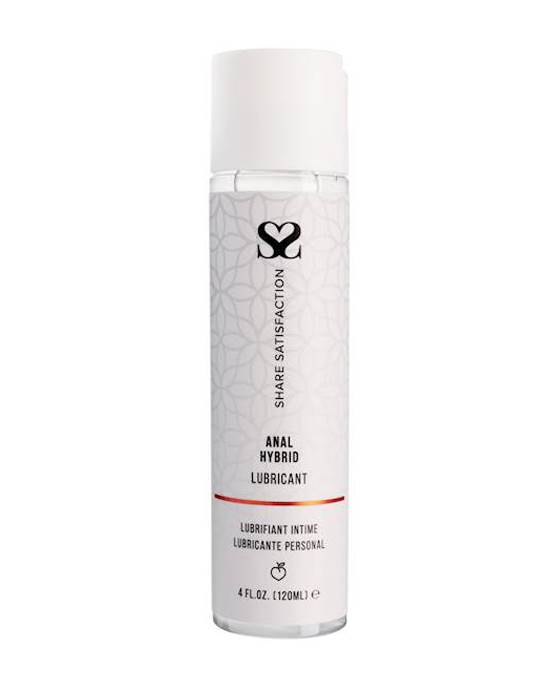 Share Satisfaction Anal Hybrid Lubricant - 120ml$16.95Shop Now
How to use lubricant:
Using lubricant couldn't be easier. Simply squeeze a small dollop into the palm of your hand or onto your finger and apply generously to the area you wish to lubricate.
If you'd like to know more about personal lubricants, watch the video below where Emma will cover everything you need to know in a few minutes.
Further reading about lubricants:
Here are some more resources on personal lubricants written by our sex toy and sexual wellness experts:
Using sex toys
There are so many great benefits to using sex toys alone or with a partner. It's important to understand that sex toys are not designed to replace a partner and there's no reason that a sex toy should be intimidating within a relationship. They are designed to enhance pleasure, help with arousal and sexual stamina, and can help bring people to orgasm.
They can stimulate the body in all sorts of pleasurable ways, add more stimulation and offer new forms of experimentation. They also frequently offer stimulation that a human can't provide, like vibration. With sex toys, the options for pleasure are pretty much endless. There is a sex toy for everyone and something to stimulate every type of anatomy.
Here are some tips for talking to your partner about including a sex toy into your relationship.
Have the conversation outside of the bedroom
Emma said: "Take a deep breath and be honest. I recommend having the discussion in a non-sexual context, over lunch or with a glass of wine in the evening. And be honest about your desire to use a toy and how you would like to use it with your partner. Discuss how the toy can work for you both and how you want to ensure that they are comfortable with it too. And always frame the conversation in a positive way and make clear that this is an addition to pleasure for you both."
Explore the options together
"You can also recommend that they help you to explore the options and choose something together. This will ensure that you get something that you are both interested in and that they feel involved in the process. It can also be a super fun experience to shop for a toy together. Take time to look at different options, read reviews and build a shared wishlist onsite," Emma explained.
You can also check out Adulttoymegastore's YouTube channel with educational videos on different types of sex toys and how to use them: ATMS TV.
Respect their views and decisions
"These conversations can be intimidating but the more you have them, the more comfortable you will become with being vulnerable with one another. And of course, if they are not interested, you need to respect this too. This might mean that they are not interested right now but may be open to the conversation later, or they may not be interested at all. If this is the case, then a toy for solo use without them may be a better option," Emma said.
The best sex toys and sexual wellness products post gynae cancer
Let's cover the best sex toys and sexual wellness products for people who are recovering from, or have recovered from gynaecological cancers, as recommended by sex educator Emma Hewitt and gynae oncology experts.
Before using any of these products we recommend seeking guidance from a medical professional. This might be your doctor, specialist, nurse, or a pelvic physiotherapist.
Dilators
Dilators are used for training your vaginal muscles, recovering after surgery (like a hysterectomy), or for treating vaginismus or vaginal fibrosis. They come in a set with differently sized dilators so you can start small and work your way up. Usually, your doctor will only be able to provide plastic dilators, but Adulttoymegastore has a range of non-anatomical silicone dilators that feel nicer and are a lot less clinical which can be used instead.
Lubricant should always be used with dilators. Water-based lubricant is safe to use with all dilator materials and should be applied generously to the dilator and to yourself before insertion to keep things slippery and comfortable.
Expert tip: When using a dilator, add clitoral stimulation with a suction toy or clitoral vibrator to increase the pleasure of the experience. Many clitoral vibrators are waterproof, so light some candles, run a hot bath and relax.
The dilators we recommend are: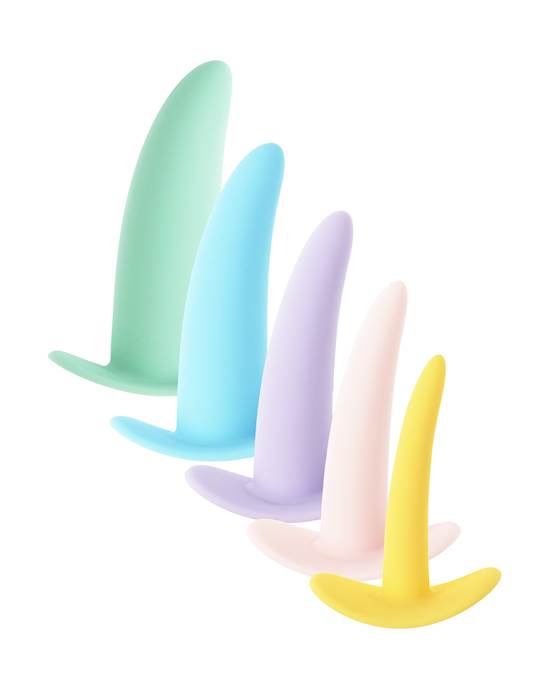 Eyden Wearable Dilator Set $39.95Shop Now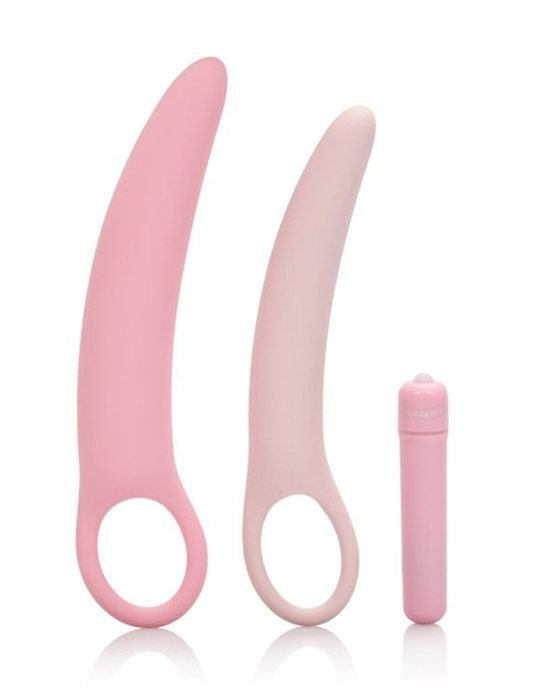 Inspire Vibrating Dilator Kit$89.95Shop Now
"I bought these as a last resort after struggling with painful sex for years. These combined with pelvic floor physio had a massive impact on my ability to feel like a confident woman. All the different sizes enabled me to work my way up from finger sized insertion to the largest size in my own time and giving me the confidence to have sex with a partner again. I highly recommend these for anyone struggling with pelvic floor problems!" – Customer review of the Berman Dilator Pelvic Floor Strengthening Kit.
Kegel Trainers
Kegel trainers are useful for performing Kegel exercises to strengthen your pelvic floor and gain better control of these muscles. These are particularly useful for treating vaginismus and bladder weakness.
Lubricant should always be used with Kegel trainers, like Kegel balls. Water-based lubricant is safe to use with all sex toy materials and should be applied generously to the product and to yourself before insertion to keep things slippery and comfortable.
The Kegel trainers we recommend include: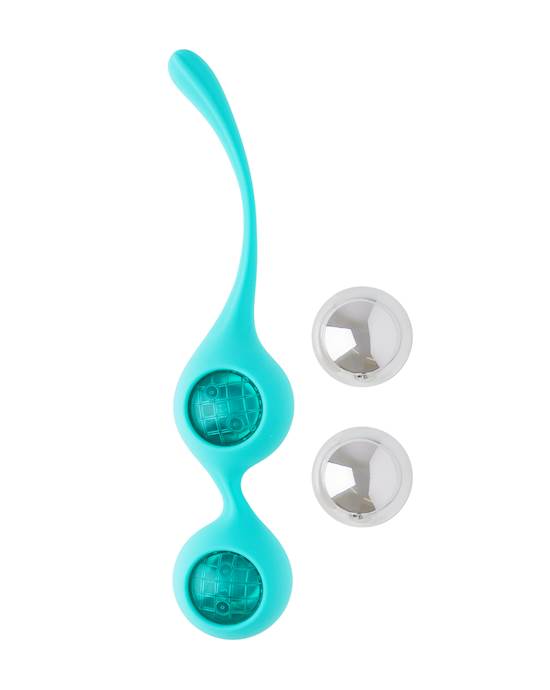 Eyden Multi Weight Kegel Balls$39.95Shop Now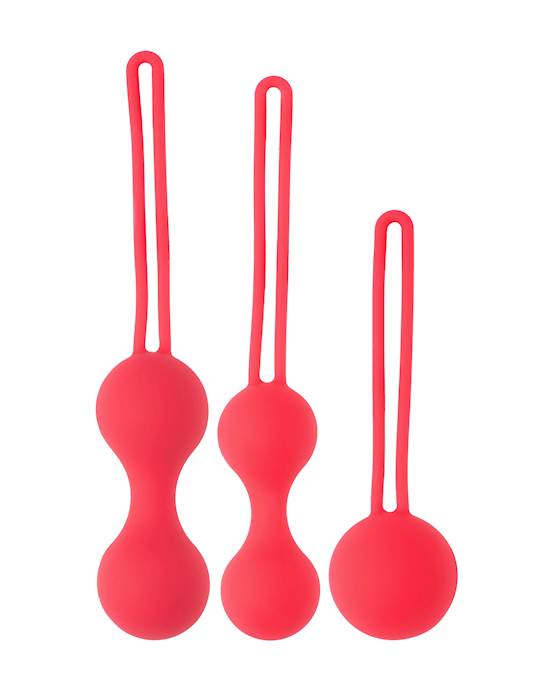 Eyden Three Piece Kegel Ball Set$29.95Shop Now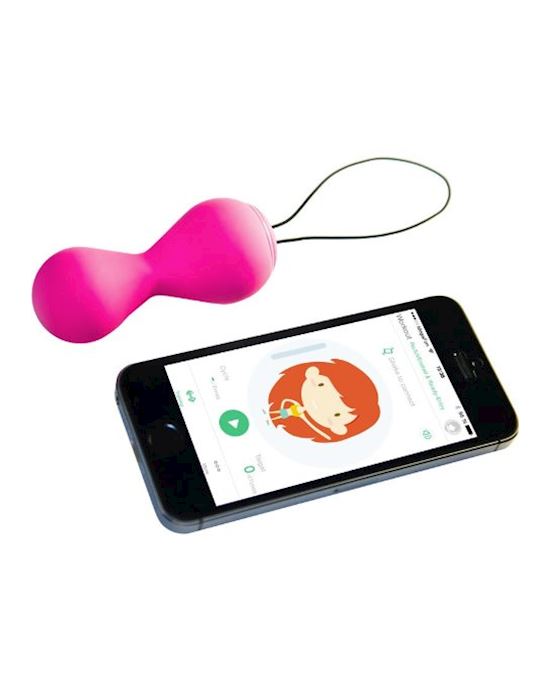 Gballs 2 - App Compatible $129.95Shop Now
View our full range of kegel trainers here
Learn more about Kegel Exercisers:
Bumpers for painful sex
If you experience painful sex, a bumper is an excellent tool for reducing the depth of penetration. Bumpers are a type of sex aid that can be worn over the shaft of the penis, or any penetrative sex toys, to reduce the depth of penetration by creating an extra cushion between the two bodies to avoid deep penetration which may be the cause of pain. This makes them particularly useful if you have a shortened vagina post-surgery or experience discomfort during penetrative sex.
The bumpers we recommend include: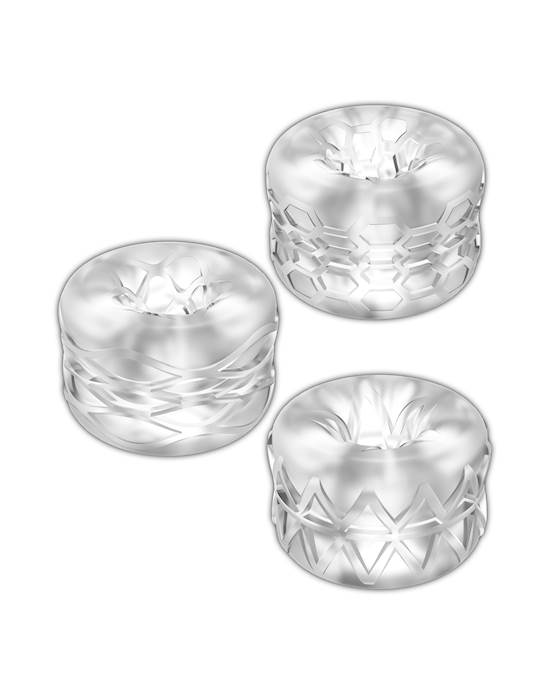 Zolo Bumperz$89.95Shop Now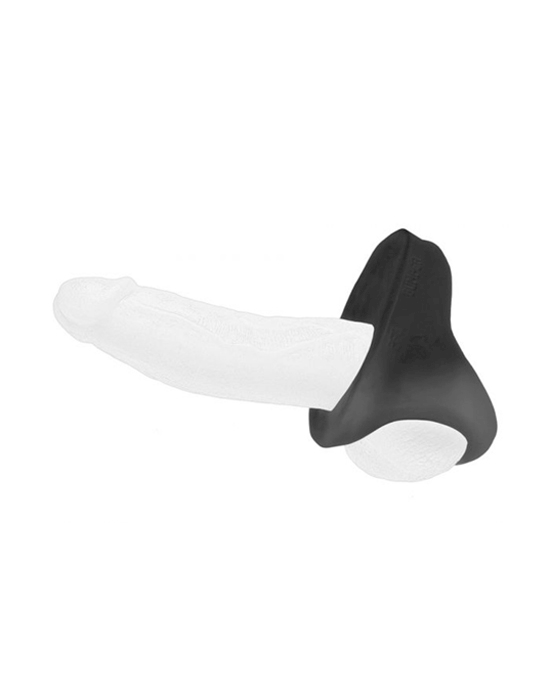 The Bumper - Deep Thrust Coushion ( Base & Donut )$143.95Shop Now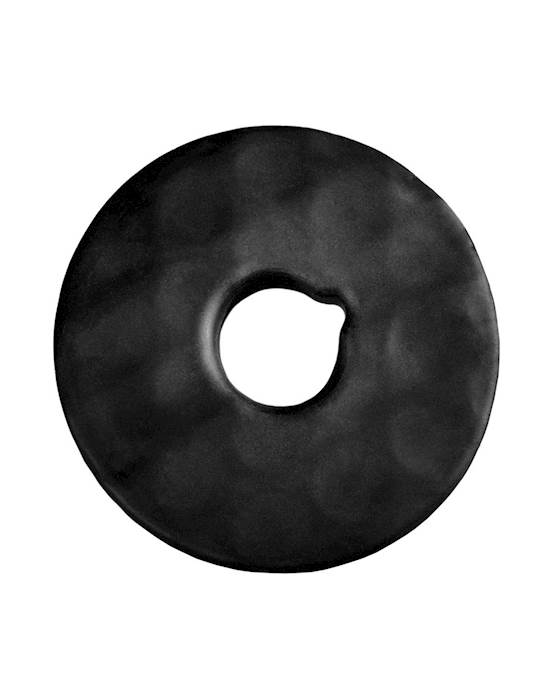 Donut Cushion Addition - Bumper Product Add On$37.95Shop Now
Learn more about bumpers:
If you want to learn more about bumpers, check out this video.
Clitoral Toys
Clitoral sex toys are wonderful for anyone with a clitoris. Perfect for using solo or with a partner, they're a great place to start with your exploration as they're designed to be used externally on the body to add extra stimulation through vibrations or suction technology. Simply add some water-based lubricant to the toy and yourself and you're good to go!
The clitoris is much more than just the glans, the part we can see outside of the body. It also has the bulbous internal extensions (the vestibular bulbs) and the internal winglike extensions (the corpus cavernosum). The entirety of the clitoris is made up of erectile tissue that fills with blood when we are aroused making it more sensitive.
A wand vibrator stimulates the vulva and clitoris with powerful vibration that is often rumbly, deep and able to be felt throughout the internal structure of the clitoris as well as the glans, the external clitoris.
The internal structure of the clitoris can be stimulated in different ways. Strong clitoral vibrators like Wand Vibrators can stimulate deep inside the body, reaching the nerve endings of this structure. Vulva massage of the labia can also stimulate this area, especially closer to the opening if the vagina, and you can stimulate it via the vagina too. The g-spot is actually part of the clitoral structure.
The wand vibrators we recommend are: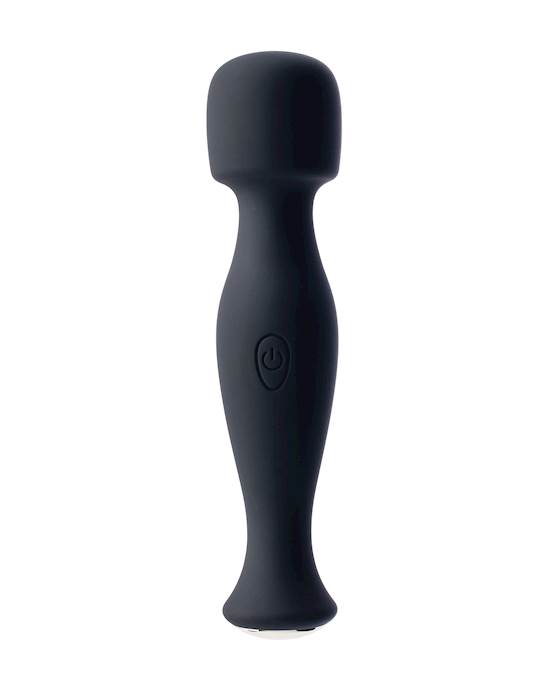 Share Satisfaction Mini Wand $50.95Shop Now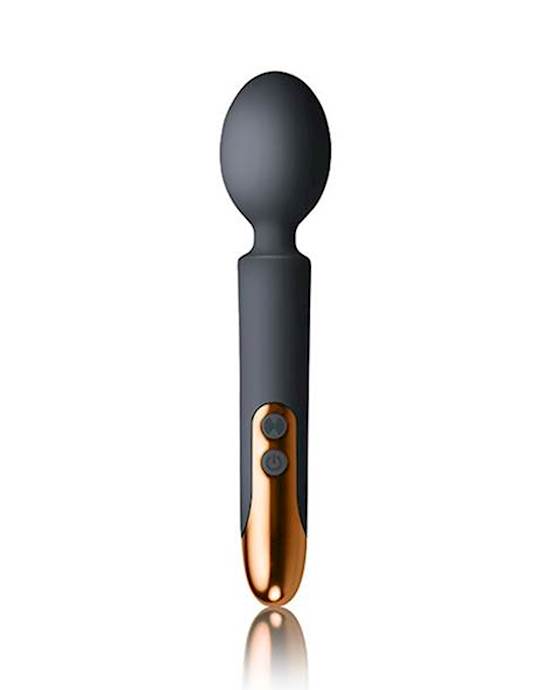 Oriel - The Ultimate Wand$109.95Shop Now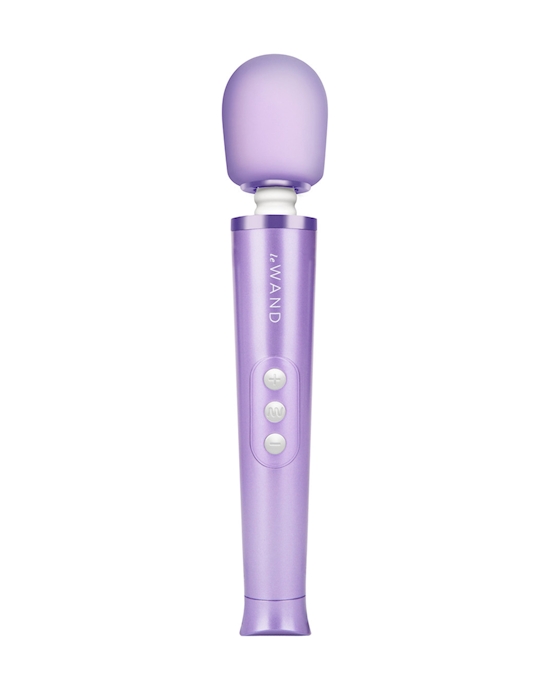 Le Wand Petite Rechargeable Massager$184.95Shop Now
If you'd like to know more about wand vibes, watch the video below where Emma will cover everything you need to know in a few minutes!
Clitoral Suction Toys
Suction toys use a technology that causes the air to flutter, pulse and pleasure the clitoris. You create a seal between your skin and the toy while the toy pulses to move the air around the clitoris without actually coming into direct contact with it. The idea is that it creates a light suckling or suction sensation on the clitoris which feels similar to being stimulated by a mouth and tongue.
It's a totally unique experience that feels very different to vibration and many users find these toys more intense than a vibrator, but the range of intensity levels mean you can find the best level for you.
We recommend the following clitoral suction toys: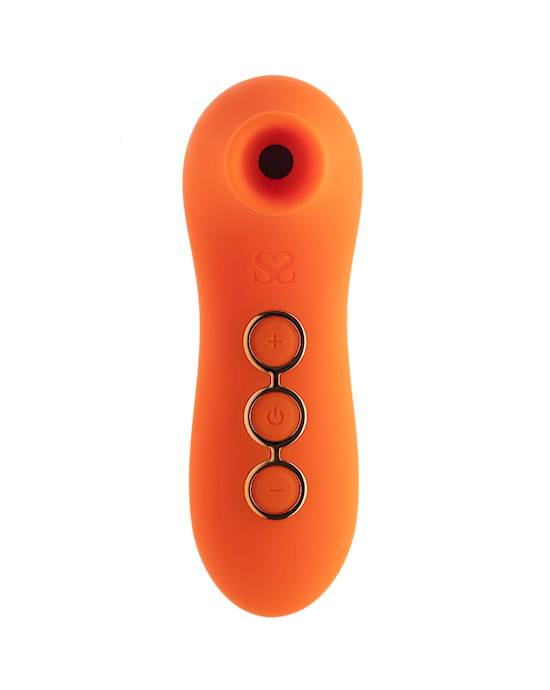 Share Satisfaction Coco Suction Vibrator$69.95Shop Now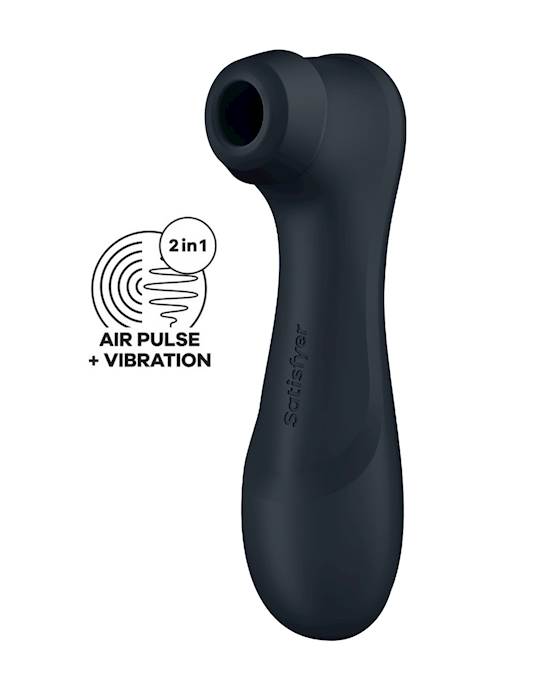 Satisfyer Pro 2 Generation 3$124.95Shop Now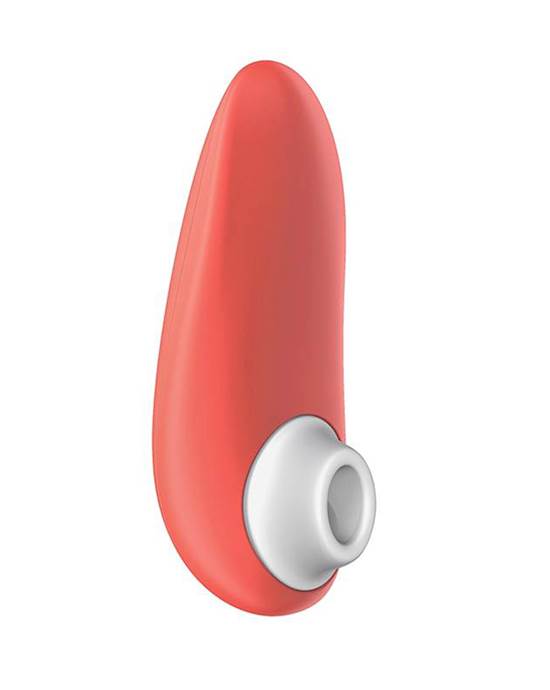 Womanizer Starlet 2 Clitoral Vibrator$109.95Shop Now
Learn more about suction toys:
If you'd like to know more about suction toys, watch the video below!
Finger and Bullet Vibrators
Finger vibes are perfect for using with a partner. They can be placed on your, or your partner's, finger, and used to stimulate any external parts of the body. The nipples, clitoris, inner thighs, perineum, anywhere you want to stimulate! Bullet vibrators are a similar option, but they're held instead of worn.
We recommend the following finger or bullet vibes: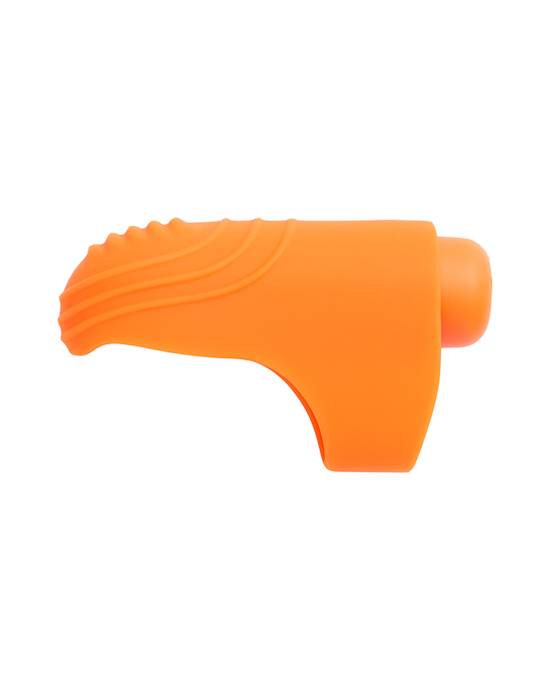 Share Satisfaction Finger Vibe$16.95Shop Now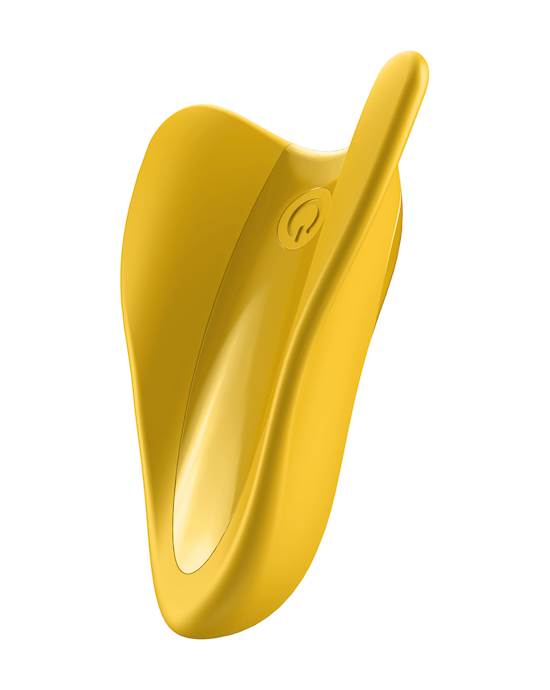 Satisfyer High Fly $49.95Shop Now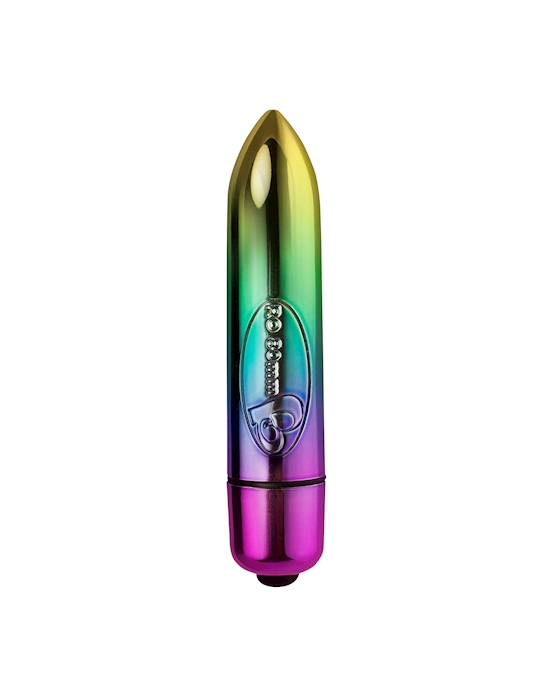 Ro- 80mm 7 Speed$21.95Shop Now
Cleaning and storage information for sex toys
It's important to clean your sex toys after each use, and also before use if you haven't used them in a while. When you buy a new sex toy, always clean it first. Not only will this help them to last longer, but it's vital to lessening the risk of the toy becoming a breeding ground for bacteria, which could lead to an infection.
How to clean your sex toy will depend on the material it's made from and whether or not it's waterproof. Read this guide, How to clean your sex toys, to find out more.
You'll also need to store your sex toys properly to keep them clean. Read this guide, How to store your sex toys safely, to find out everything you need to know.
Other ways to enjoy sexual pleasure
Intimacy and pleasure can be experienced in all sorts of ways. The definition of successful sex in society seems to be focused on reaching orgasm, but that's not true! The goal isn't always to orgasm, it's about connection, intimacy and pleasure.
If you experience painful sex, or have had a vulvectomy resulting in removal of part, or all, of the clitoris, there are many other ways you can explore your erogenous zones and pleasure, including:
Massage
Temperature play
Sensual bondage play
Nipple play
Anal play
Nipple Play
The nipples are a wonderful erogenous zone to explore. Each nipple has hundreds of nerve endings which makes them extremely sensitive to touch. Nipple stimulation even sets off sparks to the genital sensory cortex. The same part of the brain that is aroused by vaginal or clitoral stimulation.
Our nipples are a very easy area to stimulate with hands or mouths. Try stroking, pinching, sucking or even light nips with teeth. There are also toys that can increase blood flow and stimulate the area.
If you would prefer to use a toy, nipple clamps are a great option to provide extra sensitivity to the area.
If you'd like to know more about nipple clamps, check out the video below!
Here are a few nipple toys we recommend: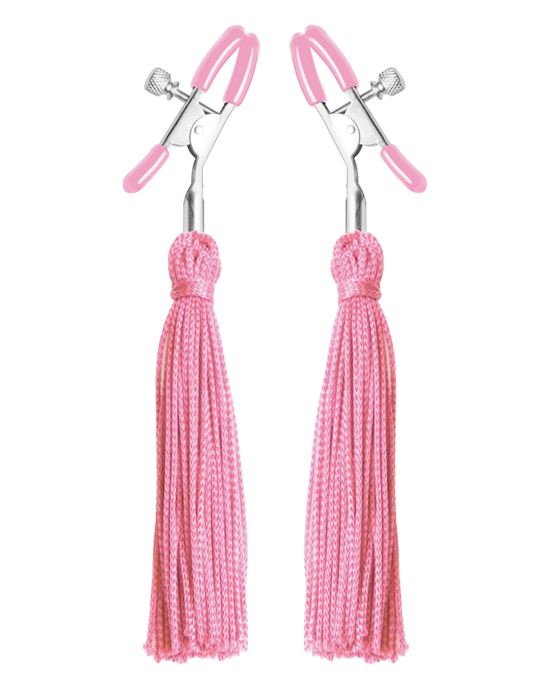 Tickle Me Pink Nipple Clamp Tassels$31.95Shop Now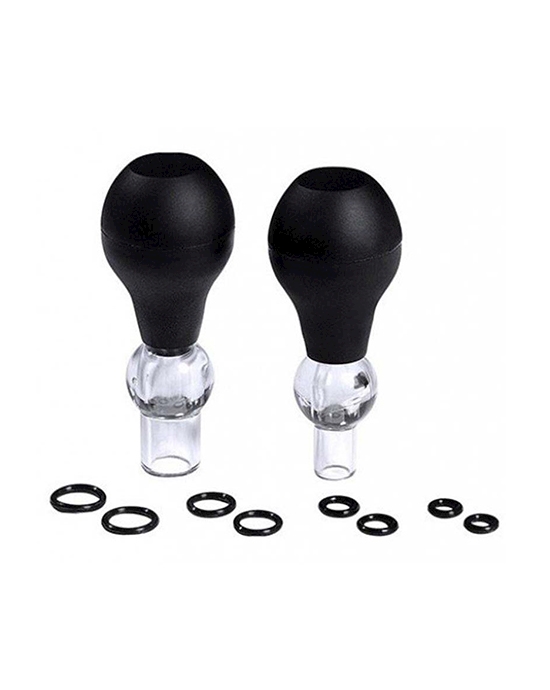 Nipple Pump 10 Piece Set$20.95Shop Now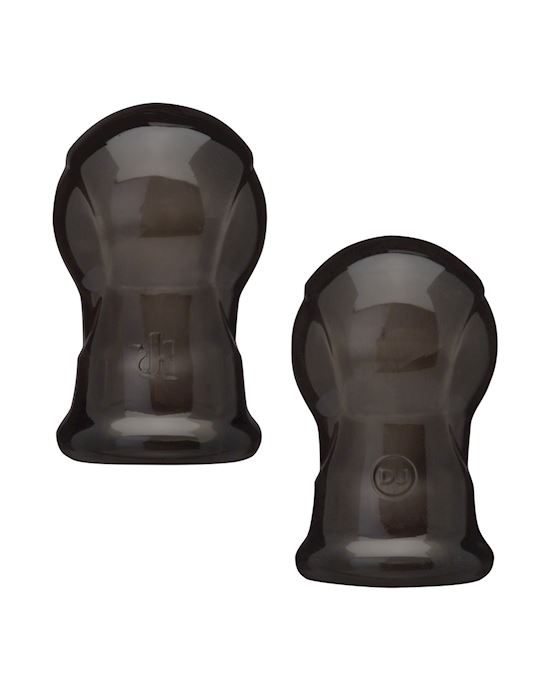 Nipple Sucker Set$24.95Shop Now
Temperature play
Temperature play is a wonderful way to explore with a partner and indulge in some sensory fun. Temperature play is an erotic form of sensation play using hot and cold temperatures to heighten the senses. It's an activity that can be enjoyed solo or with a partner and there are many ways to explore it.
It's as easy as performing oral directly after a cold drink or using an ice cube to rub up and down the body. There are also sex toys that be heated or cooled prior to play. Any toy made of glass or metal will absorb heat or cold. You can heat a toy up in a bowl of warm water or ice water before using it on the skin or inside the body. Always ensure you do a heat test first. Your hand or the inside of your wrist are good places to test it to ensure that you won't burn yourself.
Here are a few toys we recommend for temperature play: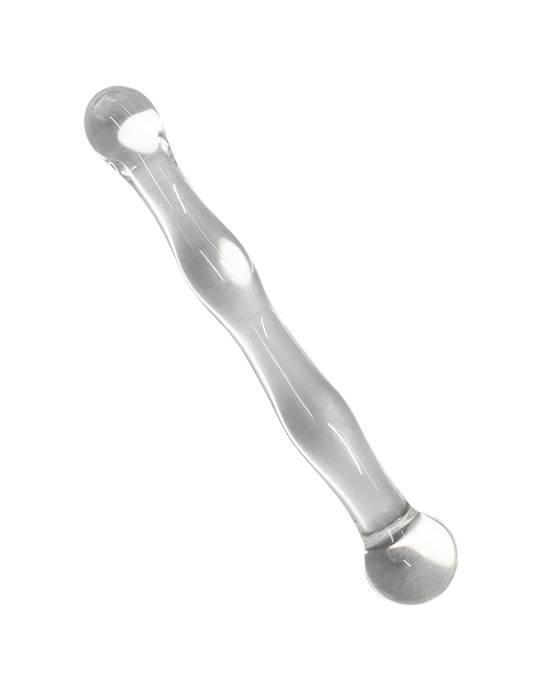 Lucent Rippled Glass Massager$19.95Shop Now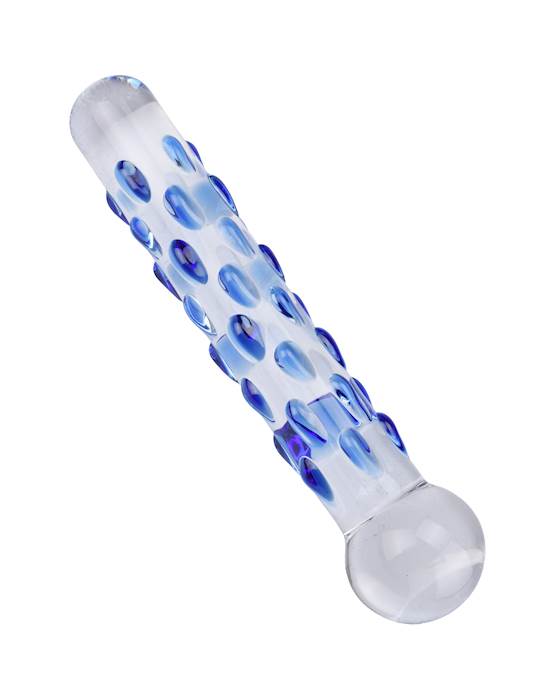 Lucent Teardrops Glass Massager$34.95Shop Now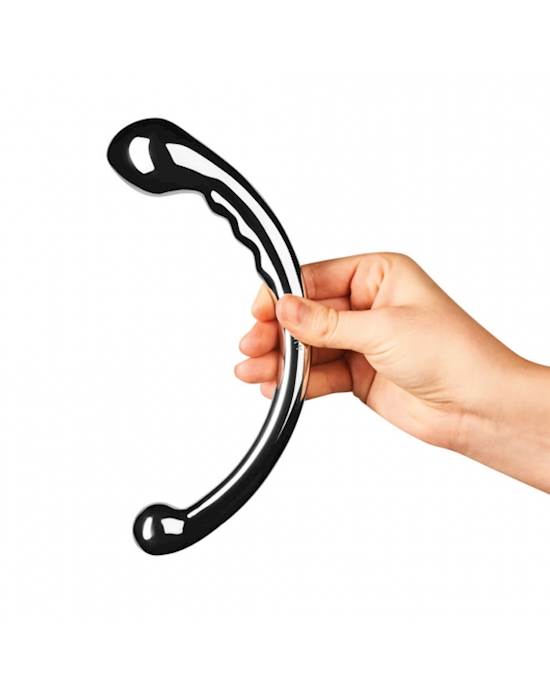 Lewand Hoop$224.95Shop Now
Sensual bondage play
Light bondage play is a great way to explore your senses and increase intimacy and arousal with a partner. There are many ways to explore light sensual bondage with a partner that don't need to be intimidating.
Here are a few products we recommend for sensual bondage play: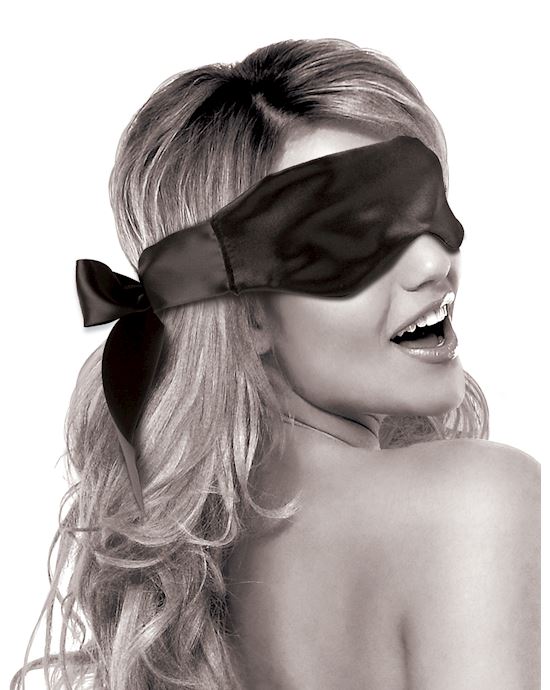 Fetish Fantasy Limited Edition Satin Blindfold$25.95Shop Now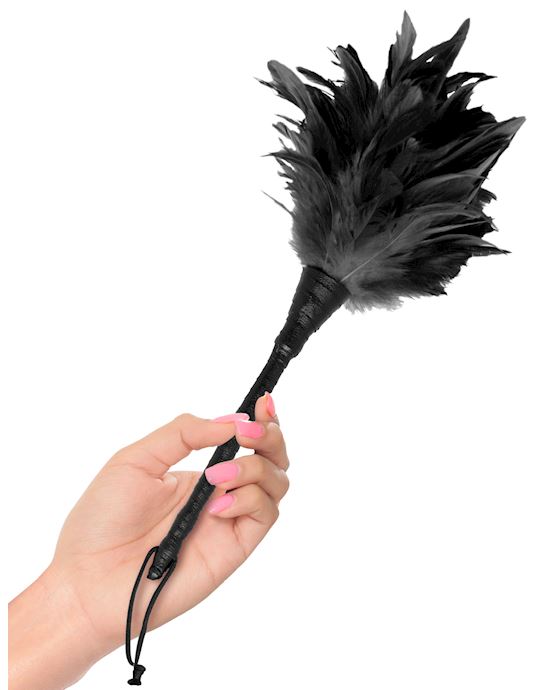 Frisky Feather Duster$19.95Shop Now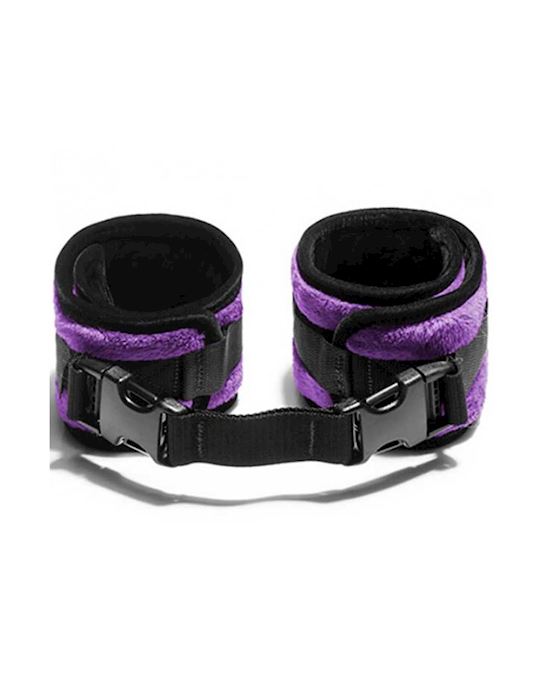 Plush Wrist Cuffs$44.95Shop Now
Anal Play
Our butts have a lot of pleasure potential and can be extremely enjoyable to explore and stimulate. The opening of the anus is packed with nerve endings that feel wonderful when stimulated and as they are at the opening, you don't need to insert anything deep inside the body to stimulate them.
Just remember that you always need to use lubricant with anal play as the area does not self-lubricate. I recommend an anal specific lube as it will be thicker and longer-lasting to ensure a smooth and comfortable session.
Here are a few products we recommend for beginner anal play: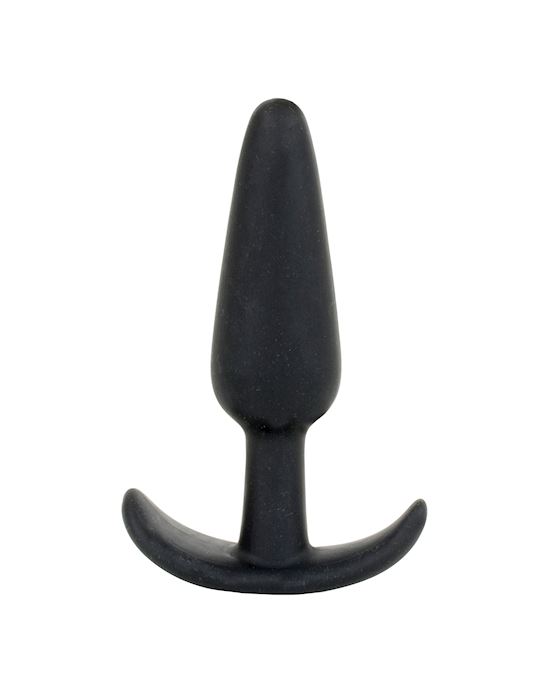 Mood Naughty 1 Small$32.95Shop Now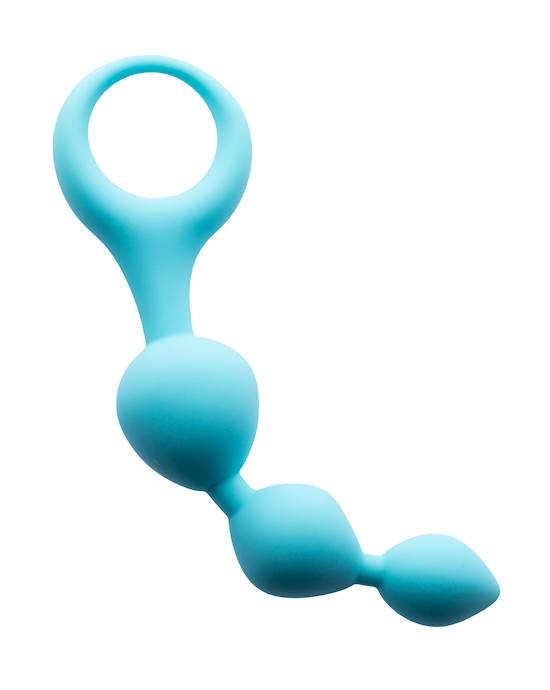 Share Satisfaction Silicone 3 Bead Plug $7.95Shop Now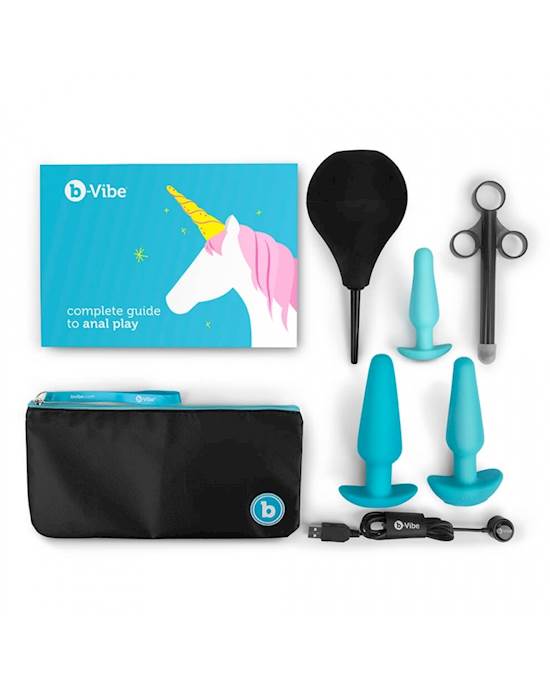 B-vibe Anal Training And Education Set$199.95Shop Now
Don't forget the anal lubricant.
If you'd like to know more about how to enjoy anal play, check out the video below where Emma explains how to prepare your body for anal pleasure.
Additional resources
References and resources used in the creation of this content which can be used for further reading: Website: Talk Peach. Website: CCDHB. Website: The Cancer Society – Sex with Cancer. Adulttoymegastore's educational YouTube channel: ATMS TV. Adulttoymegastore's blog: The Heat.
Illustrations by Aimée Sullivan. Follow her on Instagram: @aimeeisokay.
Content disclaimer:
Adulttoymegastore does not provide medical advice, diagnosis, or treatment for illness. Any information published on this website, either by Adulttoymegastore or its authors, is not intended to be a substitute for medical advice, and you should not take any action before consulting with a medical professional.
Permission to use this content:
You may use excerpts and information from this guide in your own articles and resources without needing to seek permission, however we kindly ask that you attribute Adulttoymegastore as the original creator of this content by including our brand name and including the title of this guide with a hyperlink to this guide/webpage. If you have any questions, please contact us.