The Ultimate Guide to Penis Pumps
Wondering how to choose and use a penis pump? This guide by sex educator Emma Hewitt will tell you everything you need to know!
Penis pumps are an extremely popular tool which can help people with penises to achieve an erection. These clever devices can be super useful to people dealing with erectile dysfunction or for people simply wanting to achieve a bigger and longer lasting erection.
For first time users, picking out the right penis pump and learning how to use it can be a bit of a challenge. That's why we created this ultimate beginner's guide to selecting and using a penis pump so you know everything you need to know before you get started.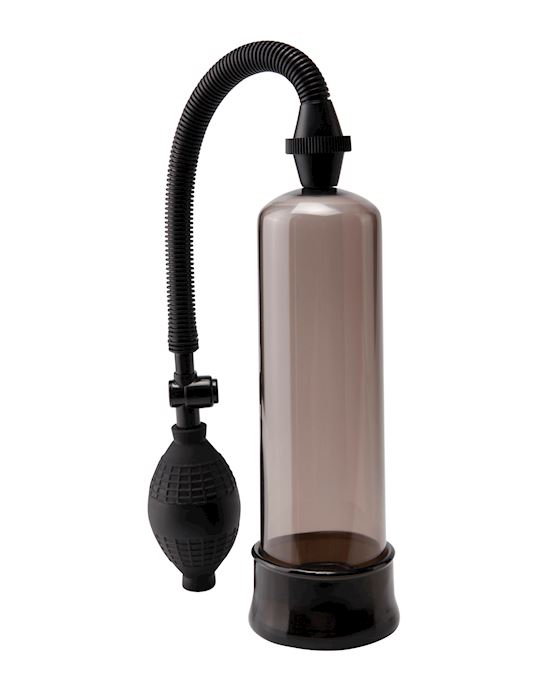 Pump Worx Beginners Power Pump$43.95Shop Now
How do penis pumps work?
First and foremost, how does a penis pump actually work? Penis pumps work by pulling blood into your penis through a negative vacuum chamber. When your penis is inserted into the tube, the device creates a vacuum seal around the base of your shaft.
Then, the pump sucks the air out of the vacuum device - which in turn draws blood into the blood vessels in your penis. As more blood is drawn in, your penis gets fuller and harder - and you get an erection.
As you're dealing with a sensitive part of the body, it's important to adhere to the safety instructions to ensure that you don't cause any temporary or long-term damage to your body.
Penis pumps aren't suitable for everyone!
Unfortunately penis pumps do have the potential to be harmful to certain users. If you fall into any of these categories, make sure you consult your doctor before you use a pump.
Have a blood disorder - like Sickle Cell Anemia
Have any conditions that cause excessive bleeding or clotting
Use anticoagulant medication (blood thinners)
Experience priapism (erections that already last longer than usual)
Anyone with wounds, bruising or swelling on their penis. Wait until you are completely healed before you begin to pump.
How to choose a penis pump
The first step in determining which type of penis pump is perfect for you is choosing what style you would like. There are two main types of penis pumps you can use; battery operated or manually operated. The main difference between the two are price range, with battery operated penis pump typically being on the pricier side.
Battery operated penis pumps are great for people with dexterity problems such as arthritis and they are fully automatic. They can also help you achieve more slow and steady erections.
On the other hand, manual pumps are perfect for first time users who would like to give a penis pump before committing to an automatic one. Manual pumps allow the users to pump at their own pace meaning they can achieve an erection as fast or slow as they desire.
Here are our top two picks for penis pumps:
Bathmate Hydromax7 Penis Pump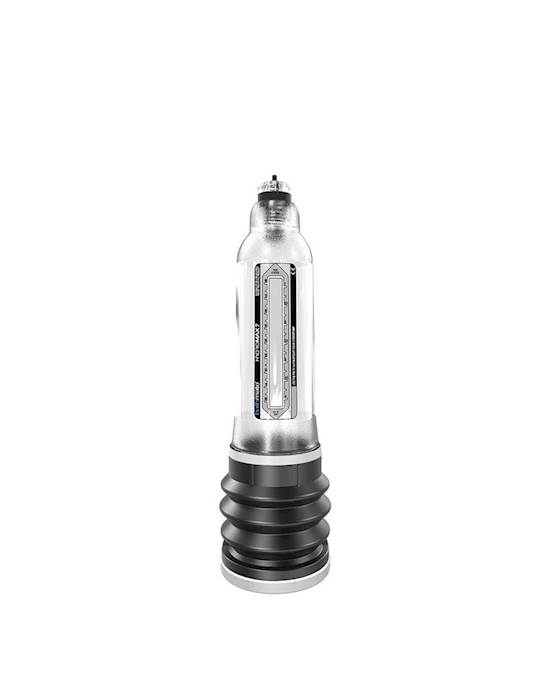 Bathmate Hydromax7 Penis Pump$169.95Shop Now From the best-selling penis pump company in the world, Bathmate, comes the Hydromax 7 Penis Pump. Combining warm water with its body-safe construction, this penis pump provides an incredibly smooth powerful experience. Powerful yet comfortable, this pump features an added latch valve which makes it super easy to attach when in the shower.
If you're on the hunt for a long-term penis pump and want to achieve better erections and sexual stamina, this device will be your new best friend. It's designed for penises measuring between 5 – 7 inches. If this isn't you, no need to worry, there's a range of different sizes in Bathmate's collection.
To be safe, always purchase a penis pump with a vacuum limiter or a quick-release safety valve. This feature helps control the pressure in the cylinder avoiding over-pumping injuries. Another important safety feature is an air gauge that will help you monitor the air pressure in the cylinder. Most quality pumps include an air gauge either digital or manual.
Pump Worx Beginners Power Pump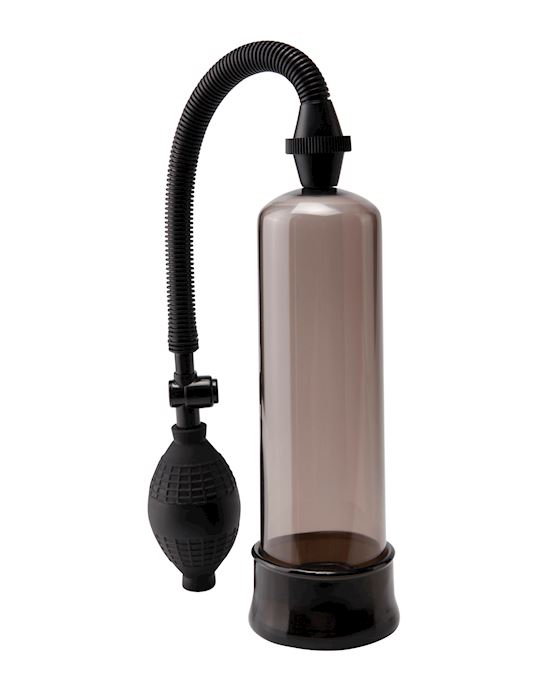 Pump Worx Beginners Power Pump$43.95Shop Now Perfect for first time penis pump users, the Beginners Power Pump will help you gain sizes and confidence. With a medical-style pump, the power is in your hands. Squeezing the pump creates a vacuum effect which will help draw blood to your penis.
Want to prolong your erection? Simply slide the included enhancement ring over your shaft until it is nice and snug. Like a cock-ring, it will create a tight squeeze that will help maintain your erection. Keep in mind that penis pumps won't have amazing results for everyone, so this inexpensive option is a great way to test the water.
"Best thing we'd bought in ages. Works great, he loves it" – Verified Purchaser
"Great product, awesome for someone starting out" – Verified Purchaser
Other types of penis pumps
Beyond the two main types, there are also some more advanced penis pumps which have their own unique features and benefits.
Vibrating penis pumps feature a tiny device that makes the pump shiver and shake to help you get harder even quicker.
Penis head pumps, also known as 'glans pumps' are a little bit smaller than a standard penis pump as they only cover the head of the penis and seal around the shaft just below.
Hydro pumps are designed for use in the shower or the bath. Rather than using air to create a vacuum, they use water. By creating a vacuum with warm water, hydro pumps help to dilate the blood vessels in the penis to encourage even better flow and growth than a standard pump.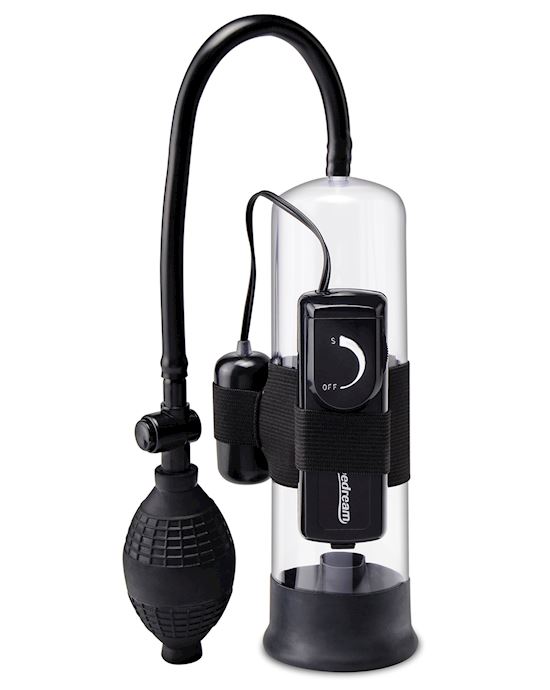 Pump Worx Beginners Vibrating Pump$52.95Shop Now
How to determine size
The next step in choosing a penis pump is determining what size to get. Standard pump sizes are typically 7.5 inches to 9 inches in length. Standard cylinder widths are 1.75 inches all the way up to 3.5 inches.
It is to be noted that 95% of penis owners should be using a standard 8" – 9" long pump cylinder. The larger cylinders are less effective on average penises.
How to measure your penis:
Place a tape measure or ruler along the top side of your erect penis. If you cannot get hard, then measure your flaccid penis.
Press the measuring device flat against your pelvis where it meets your shaft
Take note of the length on the measuring device right where your tip ends.
This is your penis length.
We suggest choosing a pump 2-3 inches longer than your erect length. For the diameter you want to order a cylinder that has about a 1/2 inch to 3/4 inch of space around the outside of your penis.
What to do prior to pumping
There are a few things you should do prior to pumping to prevent injury and ensure that the experience goes as smoothly as possible.
Grooming
The first is to groom your pubic hair. You want to trim or ideally shave or wax your hair. This prevents painful snagging on the pump as well as making it easier to create a seal between your skin and the pump.
Warm up
It's also important to get your penis to a good temperature before you start to ensure that your skin is soft and pliable. We recommend having a warm shower first.
How to use your penis pump
The instructions may differ slightly depending on the model of your pump so make sure you always follow the instructions of your specific pump. But this is a general outline of how it works:
Step 1:
Apply lubricant to the sleeve at the base of the pump (Only use water-based lubricants with your pump. Never use oil or petroleum-based lubricants such as Vaseline)
Step 2:
Place the tube over your penis - making sure there's a snug, airtight fit around the base
Step 3:
Pump the air out of the cylinder with the handpump (or electric pump) - creating a vacuum in the tube
Step 4:
When your penis is erect, remove the tube.
Step 5:
Place a constriction ring around the base of the penis to maintain your erection
Here are a couple of lubricants we recommend using alongside your penis pump: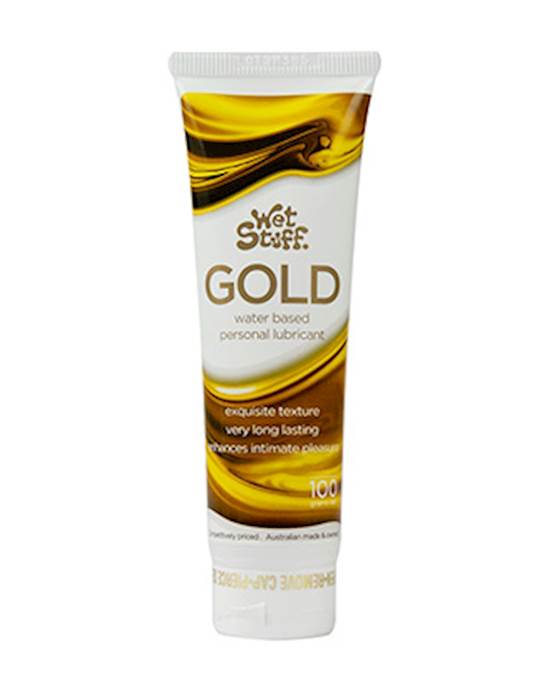 Wet Stuff Gold Waterbased Lubricant 100g$14.95Shop Now
Penis Pump FAQ
Your common questions answered.
How long does it take?
It typically takes 2-4 minutes to get fully erect using a pump. However, it may take a little longer. The speed of results varies between different people. Always follow the manufacturer's recommended usage though.
How often should I use a penis pump?
This is where you need to listen to your body and see how it responds. As long as you have no bruising or pain you can use it as often as you would like, even multiple times per day. Just make sure to not use it for longer than 30 minutes at a time.
Should I use a constriction ring when pumping?
Constriction rings or cock rings are designed to firmly squeeze all the way around the base of your shaft – making sure the blood stays where you need it after you've pumped. Constriction rings are the safest method to maintain the erection following pumping.
How to do it safely
So long as you follow the instructions, there are few risks when using a pump but it's important to pay attention throughout the session. If you notice any obvious discoloration of the skin to bright red or purple, then you need to stop pumping. Too much pumping can cause small red spots on the skin or even bruises.
The best way to avoid this is to allow a few seconds between each pump. This will allow time for the blood flow to occur before you move on to the next pump.
Use lube, take your time and leave time between each pump to allow your body to respond. Then, if you want to, you can continue safely.
Check out Adulttoymegastore's full range of Penis pumps to find one perfect for you.
Read next:
Want to keep learning? Check out these articles by our sexual wellness experts:
Tips for amazing masturbation with a penis
Listen in to level-up your sex life
For tips from experts for enhancing your sex life, check out our podcast hosted by sex educator Emma Hewitt, The Electric Rodeo podcast!
Content Disclaimer:
The information in this article has been fact checked and reviewed for accuracy by Adulttoymegastore's team of content specialists and sexual wellness experts, including Sex Educator Emma Hewitt.
Adulttoymegastore does not provide medical advice, diagnosis, or treatment for illness. Any information published on this website, either by Adulttoymegastore or its authors, is not intended to be a substitute for medical advice, and you should not take any action before consulting with a medical professional.