Inflatable Sex Toys 101: How to choose & use them
Inflatable sex toys are sex toys that inflate with air once inserted to increase their size and create more fullness inside the body.
We tend to think of inflatable sex toys as more hardcore than they are. They can certainly be involved in more intense forms of play, but they are also great for those that want to explore larger sizes without the need to insert a huge toy. Because in many cases, it is the insertion that is the intimidating part.
An inflatable toy allows you to insert a smaller toy and explore a larger size once it's already inserted reducing the stretch on the sphincter muscles in the anus or the opening of the vagina.
They can be a great starting point for those wanting to explore larger toys as you basically get multiple-sized toys in one and you can go big or small depending on what you are in the mood for. They can also be used to train the body to take larger toys.
How to use an inflatable toy
Using an inflatable sex toy is pretty easy once you get the hang of it. Attach the hand-held pump and have a practice outside of your body to gauge how much inflation you are going to get with each pump and how large you can expect the toy to get. Some will inflate evenly throughout the toy, and some will only inflate in particular parts of the toy so ensure that you know what you prefer upfront and get the right toy for your needs.
Ensure that the pump and the tube are really well connected so that they don't separate once the toy is inserted. When you are ready, cover the toy liberally in lube! Stick with water-based lubricant if you aren't sure what lube goes with what material and use heaps. Especially if you are going to be using the toy anally, we want it to still be comfortable even as the toy inflates larger. Then you can insert the toy. Depending on how firm the material is, you may need to inflate the toy slightly to ensure that you can insert it easily. Something with a little firmness is much easier to insert than something more flimsy.
A toy with an internal core helps with overall rigidity and reduces the flexibility of the toy making it easier to insert too.
Once it's in, you can pump it up to your desired size. Go slow with the pumps, do it one squeeze at a time to allow your body to get used to the larger size before increasing it. When you are happy, you can remove the tube if your toy allows this and play the way you want to.
Keep in mind that some toys won't use a hand pump but will be automatic meaning you use buttons to control it. I still recommend playing with the controls outside of the body first, so you know what you are doing once it's inserted. It's not always easy to see the control panel when the toy is in use.
The toy will have a release valve on the toy itself or somewhere on the pump or tube allowing you to remove the air and deflate the toy if it becomes uncomfortable or when you have had your fun and are ready to remove it.
If you are playing with a partner, make sure you communicate your wants and limits beforehand and keep communication open while you play. Have a safe word you can use if it becomes uncomfortable.
Let's look at a few different inflatable toys and how they can be used to pleasure the body.
Internal probe: Anal Fantasy Collection Inflatable Silicone Ass Expander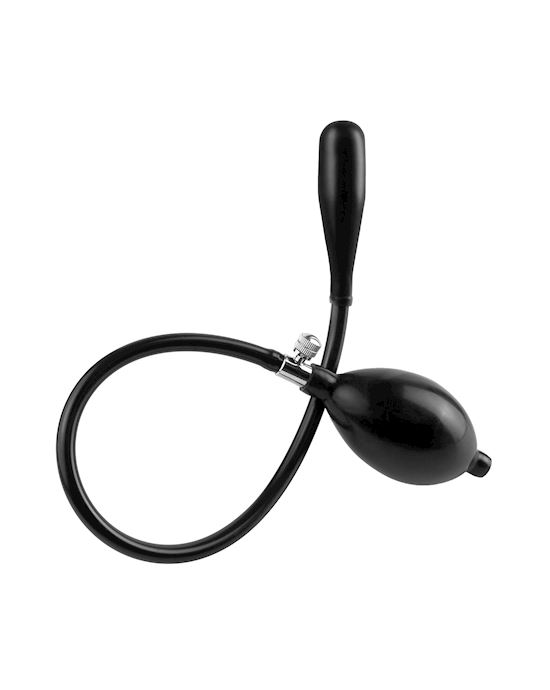 Inflatable Silicone Ass Expander$41.95Shop Now
A probe or small stimulator like this one is a perfect option for beginners to inflatable toys or even insertable toys of any kind as it's so thin and easy to insert.
You insert the probe into the body and use the pump to inflate it to your desired size. When it's deflated, it's 3 inches in length and 0.75 inches wide. Once inflated fully, it's approximately 3.75 inches in length and 3.5 inches wide.
You can use this toy vaginally or anally as it's made from latex but be sure to use a lot of water-based or silicone lubricant with it. Latex is porous so you need to be careful with how you use it as it can't be sterilised so I wouldn't recommend using it in both orifices or sharing it with anyone else. Pick the orifice you want to use this toy in and stick to it.
Dildo: Inflatable Suction Cup Dildo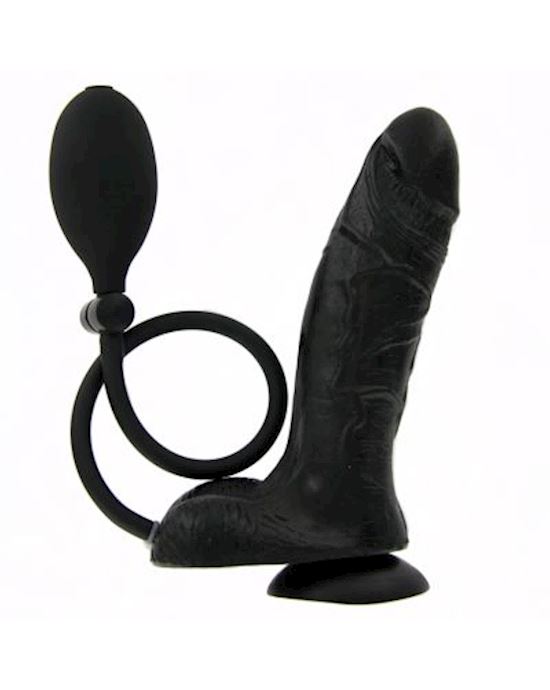 Inflatable Suction Cup Dildo$89.95Shop Now
The next inflatable is a dildo! And this one is going to gain both length and girth as it's inflated so it becomes a pretty big toy! Whilst deflated, it's 6 inches in insertable length and 5.25 inches in circumference at its widest point. But, when it's inflated, it's 8 inches in insertable length and 9.5 inches in circumference at its widest point. So, as I said, it's big and not for the faint-hearted, but remember that these toys don't need to be fully inflated. You can use as little or as much air as you feel like.
It does start pretty flimsy in its deflated form so you may want to inflate the dildo slightly before you insert it to help it glide in more easily. The suction cup base allows you to use the toy hands-free by attaching it to a smooth surface like the floor or wall of the shower.
It can be used anally or vaginally but it's made of PVC so the same rules as latex apply. Use water-based lube, pick an orifice and have fun with it.
For anal/dildo users this is tops, slight inflation then insert easily, after that expand to the size that satisfies you. Once inflated to a reasonable width you can walk around without any problem of it sliding out, am really happy with this. - Verified purchaser
Butt Plug: Anal fantasy Inflatable Silicone Butt Plug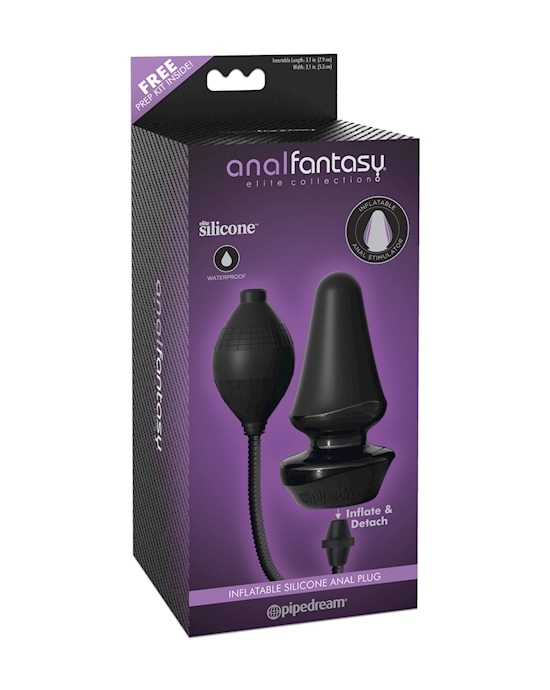 Inflatable Silicone Butt Plug$78.95Shop Now
Our next toy is a butt plug! This one is made from silicone so it's nice & strong and it's also able to be sterilized between uses which is ideal for any anal toy. The booty has lots of bacteria which is fine inside the butt but not so good outside of it, so using a non-porous material like silicone and sterilizing it between uses will keep your body safe.
This plug has a tapered tip making it easy to insert so long as you use a bunch of water-based lube of course. It has a full internal core that is firm so no need to inflate this one outside the body first, the firm core makes insertion easy. However, it does mean that the neck of the toy which sits within your sphincter muscles may feel uncomfortable for long-term wear but it's wonderful if you use it for a shorter session.
Once it's inserted and inflated, you can detach the pump and leave the plug in place. What you do after inflation is up to you. Stimulate other parts of your body, inflate and deflate the pump a few times, and hand over the pump to someone else to be in control of the size.
There's an air release valve on the base of the plug so you can deflate it quickly if you want to. And it's a simple small button that you push in so it's easy to locate without being able to see it.
Love this toy. Not for long term use due to a big base, but for playtime... this exceeds all other inflatables I have used by far! My new favourite plug! - Verified purchaser
Rabbit Vibe: Insatiable Inflatable Flutter Vibrator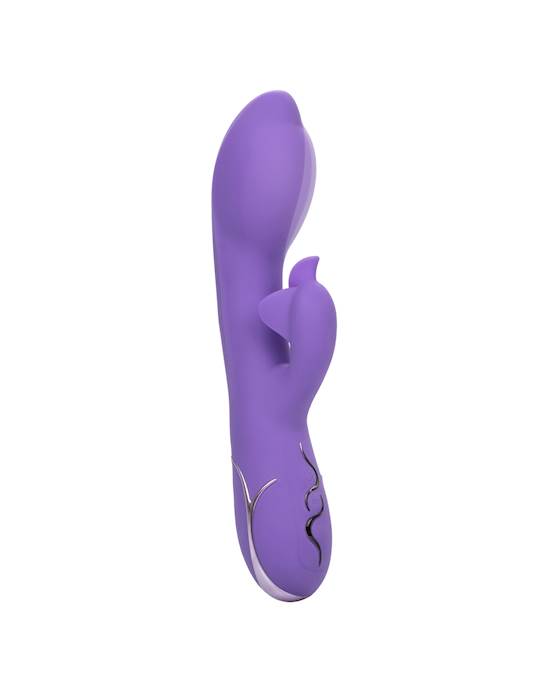 Insatiable G Inflatable Flutter - 8.25 Inch$211.95Shop Now
It's not just a full feeling and stretch of the body that you can enjoy with inflatable toys, some of them will vibrate too!
This rabbit vibe is ideal for those that love vaginal & clitoral stimulation but want to play with different sizes and inflation. While some toys will inflate throughout the whole toy, this one is targeted to the G-spot stimulator only.
The G-spot is part of the CUV complex which responds to pressure and vibration really well for a lot of people! With this toy, you get clitoral vibration, g-spot vibration and extra pressure on the g-spot as you inflate it.
This is an automatic toy, so you don't have a hand pump like the others, you control the inflation on the toy itself. There are 4 different levels to play with including different sizes and even a pulsing function where the toy will inflate and deflate over and over.
Keep in mind that this toy isn't going to expand as much as these other styles as it's specific to a small area, but even that amount of inflation can make a big difference to how it feels.
Inflatable sex toys are a lot of fun, but they require a little more attention than a standard insertable toy. Once you have the hang of it, these toys will offer a lot of stimulation and variety in how you can play with it. So, lube it on up and have some fun!
Read next:
Listen to level-up your sex life
For tips from experts for enhancing your sex life, check out our podcast hosted by sex educator Emma Hewitt, The Electric Rodeo podcast!
Content Disclaimer:
Adulttoymegastore does not provide medical advice, diagnosis, or treatment for illness. Any information published on this website, either by Adulttoymegastore or its authors, is not intended to be a substitute for medical advice, and you should not take any action before consulting with a medical professional.
For more product examples - shop all our
sex toys
here.