How To Put On a Cock Ring For Your Best Orgasm Yet
Want a stronger erection for longer? Sex educator Emma Hewitt explains how to put on a cock ring for your best orgasm yet! Here's a guide on how to slip on a cock ring and let the good times roll…
Editor's note: This article was originally published on 23 August 2017 and was updated on 8 June 2021 by Sex Educator Emma Hewitt.
This guide covers:
An overview of what cock rings do
How to put on a cock ring
How to choose a cock ring
Ready to learn everything you need to know about how to put on and wear a cock ring to enjoy longer, stronger erections and orgasms? Let's dive right in!
First thing's first: What's a cock ring and why would you use one?
Cock rings, also known as C-rings, penis rings, or even pleasure rings, are hugely popular male sex toys (toys for penis owners) that can be used for masturbation purposes or as part of couples' play. It's a ring that you put on an erect, or semi erect, penis to create a bigger, fuller erection and prolong orgasm, which is great fun for everyone involved!
Cock rings have been used by men for the purpose of prolonging orgasms throughout the ages and the concept remains the same while the materials and technology have evolved as we demand more from our sex lives and, in turn, our sex toys.
Originally made from jade, ivory and animal skins, they are now made of steel, silicone, rubber or plastic and there are even vibrating cock rings available.
Cock rings act as a kind of dam slowing the blood flow into the erectile tissue in the penis causing an erection that feels harder than it would on its own. As cock rings restrict the blood from flowing back out of an erect penis, they work to prolong the experience and, when you finally do come to orgasm, it will be more powerful and ultimately more gratifying.
Here's how to put on a cock ring in three simple steps for your best orgasm yet:
Step 1: Add lubricant to the inside of the cock ring
Place a small drop of personal lubricant around the inside of the cock ring. Make sure the lubricant you are using is compatible with the material of the toy. If the cock ring is made from silicone, use water-based lubricant as silicone lubricant can corrode silicone sex toys.
Step 2: Place the cock ring over the penis or testicles
There are two main ways that cock rings can be worn, either on the shaft at the base of the penis, or at the base of the penis and around the testicles. The style of cock ring will determine where it goes on the penis and how you get it on, so here is how it all works.
1. Cock Ring around the shaft of the penis
Cock rings worn only on the shaft of the penis work best for rings that are small and stretchy. Cock rings in this location will help to constrict blood vessels and maintain a strong erection. These types of rings should be put on when the penis is semi-erect as this will make it a lot easier to get on.
Simply stretch the ring out so that the circle is as big as possible and lower it over your penis until you reach the base of the shaft and GENTLY loosen your grip to place it nicely on your penis. Please do not just let it go. Unless of course you like the feeling of a giant super thick rubber band being snapped onto your penis. Up to you.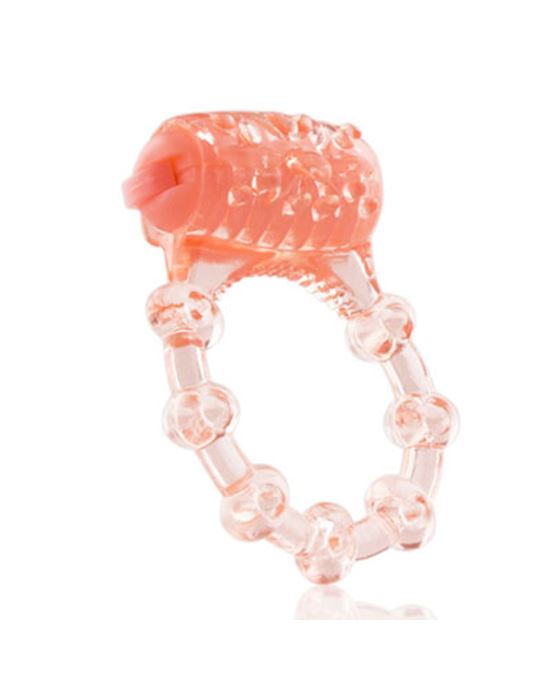 The Screaming O Vibrating Ring$9.95Shop Now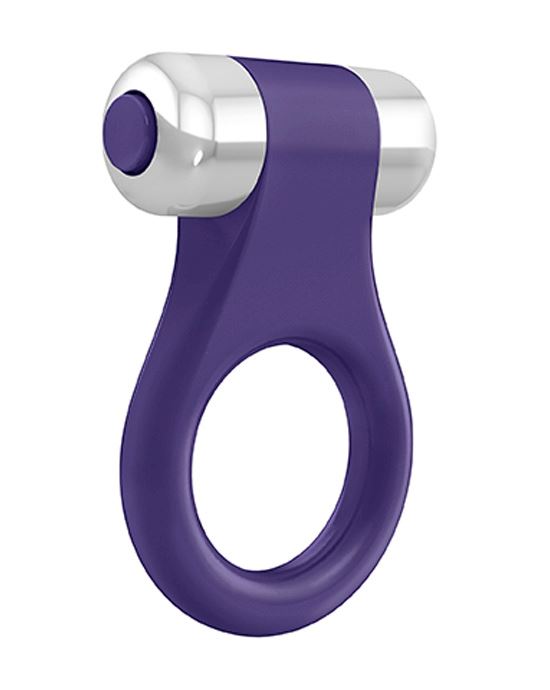 Ovo B1 Ring$14.95Shop Now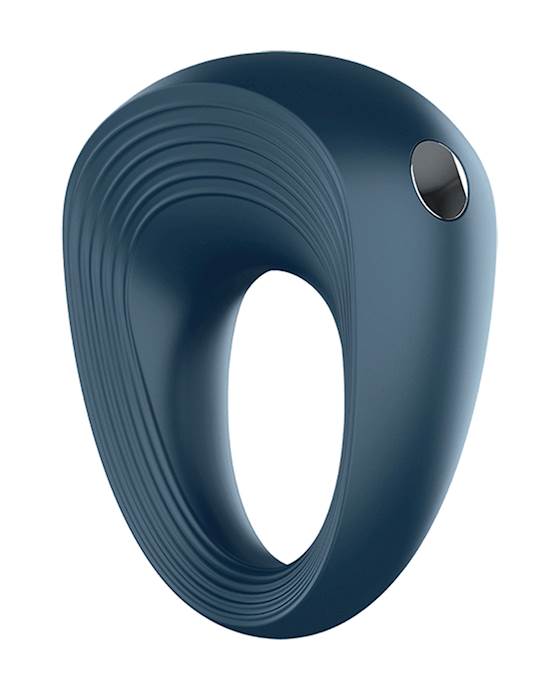 Satisfyer Cock Ring By Satisfyer$59.95Shop Now
2. Cock Ring around the shaft and scrotum
If you are using a cock ring for the purpose of lasting longer in bed, then you will want to purchase a cock ring that can be worn around the shaft and behind the testicles. This style will prolong ejaculation as it holds the testicles away from the body.
When you ejaculate the testicles pull up into the body so, a cock ring worn this way will prevent that, therefore prolonging the time before orgasm. This type of ring also acts as a push-up bra for your penis and testicles. The ring pushes everything up and forward meaning there is more contact with your partner's body.
Many rings are suitable for this purpose; the hard ones made of firmer materials such as steel or plastic are specifically designed for this type of wear. Many stretchy silicone rings can also be worn around the shaft and the scrotum. Or you get a double ring loop that has one loop for the shaft and one loop for the testicles.
Cock rings that go around the shaft and the scrotum are a bit more difficult to get on and require a flaccid penis. Start with the testicles by sliding them through the ring one at a time, then push your soft penis through the ring. Be gentle and take your time as it can take a little practice to really nail this process.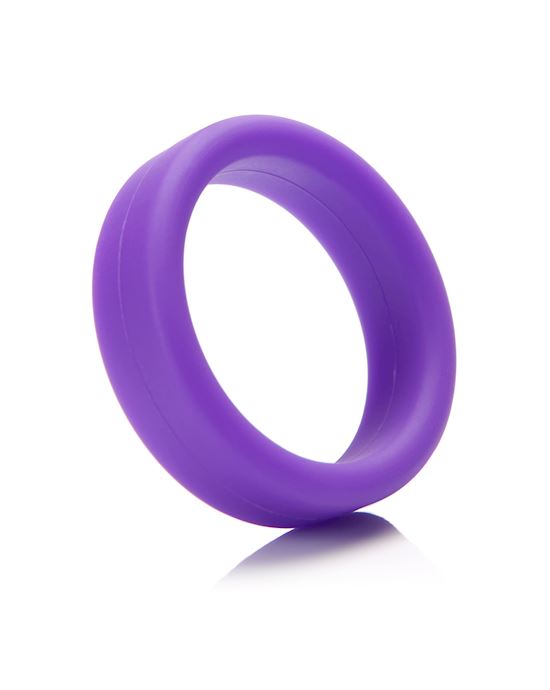 Super Soft C- Ring$16.95Shop Now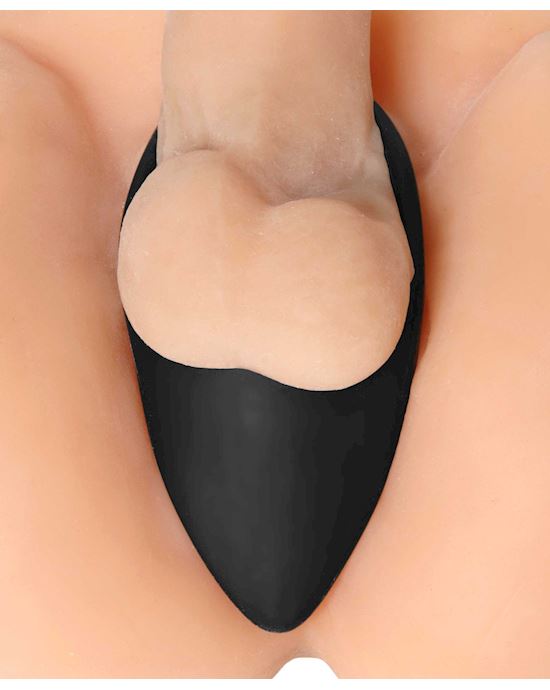 Taint Teaser Silicone Cock Ring And Taint Stimulator 1.75 Inch$43.95Shop Now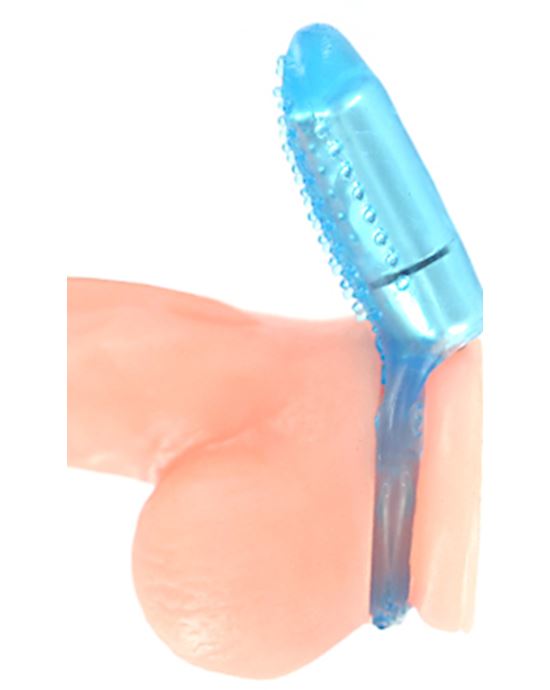 Trinity Vibes Bullet Cock Ring$25.95Shop Now
Step 3: Remove the cock ring within the right timeframe
The general rule of cock rings is to remove them after 20 - 30 minutes of use. It is generally considered safe to restrict blood circulation for short periods of time, but if you go over this, you are at risk of causing tissue damage. It can also become painful after this time, so always listen to your body.
Cock rings add pressure to the penis but this shouldn't feel painful. Pain, numbness or drastic discolouration of the penis is a sign that you need to remove the ring. A little bit of colour change is normal but if the penis is turning bright red or purple, this is an indication that the ring may be too tight.
To get the right off, apply a little bit more lube and gently remove it. A stretchy ring can be removed while erect so long as you are careful to stretch it wide enough. If you are using a solid ring, you will need to wait until you are flaccid to remove it so you can push your soft penis back through the loop then push the testicles through one at a time.
A few expert tips to make putting on a Cock Ring easy
If you don't already groom your genital region, I recommend you start. Either trimming or shaving the pubic area is going to prevent any tugging or pulling on the hair as you put on or remove the cock ring.
If you are struggling to get the cock ring on, have a hot shower to really soften up. If the testicles are cold, then they will tuck up into the body for warmth and turn putting on a cock ring into a near impossible task.
Can't get it off? Don't panic! Just make like Vanilla Ice and ice, ice baby. But really, do. Ice will help to ease your erection and make everything a little bit smaller and easier to manoeuvre. And don't forget to apply more lube to add some extra slipperiness. It really does help.
And don't forget the golden rule of all sex toys, lubricant. Lube, lube, lube it up and make the situation a whole lot easier on yourself.
How to choose a cock ring
Haven't found the right cock ring yet? Don't worry, I've got the expert tips to make it easy! Watch my video below on how to choose a cock ring and you'll be an expert in no time.
Then, armed with your newfound knowledge be sure to check out Adulttoymegastore's range of cock rings. With more than 500 to choose from, you'll be able to find exactly what you're looking for – from vibrating cock rings , to metal, silicone, lasso rings and more.
Learn more about cock rings and other fun things:
Want more tips and tricks for making good sex great? Check out these articles:
Editor's note: This article was originally published on 23 August 2017 and was updated by Sex Educator Emma Hewitt on 8 June 2021 for freshness and comprehensiveness.