Kama vs Sutra: What's the Difference? Sex Educator Reviews
Wondering what the difference is between Share Satisfaction dual stimulation sex toys Kama and Sutra? Sex educator Emma Hewitt weighs in.
Suction vibrators are all the rage right now, and Kama by Share Satisfaction has been the reigning queen of dual stimulation suction toys for the past year. But, a new competitor has come to try snatch the crown. Say hello to Sutra!
At first glance, you may not be able to tell the difference between them, but while both Kama and Sutra are both dual stimulation sex toys, they are both VERY different. I tested and compared both so you don't have to. Here's the verdict.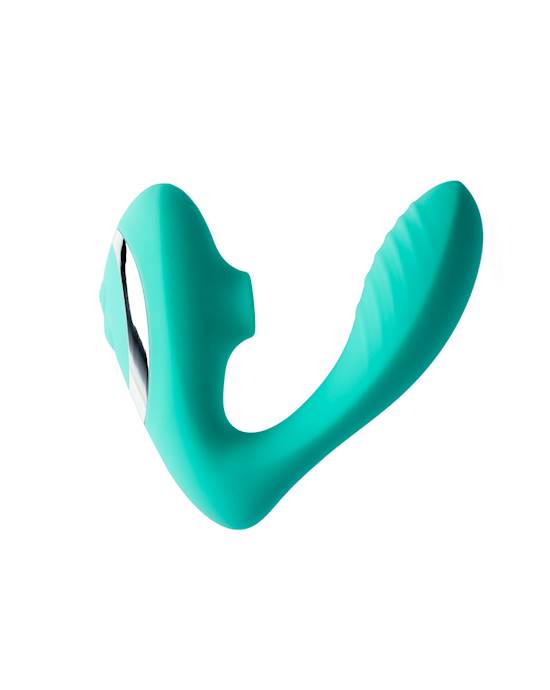 Share Satisfaction Kama$89.95Shop Now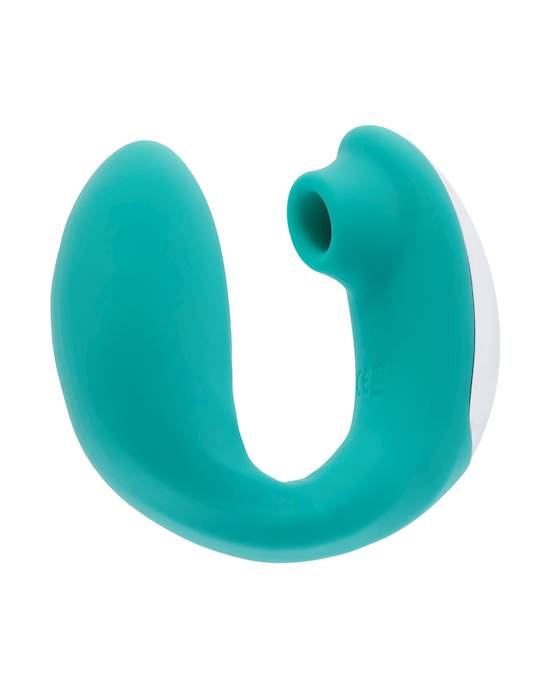 Share Satisfaction Sutra$142.95Shop Now
First, what is a dual-stimulation sex toy?
These are sex toys that stimulate the clitoris and the vagina at the same time. It's a term commonly given to Rabbit Vibrators but now also describes toys that use clitoral suction rather than vibration.
Suction toys use a technology called pleasure wave, pressure wave or air tech, depending on who you ask. But these are pretty much the same thing. It's a tech that uses air to flutter, pulse and pleasure the clitoris. These toys create a seal between the skin and the toy then pulse to move the air around the clitoris without actually coming into contact with it. The idea is that it creates a light suckling or suction on the clitoris - hence the name suction toys.
While these toys have been around for a while, the dual stimulation version that targets the clitoris and the vagina are relatively new and they are making a seriously great first impression.
You might have heard of the Kama already. The toy that inspired such reviews as…
This little sucker (pun intended😋) made the earth move!!! Made the bed shake!!! Made the neighbours dogs howl!!! ( ok slight exaggeration) But, you get my drift.
Orgasmed so hard I lost my hearing in my right ear for 5 minutes lol. Used google to make sure I wasn't dying, turns out I wasn't, I had just the time of my life.
This thing had me done in less than a minute and I'm honestly laying here in bed still stunned that it happened that damn quick. Buy it. Buy your girlfriends one each, chuck it on afterpay, get a credit card, get a mortgage, whatever it takes, every vagina owner should have one.
Yes, these are real reviews, and yes, this toy is actually that good. But there's a new toy on the block to give Kama a run for its money. It's a similar style, making similar pleasure promises but can it live up to the hype?
I tried them both (I know, hard job right?) to see what these toys do and how they differ from one another. Here's what I thought about these two dual stimulation sex toys.
Kama by Share Satisfaction
We will start with Kama. Kama is the larger of the two toys with a more bulbous internal shaft and more distance between the clitoral stimulator and the vaginal vibrator. Each end has 10 intensity levels so there are 10 vibration speeds and patterns and 10 levels of clitoral suction intensity.
The internal shaft is 4.25 inches in insertable length and has a 4.25 inches girth. For those that love stimulation of this area, you are going to enjoy this toy. Personally, I can go either way with g-spot stimulation so it wasn't an essential piece of the puzzle for me. Due to its size, this part does require some lubrication to glide in comfortably.
The vibration on Kama is pretty awesome. Because there are 10 levels, you can really explore a lot of variety from a low buzz up to a pretty intense pulsing. I find the vibration levels pretty damn good. The three speeds are a little on the buzzy side of things but I find the vibration patterns to be a lot deeper and more rumbly.
The clitoral suction level on Kama is what I would describe as medium level. Meaning that even at its highest level of intensity, it is still a nice moderate level that isn't going to overwhelm your clitoris. This makes it ideal for those that haven't tried clitoral suction before as it can be quite a wild experience. Especially the first few times.
In my opinion, the level is similar to the Satisfyer Pro 2. But the addition of the internal vibrator takes things up a notch so the experience will feel much more intense. When you reach orgasm, the whole genital area is going to be stimulated making for an orgasm felt deep inside your body.
What I do love about this toy is that you can use the motors independently meaning you can use just the clitoral suction or just the vaginal vibration if you want to. Or you can adjust the levels to suit your mood. You can go hard on the suction and have just a light vibration going on internally or whatever you feel like. Both Kama and Sutra offer this feature and it means that both toys have so much variation.
Noise-wise, Kama is actually relatively quiet for a dual stimulation toy. We need to keep in mind that suction toys are generally on the louder end of the spectrum. Throw in the second motor and you can expect that a toy like this isn't going to be whisper-quiet. And it's not. But it's certainly not what I would call a loud suction toy either.
Sutra
Sutra is the smaller of the two toys with both the clitoral nozzle and the insertable bulb being smaller than Kama. The internal shaft is 3 inches in insertable length and has a 4 inch girth at the widest point.
Due to the smaller size, the internal part doesn't reach my g-spot but I actually prefer this. Instead, the vibration targets the opening of the vagina really well which is an area of increased sensitivity too. The internal structure of the clitoris reaches down either side of the vaginal opening and for me, it feels like this toy is targeting that area and it feels wonderful! It's just enough fullness and stimulation to keep me completely satisfied.
Like Kama, the internal shaft has 10 vibration levels to explore. Three are speeds and the other seven are different patterns. I find the Sutra slightly more buzzy than Kama but not by much. The motor seems to have a slightly higher frequency so it's a little more surface-level and a bit louder than Kama too. Again, the patterns are deeper and more rumbly than the speeds with this toy.
Sutra only has five clitoral suction intensity levels but this is all it needs! This is a powerful toy and the suction is pretty intense, even on the lowest level. It feels much faster than the suction on Kama and the narrower nozzle means that it is more targeted making it feel more powerful. While the size of the nozzle works fine for me, I imagine that it may not suit everyone as it is quite a small area and it needs to completely encircle the external clitoris to have the intended effect. If you aren't sure what size you need, I recommend going for Kama as the larger size is more accommodating.
There are two things about Sutra that I really love. The first is that, if I can't be bothered with the insertable bit, I just flip it over and use it upside down so I get clitoral stimulation but no internal stimulation. It still works really well like this. For this reason, this toy gets a lot more use from me as I have the option to use it with or without the insertable end in action.
The second thing is the case. It looks like a cute little seashell. It's the sex toy I imagine Ariel would use! It actually charges inside the case so you can keep them together at all times. It's discreet and a pretty perfect toy to travel with.
Kama vs Sutra: Which is better?
Although these toys are relatively similar in terms of their functionality, both are dual stimulation, both are USB rechargeable and waterproof, they feel very different to one another.
In my opinion, Sutra feels more intense due to the fast-pace of the clitoral suction and I recommend this to those with some experience with suction toys already. Pressure wave toys feel very different to vibrating toys and it is a sensation that can take a bit of getting used to.
The Kama is more beginner friendly as the suction is softer, slower and a great toy to ease yourself into this kind of stimulation. Plus, there are more intensity levels to explore so you can start slow and work your way up as your body gets accustomed to the sensation.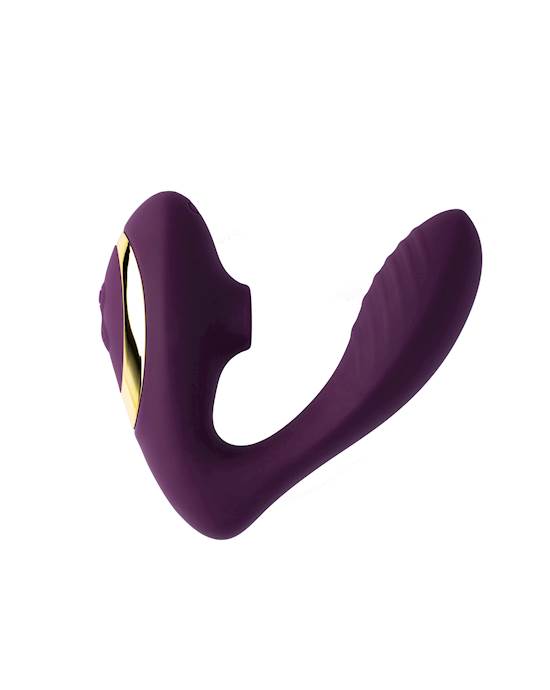 Share Satisfaction Kama$89.95Shop Now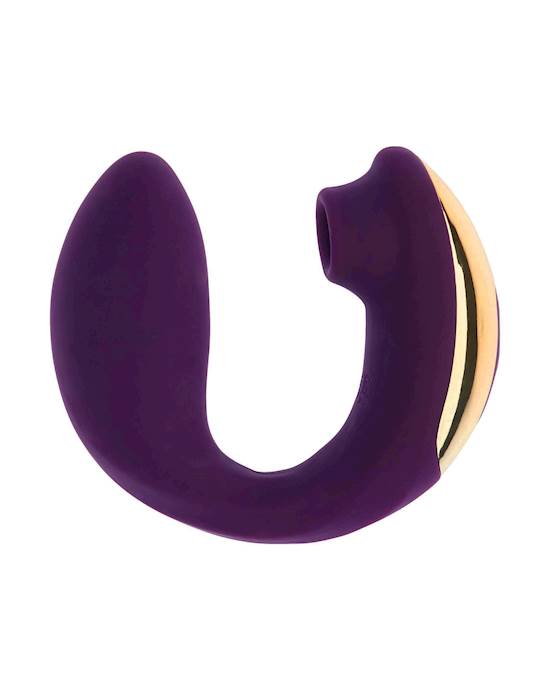 Share Satisfaction Sutra$142.95Shop Now
TL;DR
Both Kama and Sutra have clitoral suction and internal vibration, and feel really good!
Beginner = Kama
Intermediate+ = Sutra
Ideally, you'll try both! No matter which of these dual stimulation sex toys you choose, you're very likely to have a very pleasurable time. Buy Kama here and buy Sutra here.
Read next:
Content disclaimer:
The information in this article has been fact checked and reviewed for accuracy by Adulttoymegastore's team of content specialists and sexual wellness experts. Adulttoymegastore does not provide medical advice, diagnosis, or treatment for illness. Any information published on this website, either by Adulttoymegastore or its authors, is not intended to be a substitute for medical advice, and you should not take any action before consulting with a medical professional.