5 double penetration toys for double the fun
5 Double Penetration Toys for Double the Fun
Let's go!
Double penetration or DP is the penetration of both the vagina and the anus at the same time. You can do this with a penis and a toy at the same time or with a toy that has all you need to fill yourself up without a partner.
This type of play is pretty intense and it requires lots of constant communication if you are playing with a partner and lots and lots of lube! Don't forget that the butt is not self-lubricating so you need to add some essential slipperiness to the situation when playing with any double penetration toys.
Silicone Love Rider Dual Penetrator
This is a great entry point for those new to double penetration. The Love Rider is a silicone dildo with straps that go around the shaft of the penis and the scrotum to keep it securely in place. It is designed to mimic the feel of a real penis and has life-like texture along the length of the shaft.
The dildo is inserted into the booty as the penis goes into the vagina. The dildo is 5.5 inches and has a girth of 4 inches so is relatively similar to a regular erect penis size. The tip is tapered too to aid with insertion.
As this is a silicone dildo it is completely body-safe and can be sterilized between uses. Just be aware that the two loops are on the tighter side so it might not work for larger than average penises.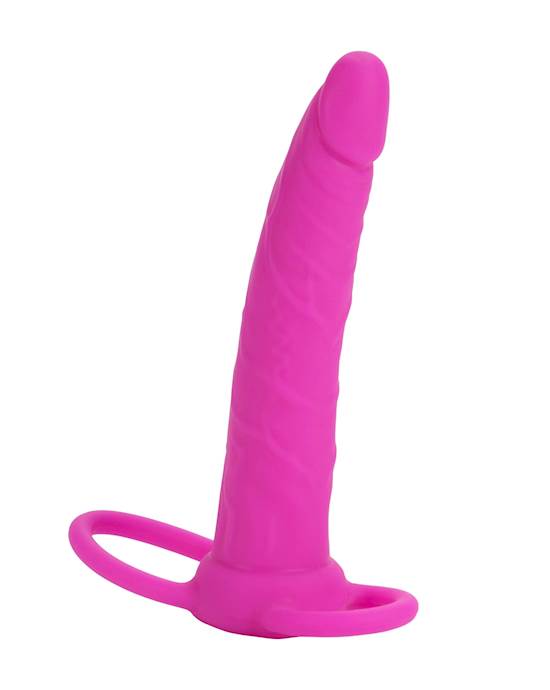 Silicone Love Rider Dual Penetrator$48.95Shop Now
Double Delight Dual Penetration Vibrating Rabbit Cock Ring
If I've said it once, I've said it 100 times (and I will continue to freaking say it!), if you are playing with internal ass toys then you should stimulate whatever genitals you have at the front too. This helps your whole body to relax and your sphincter muscles to be more likely to accept something new into the body.
That's why I love this DP toy so much. It has the essential booty part and it has a clitoris stimulator too. Yasss. What's even better is that both of those parts vibrate for even more pleasurable stimulation.
They are controlled by individual bullet vibrators so you can use them both at the same time or just one or the other.
The silicone shaft has an insertable length of 6.5 inches and a diameter of 1.15 inches meaning it is quite long but fairly thin. It's a good option for any experience level but if you are new, just go slow with this one.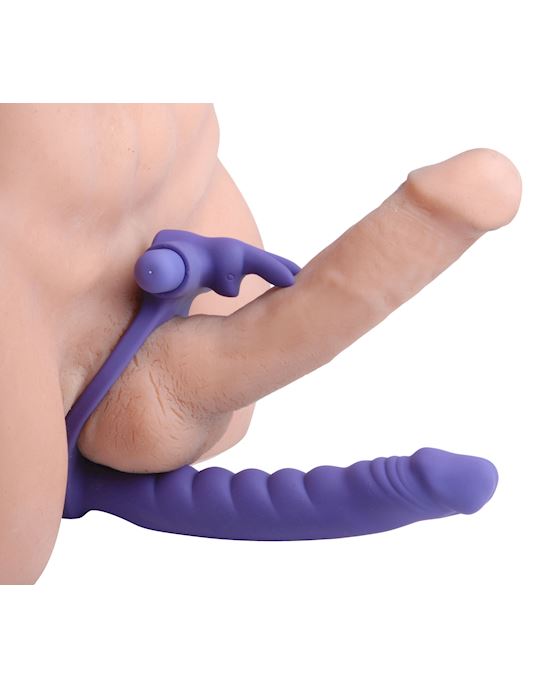 Dual Penetration Vibrating Cock Ring$87.95Shop Now
Platinum Premium Silicone – The Double Dip 2
This is a simple yet effective double penetrator that mimics the design of anal beads with the bulbous beads along the shaft. Each time those beads are inserted or removed from the body; they will stimulate the masses of nerve endings at the opening of the anus. And, it will feel amazing!
This is a relatively short option compared to some of the others with a length of 4.3 inches. That makes it a good option for all levels of experience. This is another silicone toy meaning that it is body-safe, easy to clean and will feel lovely inside the body.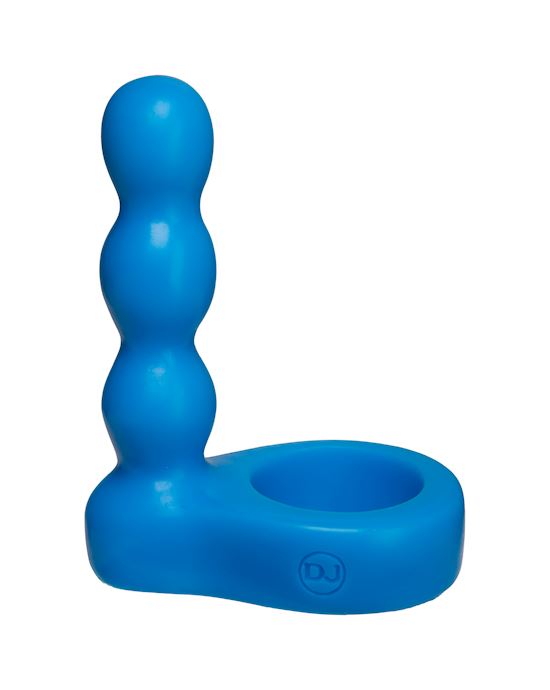 Platinum Premium Silicone The Double Dip 2$39.95Shop Now
Beaded DP Rabbit
If you want to explore double penetration without the help of anyone else, then this vibrator by The Rabbit Company will do the trick. This is a classic rabbit style vibrator that stimulates the vagina as well as the clitoris. This one has that lovely bead stimulator for the booty too. It's a real all-rounder!
The internal stimulator has rotating beads for stimulation of the vagina as they rotate as well as powerful vibrations throughout the toy. This makes for a very intense and powerful sensation and while the anal beads are on the smaller side for a DP toy, this is not necessarily a toy for beginners. All that stimulation can feel quite overwhelming to start with.
But, if you already love rabbit vibes and want to indulge in some anal action at the same time, this beauty will likely be a perfect fit.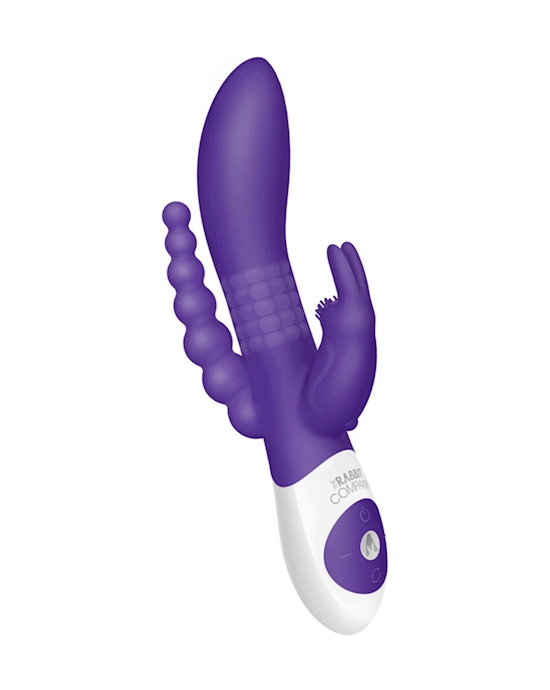 Beaded Dp Rabbit$239.95Shop Now
Crave Double Penetration Strap-on Harness
No penis, no problem! This strap-on harness has all you need for a great time. This is a super comfortable harness with a wide elasticated waistband to keep the wearer feeling good. It accommodates lots of sizes too – up to 40 inches.
There are two O-rings so you can include the dildos of your choosing and get down to business. You can also use this harness with just one dildo too making it an extremely versatile piece for your collection.
Remember that the dildos are sold separately meaning that you can choose your lengths and girths. Just make sure that they are O-ring compatible and you are good to go.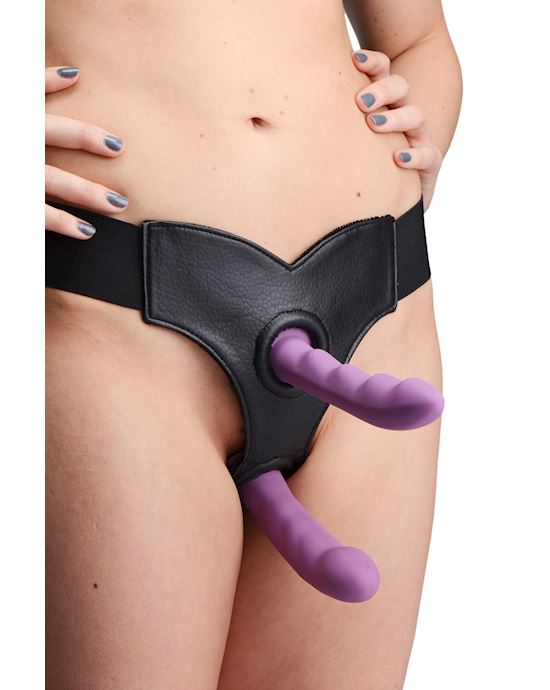 Crave Double Penetration Strap On Harness$61.95Shop Now
Want more?
There's plenty more where that came from! Adulttoymegastore is an online retailer of sex toys distributing worldwide. ATMS was opened in 2009 and are still proudly New Zealand owned and operated, with over 8,000 products from more than 45 brands to choose from! We take great pride in providing the best products to thousands of happy customers and have many benefits such as a loyalty programme, free samples, and personalised notes.
Adulttoymegastore has a huge range of sex toys including vibrators, dildos and cock rings for every occasion! With fast, 100% discreet shipping, and price guarantee, ATMS has everything you need to make good sex, great!
For more product examples - shop all our
sex toys
here.