5 of the best B-vibe Sex Toys
5 of the best B-vibe Sex Toys
If you don't know about B-vibe, you are seriously missing out!
This is a female-owned brand led by sex educator Alicia Sinclair. The B-vibe ethos is that everybody has a butt and the booty is the most inclusive body part. And, they want you to stimulate it in the best and most pleasurable way possible.
No matter which B-vibe toy you go for, you know it will be made from body-safe silicone, be USB rechargeable, come beautifully packaged and feel freaking awesome!
Let's take a look at 5 of the best B-vibe Sex Toys.
#1. B-vibe Rimming Plug
This was their first-ever plug and the one that really put this brand in the spotlight. This is a butt plug with rotating beads in the neck of the plug that spin around to create a sensation similar to a rim job. Hence the name!
This was the worlds first rimming butt plug, and in my opinion, still the best.
It also vibrates and you can choose to use only the vibration, only the rimming, both at the same time, or nothing at all. Plus, there is a remote control which not only makes using it a lot easier but also means you can include a partner into the fun and let them be in charge of the sensations.
If you want to experience the full glory of a B-vibe plug, this is the way to go.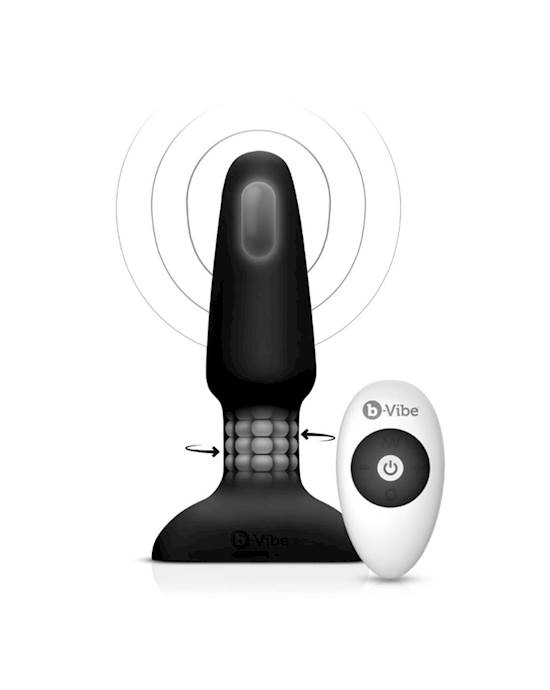 B-vibe Usb Rechargeable Rimming Plug$174.95Shop Now
Bonus round: B-vibe Rimming Plug Petite
The OG is big. And for those that want to experience that rimming sensation but aren't up for taking such a large plug, this one is for you. It has all the same amazing features in a petite package. Yay!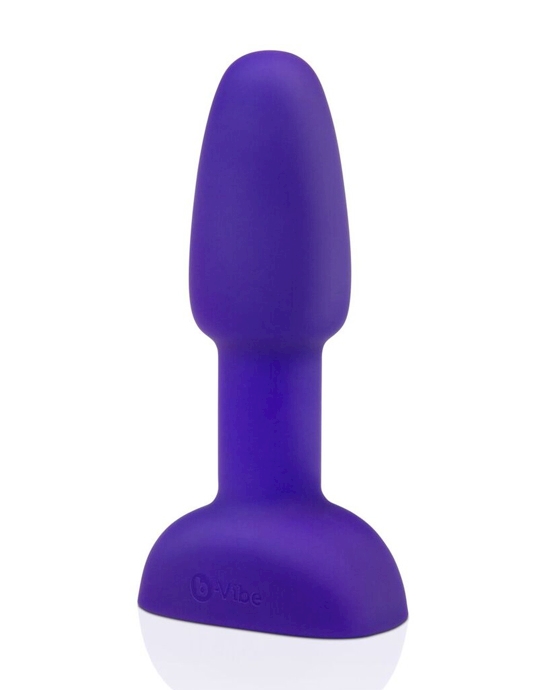 B-vibe Usb Rechargeable Petite Rimming Plug$149.95Shop Now
#2. B-vibe Trio Plug
The B-vibe Trio Plug is an amazing intermediate level butt plug. This is a vibrating butt plug with 3 motors! So, if you think that this is going to be an intense toy, you are correct.
There is one motor in the tip of the toy, one in the lower bulb and another one in the neck of the toy. With all this power, no nerve ending will go unstimulated. There are lots of functions and patterns to explore too. There are 9 different patterns and 8 levels of intensity.
The insertable length of 4.3 inches and a circumference of 3.6 inches. So while it is quite long, it is still fairly thin rather than bulbous.
This is another plug that comes with a remote control so you can pop the plug in and use the controls without needing to use the buttons on the toy.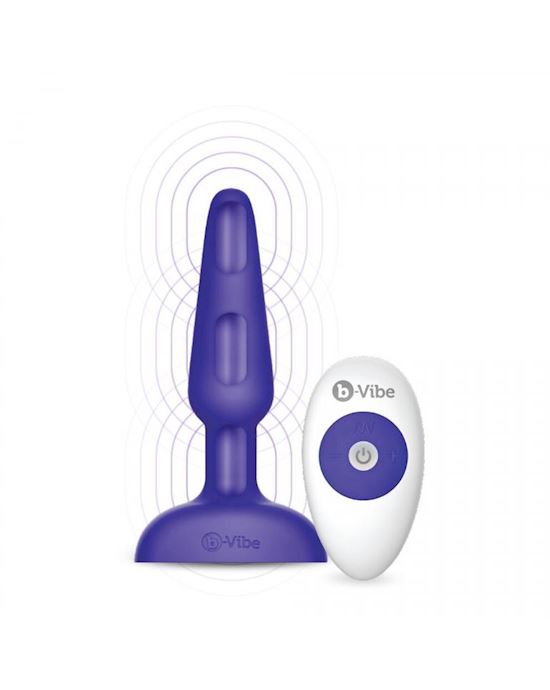 B-vibe Trio Plug$128.95Shop Now
#3. B-vibe Cinco Anal Beads
Big beads for big fun! The Cinco anal beads are a set of vibrating anal beads designed to stimulate deep inside the body. They have an insertable length of 7.4 inches and a circumference of 3.9 inches.
This is a fairly long toy with 5 bulbous beads running the length of it. What is great about anal beads is that as each bead is inserted or removed, the nerve endings around the opening of the anus are stimulated over and over again. And while it is a long toy, you actually only need to insert it as far as you are comfortable with.
The shaft itself is rather flexible and the beads are tapered to make insertion as easy as possible. There are 15 vibration patterns to play with and 6 levels of intensity from a low rumble to a deep grumble.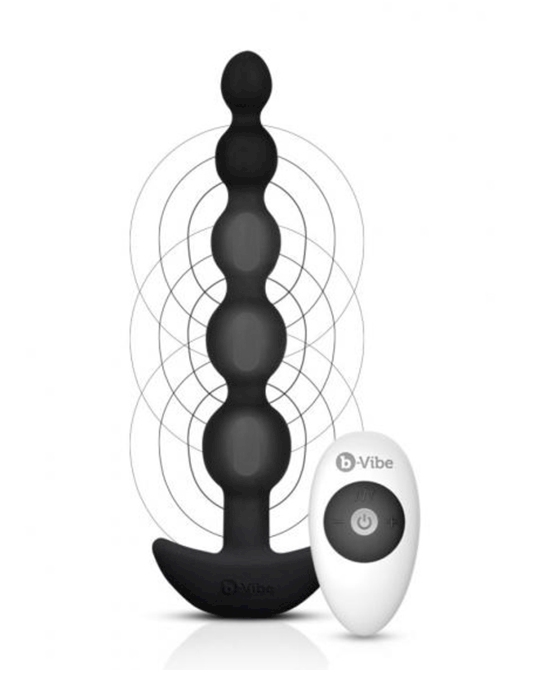 B-vibe Cinco Rechargeable Remote Control Anal Beads$189.95Shop Now
#4. B-vibe Snug Plug 1
The Snug plug collection is the perfect way to ease yourself into anal play. This is the Snug Plug 1, the smallest and lightest in the range and the ideal toy for someone new to butt plugs.
The Snug Plug 1 has an insertable length of 3.4 inches and a circumference of 2.7 inches. This means it will provide that lovely feeling of fullness and stretch without it feeling too overwhelming during insertion.
This is a non-vibrating plug but that doesn't mean it is not going to delight you! The Snug Plug range is weighted with a small steel ball inside the plug. This increases sensation and stimulation of the nerve endings with added pressure inside the anal canal.
It also means it is safe to use in the shower or bath as there is no motor to worry about.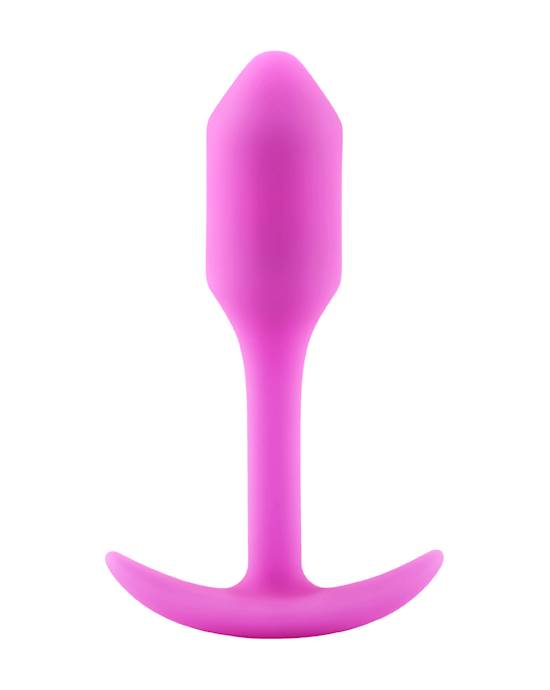 B-vibe Snug Plug 1$63.95Shop Now
#5. B-vibe Anal Training & Education Set
If you take your anal play seriously, then there is no better option than the B-vibe Anal Training Kit. This kit has everything you need to get you started safely and guide up to those larger and more intense toys.
This kit has it all. There are 3 different sized butt plugs, a lubricant launcher to ensure you are fully lubricated while you play, a douche so you can feel clean and confident and a guide to using anal toy safely.
You start with the small silicone plug which has an insertable length of 3.4 inches. Once you are comfortable with this one you can move onto the intermediate plug. This is a vibrating plug with an insertable length of 4.4 inches. The largest plug is a weighted plug with an insertable length of 4.8 inches.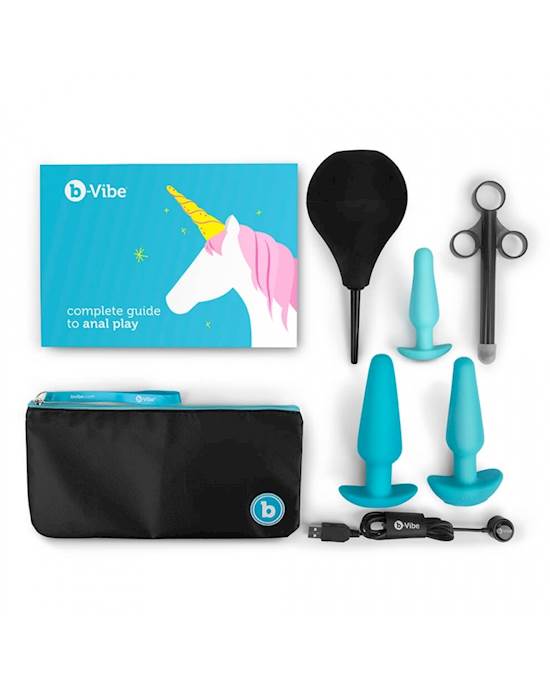 B-vibe Anal Training And Education Set$199.95Shop Now
Want more?
Adulttoymegastore is an online retailer of sex toys distributing worldwide. ATMS was opened in 2009 and is still proudly New Zealand owned and operated, with over 8,000 products from more than 45 brands to choose from! We take great pride in providing the best products to thousands of happy customers, and have many benefits such as a loyalty programme, free samples, and personalised notes.
Adulttoymegastore has a huge range of sex toys including vibrators, dildos and cock rings for every occasion! With fast, 100% discreet shipping, and price guarantee, ATMS has everything you need to make good sex, great!