5 of the most stunning Collars and Leads for bondage play
5 of the most stunning Collars and Leads for bondage play
Where you lead, I will follow… Because I'm wearing a leash.
Collars and leads are a mainstay of BDSM and are the perfect tool for exploring submissive and dominant play in a relationship. They are easy to use, come in all sorts of shapes, sizes, materials and styles and can be included in all sorts of scenes and types of play.
You can buy a set which includes both the collar and lead or you can choose individual pieces to mix and match.
Here are 5 of the most stunning collars and leads for bondage play.
Sportsheets Lace Posture Collar and Leash
If poise, sophistication and lace are what you are into, look no further than this stunning set by Sportsheets. This posture will force your head into an upright position ensuring your eyes are always on the person in charge. This is a great posture collar for beginners as the material is soft and there is a corset style closure at the back of the neck that allows you to get a comfortable fit. The leash is made of metal and has a nice soft handle to hold onto. The leash is nice and long at 46 inches allowing room for all sorts of play.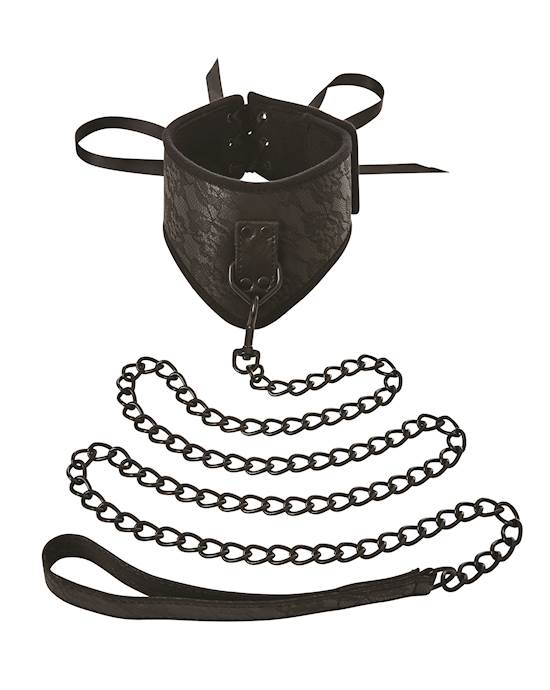 Sportsheets Lace Posture Collar And Leash$52.95Shop Now
Cal Exotics Scandal Leash
If you want to mix and match, this little leash is about as pretty as it gets. The handle is the real stand out of this piece. Using the gorgeous red fabric that the Scandal range is known for on one side and leatherette on the inside of the handle. The universal clasp means you can attach this leash to all sorts of other bondage accessories and it will fit any collar with a D-ring or O-ring. The lead measures 32 inches in total length giving you a lot of room for fun.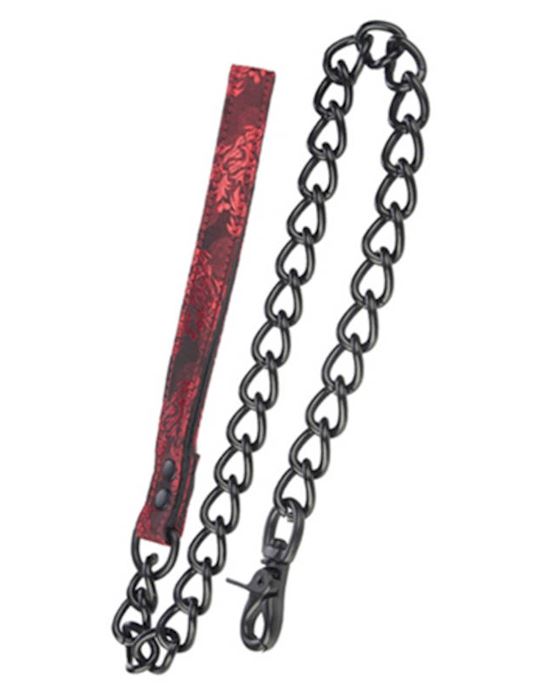 Scandal Leash$51.95Shop Now
Truine Round Bar Collar
For collar enthusiasts, it doesn't get much better than a slave collar. This stainless-steel option is shiny, weighted and has rounded edges for comfort. The hex key locks this collar at the side of the neck and will stay out until you are released. The O-ring at the front means that you can attach leash, rope or another piece of bondage gear that you wish. Being made from steel, you must read the measurements properly and measure your neck to ensure you get the perfect fit. If you get the size wrong, there is no way to do this baby up so get that measuring tape out.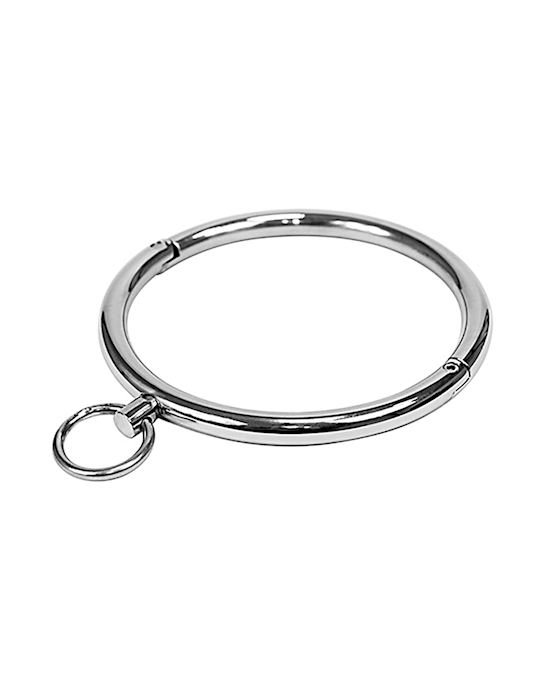 Round Bar Collar$114.95Shop Now
Coco de Mer Leather Lead
If its Coco De Mer, you know it is going to be beautiful! And this gorgeous lead is no exception. Made a 43-inch antique gold chain and a lobster clip which can be used to attach it to all sorts of other bondage gear. The handle is made from soft, brown leather with the Coco De Mer logo embossed on it. This lead oozes elegance and style and comes in a branded drawstring bag with a set of care instructions so that you can look after it and enjoy it for a long time.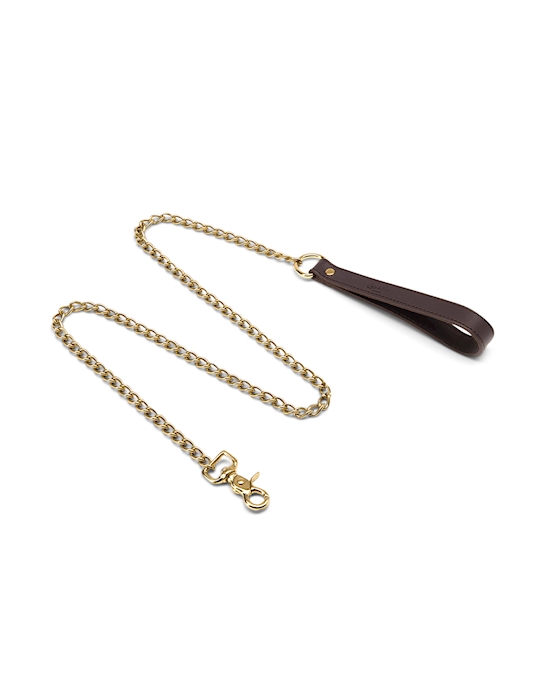 Coco De Mer Leather Lead$103.95Shop Now
Saffron Leash and Collar
If you are new to the world of collars and leads, then this Leash and Collar by Sportsheets is a great option. The collar is made from vegan PU leather that is soft and nicely padded for comfort. It also has an adjustable closure so that you can get a perfect fit every time and a D-ring at the front so you can attach the lead. The lead also has a soft PU leather handle and a long chain for playing anyway you like. You can use the two pieces together or separately too as the D-ring and universal clasp can be used to attach all sorts of other gear.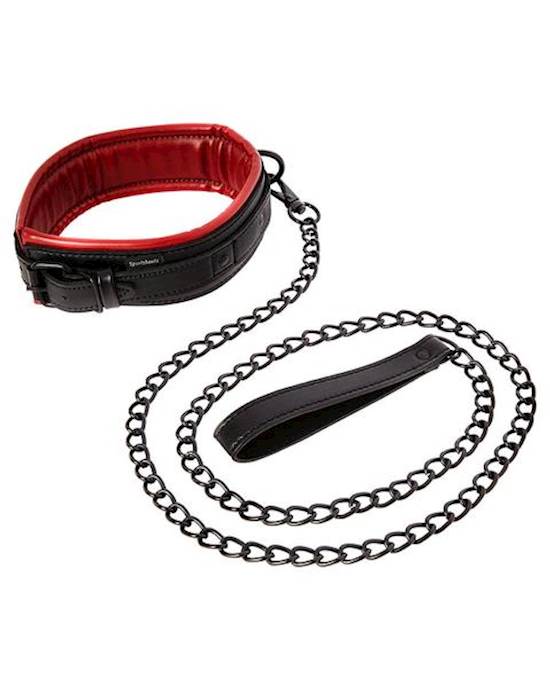 Saffron Leash And Collar$52.95Shop Now
Always make sure you read the measurements carefully before you buy a collar to ensure you are getting the right fit. If you are wary, then go for an adjustable style that can be done up to suit your exact body.
And always ensure that you have open communication and trust with whoever you are playing with. Talk things through beforehand and try on the collar before you start to ensure that the fit is correct and you are both feeling confident and comfortable. And don't forget your safe word. BDSM play can be intense and having an agreed-upon safe word in advance can help you both to relax and enjoy the scene.
Want more?
Adulttoymegastore is an online retailer of sex toys distributing worldwide. ATMS was opened in 2009 and are still proudly New Zealand owned and operated, with over 8,000 products from more than 45 brands to choose from! We take great pride in providing the best products to thousands of happy customers, and have many benefits such as a loyalty programme, free samples, and personalised notes.
Adulttoymegastore has a huge range of sex toys including vibrators, dildos and cock rings for every occasion! With fast, 100% discreet shipping, and price guarantee, ATMS has everything you need to make good sex, great!