5 Full Restraint Sets to Use in the Bedroom
5 Full Restraint Sets to Use in the Bedroom
Restraint play is some of the most fun you can have with or without your clothes on! It's a great way to tippy-toe into the world of bondage or BDSM play without feeling overwhelmed.
If you are new to restraint play, I recommend starting with only wrist restraints and moving into full restraints when you are comfortable with that type of play and ready for more.
Full restraints come in all sorts of shapes and setups with the idea that they will restrain both your wrists and ankles. This will trap all your limbs, reducing your ability to move or touch your partner. This means you need to play with someone that you trust completely and set up some rules in advance.
Discuss a safe word you can use when you are no longer feeling completely comfortably – either physically or mentally. The safe word can be used at any time during play and means that whatever you and your partner are doing needs to stop immediately.
Make sure you set out exactly what forms of play are allowed before either of you are in the full restraints. Talk about any toys or tools that can be used and what sorts of touch or penetration are ok in this set-up. This way you will both feel safe and comfortable about what is going to happen.
And, don't forget about aftercare. Playing with full restraints can be draining mentally and physically on the person wearing them. It's important to check in afterwards and make sure they are feeling ok. They may need some water or a sugary snack to get their energy levels back up. Or they might simply want some time alone or to snuggle with their partner afterwards. So, check-in and make sure both of your needs are being met before, during and after play.
Now, let's take a look at 5 full-body restraints to use in the bedroom.
Scandal Over The Door Bondage Cross
This set has all the joys of a bondage cross without the price tag or the need for a whole lot of space. The Scandal Over the Door Bondage Cross is an easy way to ease yourself into full restraints. This is an over the door set with bar hooks for secure placement and sturdy straps in a cross shape. There are two cuffs at the top for your wrists and two at the bottom for your ankles.
And, that cross shape forces your arms and legs apart for easy access. The cuffs are soft and comfortable and have Velcro fastenings that are quick and easy to get on and off. The cross itself is also adjustable to fit all sorts of doors and bodies. If you are into standing sex and a bit of light bondage, this will be perfect for you.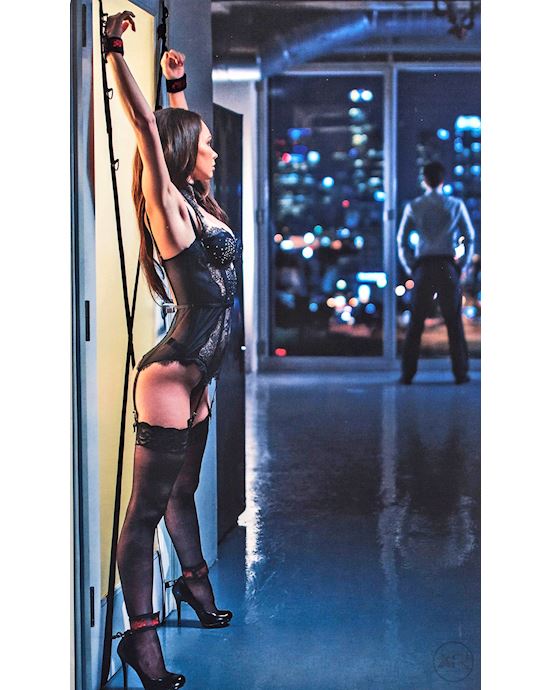 Scandal Over The Door Bondage Cross$66.95Shop Now
Fetish Fantasy Series Pink Passion Bondage Kit
The Fetish Fantasy Series Pink Passion Bondage Kit is one of our top-selling products here at ATMS and it's pretty easy to see why. This kit has everything you need for a good time! You get 2 adjustable wrist cuffs, 2 adjustable ankle cuffs, 4 nylon tethers, a ball gag, a satin eye mask and a whole lot of ways to play.
You can use the tethers to attach each ankle and wrist to the bedframe or forget the tethers and use the cuffs alone to restrain your wrists, your ankles or your wrists to your ankles! It's an easy kit to use and set up and is great for any level of experience. Plus, it's pretty in pink which is always a bonus!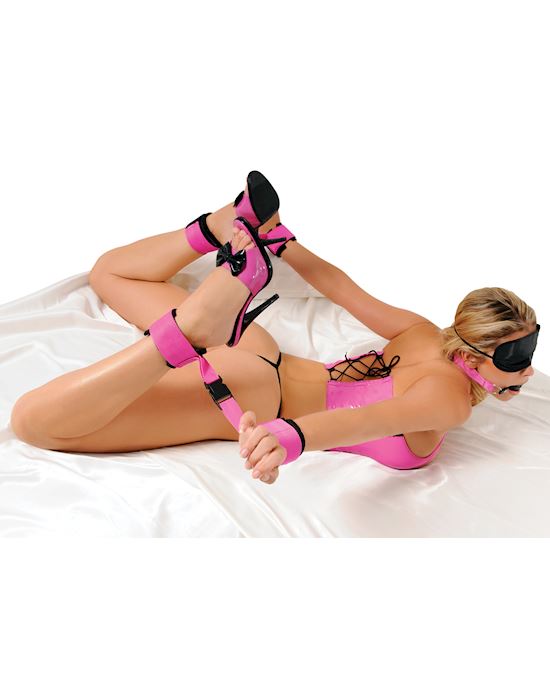 Fetish Fantasy Series Pink Passion Bondage Kit$60.95Shop Now
Sportsheets Under the Bed Restraint System
This set is built for pleasure and punishment… no matter whether you like to play naughty or nice, you can have a world of fun with this one. All you need is a bed and a partner. And don't worry, this isn't one of the sets that require a bed frame, this can be sued with any mattress and doesn't have any hooks or attachments to set up. This makes it great for travelling too. Just fold it up and pop it in your suitcase.
There are four comfy cuffs with adjustable fits for a secure fit. 2 for your wrists and 2 for your ankles. This will keep you in place with your arms and legs open for all sorts of teasing, pleasing or punishing.
Ouch Reversible Hogtie
We all love a hogtie right?! Especially one that is as sexy as this. Oh, and it's reversible too for extra fun! This hogtie set has 2 wrist cuffs and 2 ankle cuffs with a fixture that connects them all in the middle. You can attach the parts at the back of the body or the front depending on how you like to play.
Each cuff has Velcro locks meaning it is super comfortable to wear and easy to release in a hurry if you need to. Each piece also uses metal snap closures meaning that you can attach the cuffs to all sorts of different restraint pieces like a spreader bar or other cuff sets. It's a super versatile set!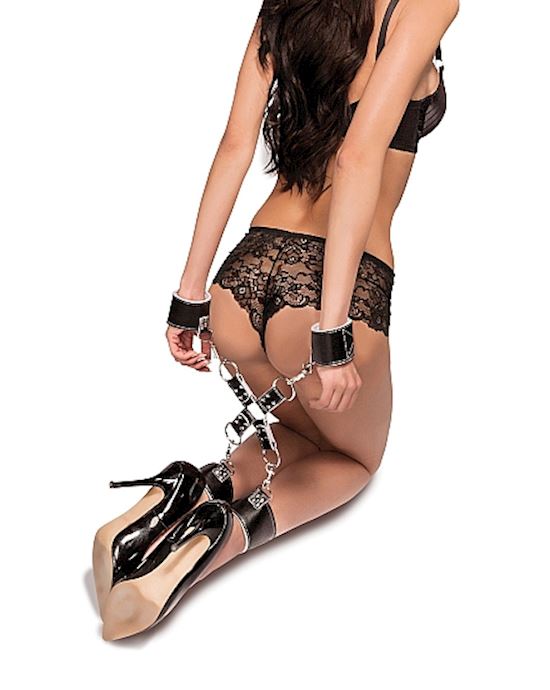 Reversible Hogtie$142.95Shop Now
Liberator Obeir Spanking Bench
Okay, I'm throwing a bit of a wild card into the mix but how freaking cool is this piece?! This spanking bench is made from high-density foam for a supportive and firm foundation for spanking or any kind of play that requires your booty up in the air. There are 4 cuff attachments. 2 for your wrists and 2 for your ankles to keep your body in the perfect all fours position.
The cuffs attach using d-links which means you change them up as you like with alternative restraint options. It's not only spanking that you can enjoy using this piece. It's great for helping you into all sorts of sitting or bent over positions like doggy or the cowgirl. Yes, it's a little on the expensive side, but this Liberator piece is totally worth it.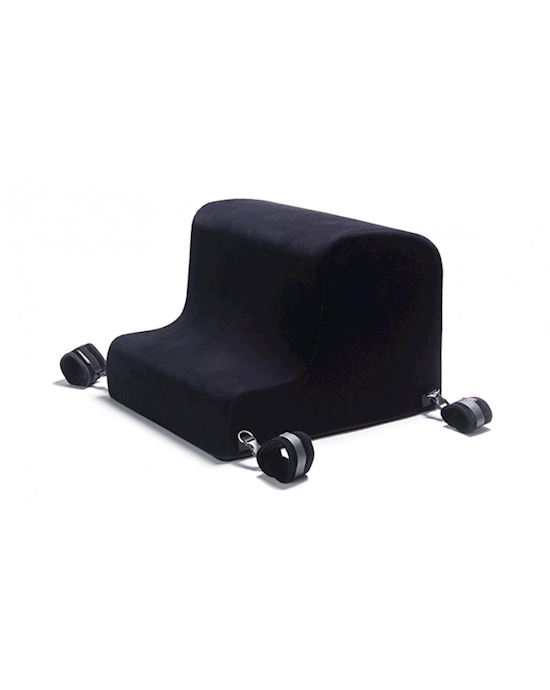 Liberator Obeir Spanking Bench$289.95Shop Now
Want more?
There's plenty more where that came from! Adulttoymegastore is an online retailer of sex toys distributing worldwide. ATMS was opened in 2009 and is still proudly New Zealand owned and operated, with over 8,000 products from more than 45 brands to choose from! We take great pride in providing the best products to thousands of happy customers and have many benefits such as a loyalty programme, free samples, and personalised notes.
Adulttoymegastore has a huge range of sex toys including vibrators, dildos and cock rings for every occasion! With fast, 100% discreet shipping, and price guarantee, ATMS has everything you need to make good sex, great!