What is an anal hook?
A terrific question and surprisingly self-explanatory.
An anal hook is a metal hook with one long end and one shorter end. The longer end will usually have a loop and the shorter one may have one or more metal balls for stimulation. The shorter end of the hook is inserted into the anus while the longer sits outside the body.
This is a popular tool for BDSM play where there is a submissive and a dominant partner. As you might guess, the anal hook will be used on the submissive with the loop at the back attached to a rope or other piece of restraint wear to keep them in place. This rope can also be attached to an overhead fixture to keep them in place. It may also be used to attach the wrists at the base of the back.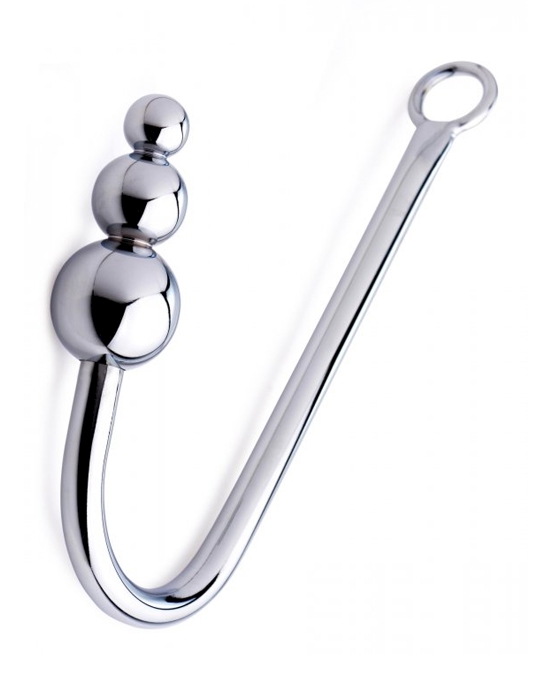 Meat Hook Beaded Anal Hook$119.95Shop Now
Anal hooks are one of the few sex toys where there is not all that much variation in size between different models. They will usually be about 1 inch thick with an insertable length of 6 inches or less. Some will include metal balls for stimulation on entry and removal of the hook. Others will be smoother ended and maintain a relative size throughout the length of the insertable end.
Some anal hooks will come with different sized ball attachments so that you can decide which size to play with on a given day. Just make sure you screw these on super tight before you start so that the balls do not separate from the hook while they are inside you. If you are playing with a partner, ensure this is checked and discussed beforehand so you both feel safe and comfortable with the set-up.
Who can use an anal hook?
Anal hooks are commonly used in a form of BDSM play called predicament play where the wearer is forced to stay in a particular position. As in, "Oh no. I'm in such a predicament. How will I ever get off this hook?"
The hook should keep the person in place with very little movement. Often the dom will stimulate the sub while they wear the hook. They may pleasure them or tease them in this position. Some users even tighten the rope to keep the sub in a position that may start to feel uncomfortable over time.
But these tools can be extremely pleasurable too. Anal hooks are generally made of steel that is firm and inflexible which is great for an internal massage. Some people will use the hook vaginally too as a dildo for the firm pressure it applies to the body. The hook can be inserted and moved slowly around using the external loop as a handle. This is extremely effective if you have a prostate as the ball can directly massage this area of high stimulation for amazing orgasms.
How do I use an anal hook?
The basics of using an anal hook are much the same as using a butt plug or anal dildo with a few extra bits you need to consider. As it's an anal toy, you are going to need lube and a lot of it. As anal hooks are made from stainless steel, they can be teamed up with any kind of lubricant. So, you can use a water-based lubricant or go for something a bit thicker and longer-lasting like silicone lubricant. Using a lubricant will allow the hook to glide in smoothly and look after the delicate skin in this area.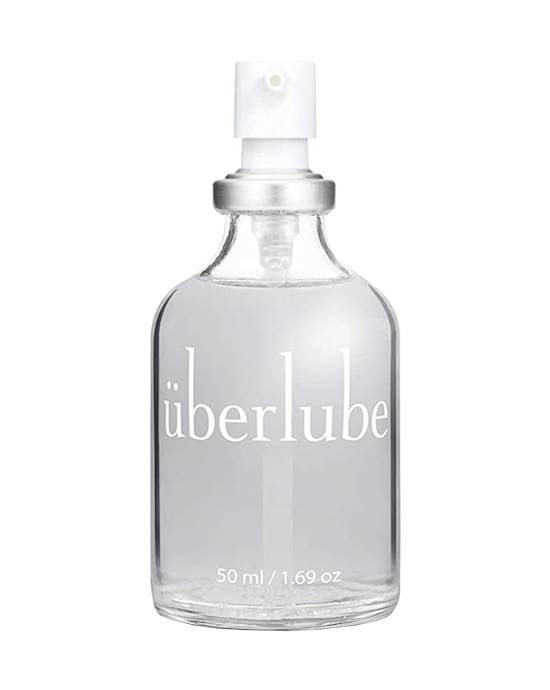 Uberlube Luxury Lubricant 50ml$29.95Shop Now
The more difficult part is knowing how to attach the anal hook to a rope, restraints or overhead fixture. Make sure whoever you are playing with is aware of the dangers of this type of play. Remember that the addition of rope or other gear is only there to ensure that the hook does not move. It is not meant to add any extra pressure.
Make sure you communicate with your partner
How you play is up to yourself and your partner but it's important to communicate openly first about how you intend to play and what your limits are. Never use an anal hook with anyone that you are not completely comfortable with. You need to be confident enough to use a safe word or say if you want to stop during play too. And feel confident that they will listen to you if you do need to stop at any point.
And remember that anal hooks should not be used for suspension bondage. You should also avoid any sudden movements or jerking while you an anal hook. Both of these can seriously injure the wearer.
So long as you follow these simple rules, playing with an anal hook can be an extremely and erotic experience. Just make sure you feel comfortable with your partner and have a safe word ready so you can get out quickly if you need to.
Want more?
Adulttoymegastore is an online retailer of sex toys distributing across New Zealand, Australia and the USA. ATMS was opened in 2009 and is still proudly New Zealand owned and operated, with over 8,000 products from more than 45 brands to choose from! We take great provide in providing the best products to thousands of happy customers and have many benefits such as a loyalty programme, free samples with every order, and personalised notes.
Adulttoymegastore has a huge range of sex toys including vibrators, dildos and cock rings for every occasion! With fast, 100% discreet shipping, and price guarantee, ATMS has everything you need to make good sex, great!