For the majority of people, the words "electricity" and "genitalia" just don't mix, and fair enough! Since a young age, we have all been told that electricity is dangerous and if you come into direct contact with it even lethal. Whilst in other scenarios this may be the case, when it comes to electro sex it is harmless, so long as you know what you are doing. Luckily for us, the human body is mainly made up of water making it an excellent conductor of pleasurable electricity! 
And for a lot of us, with the right tools, electro-stimulation feels really damn good. While you might assume that it's all zaps, shock and pain, this doesn't have to be the case, unless you want it to be.
Many electrostimulation toys are more about teasing, tickling and working to make your muscles clench. They are not about feeling like you are being electrocuted.
What is electrosex?
Electrosex is a way of stimulating the genitals and erogenous zone with a safe amount of electrical energy through sex toys, conductive pads, conductive gloves or neon wands. The electric current penetrates right through to the nerve endings of the body. It is a type of stimulation that can be enjoyed solo or with partners too. 
Although electrosex can typically be associated with BDSM activities and the idea of applying pain to a submissive partner, don't let this put you off. E-stim products have been developed to stimulate the nerves and muscles of the body with sexual arousal, stimulation and muscle massage as its purpose. It can be an extremely pleasurable experience and doesn't need to involve pain at all. 
What does electrosex feel like?
On lower settings, sometimes sensations can be so faint that you will barely feel a tingle. As you move up through the levels, this tingle will start to feel more intense as it travels deeper inside your body. On the top levels, the current can be so intense it causes your muscles to tighten and clench. If you are using an internal toy, this will help to draw blood into your genitals and can make for an amazingly strong orgasm.
As you get to experiment further with lower settings this tingle can increase more into a tickle. Imagine how good it feels to be teased and tickled along the side of your body. Now imagine a gentle vibration that follows this tickling sensation. Far from painful! Of course, if you're into pain, there is the option for that too!
On moderate settings, the tickling sensation feels firmer and is often compared to sensations felt from a high-powered vibrator. Your nerve ending will start to become more aroused and stimulation will become firmer. This setting is often used for insertable sex toys, due to the resemblance of a vibrator. 
On higher settings, sensations begin to feel similar to strong pins and needles or even a light sting. Stimulation becomes a lot firmer and can even cause your muscles to contract. When starting it is vital that you start with the power switched off. You can then increase the intensity to discover the setting which best suits you.
Getting started with electrosex toys
Electrosex devices are available for both internal and external stimulation, with products designed with the stimulation of specific body regions in mind. 
A great starting point is a cordless internal toy from the MyStim range. E-stim toys can get complicated, but this range has everything you need at the press of a button. No wires or extra units are required to complete the electrical circuit. My first ever electro-stimulation toy was the MyStim Sizzling Simon E-stim Vibrator and I highly recommend it. 
It offers both vibration and electro play and you can use the features together at the same time, or stick to just one or the other. If you are a beginner, then using both the vibration and the electro stimulation does make your first try a lot easier! The vibration muted a little bit of the electro stimulation for me so it felt less intense than only using that alone. 
For those looking for something external, a great place to start is with an Electrastim unit like the Flick Duo Stimulator. This has everything you need to explore solo or couple's electro play with the power unit and uni-polar electro pads. When you attach the pads to your body, you can turn yourself into a toy and use your fingers or other body parts to stimulate yourself or a partner with electro-stimulation. 
When the electrode pads are attached, a current passes between the two pads sending electric pulses into the muscles causing them to contract. If you put these pads near the genitals, your genital muscles can contract to bring blood into the area and in some cases making your orgasm without any other stimulation. It sounds complicated and honestly, it is, but once you get your head around all the parts, this is a very cool set. It also includes 2 pin connectors so you can add toys into the mix when you want to extend your collection.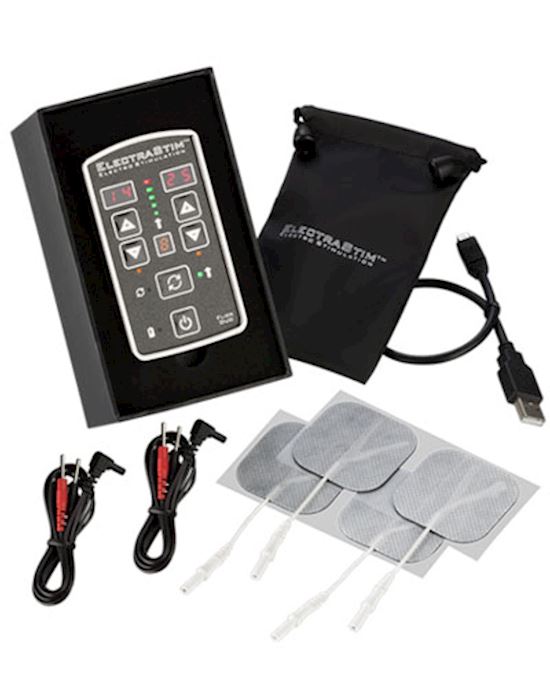 Electrastim Flick Duo Stimulator$359.95Shop Now
Do's
Use a water-based lubricant with internal attachments
Use electro conductive gel with external attachments
Ensure that attachments are dry when connecting to the device (after cleaning)
Remove body jewellery; it is likely to get hot and damage the skin Make sure you are fully hydrated before you start your play
Do not's
Use an e-stim device if you are pregnant, epileptic, have any heart problems or have a pacemaker fitted
Use electro sex attachments on broken or irritated skin
Form a connection anywhere above the waist
Use piercings as electrodes
Aftercare
Playing with electro-stimulation can be quite an intense experience for your body and you may find that you require a little extra care after the first few times. If you are using electrodes, your skin may feel red and tender where they attached to the skin. Use some moisturiser to soothe this area.  You may also find that you have achy muscles or muscles twinges if you were using the higher settings. This is normal and will go away after a day or two. 
The most important thing to remember with electrosex is that it will be a very different experience for each individual. Some people will feel much more than others even on the lowest settings so make sure you always start at the lowest level and work your way up as you become comfortable. 
Want More?
Adulttoymegastore is an online retailer of sex toys distributing across New Zealand, Australia and the USA. ATMS was opened in 2009 and is still proudly New Zealand owned and operated, with over 8,000 products from more than 45 brands to choose from! We take great provide in providing the best products to thousands of happy customers, and have many benefits such as a loyalty programme, free samples with every order, and personalised notes.   Adulttoymegastore has a huge range of sex toys including vibrators, dildos and cock rings for every occasion! With fast, 100% discreet shipping, and price guarantee, ATMS has everything you need to make good sex, great!