What is the purpose of vibrating panties?
What's the purpose of vibrating panties you ask? Easy! It's all about hands-free fun baby! I mean, the only thing better than a vibrator for your vulva is a hands-free vibrator for your vulva, right? And that's exactly what vibrating panties are. You can simply slide them on, turn them on and have a literal party in your pants.
What can vibrating panties be used for?
Vibrating panties come in a few different styles but the gist of these toys remain the same. They are designed to stimulate the vulva while the underwear holds them in place leaving your hands free. They stimulate just like a clitoral vibrator would and that is all about pleasure baby. The clitoris loves constant, steady and even stimulation and a vibrating panty will do just that. This offers you a lot of opportunities for play.
Inside the bedroom
Although a lot of you are probably thinking about the possibilities that exist outside of the bedroom (we will get to that soon, promise!), there are a lot of options for play inside the bedroom too. A lot of vibrating panties come with remote controls which allow you to hand over the remote to someone else and let them be in charge of your pleasure for the night. They can turn the vibrator on and off without warning and also get to be in charge of the level of vibration intensity that you experience.
You can also use them as part of foreplay while other parts of your body are being stimulated, or while you are pleasuring your partner or partners. Maybe you want to perform oral sex on someone using your hands and mouth but you want to be stimulated too? No probs! Get in that vibrating underwear, flick on that vibrator and go to town.
Of course, you can use these for solo play too by sliding the panties into place and using the remote control to change the intensity level. Use them while you listen to, read or watch some erotica and have some fun getting yourself off.
Outside the bedroom...
As promised, let's also look at your options for play outside the bedroom as this is what vibrating panties are best known for. If you are game, then vibrating panties can help you let your inner exhibitionist out to play! Or your inner voyeur if you happen to be in charge of someone else's remote control.
Oh yes, vibrating panties can be worn comfortably under your clothes and taken along with you anywhere you choose to go. Take them to the club, wear them at a dinner party, wear them to a gig or even at the supermarket for a much more enjoyable shop. A style with a remote control is going to be your best option here as fiddling around in your underwear simply isn't cute.
You also can take control and play all by yourself while you are out. It's as easy as keeping the remote control in your handbag and pretending to dig around for your phone while you turn that baby up. Better yet, choose a style that has an app-controlled option and send a "WhatsApp" directly to your vibe telling it what to do. Or, you can let someone else be in charge and have a seriously hot date out in the world just like in the film The Ugly Truth.
TBH it's a shit film with a nice big scoop of misogyny but if you have seen it, the vibrating underwear scene is likely lodged in your brain for better or worse. It's certainly lodged in mine. But whatever we may think of that film, there is no doubt that the woman wearing the vibrating panties in that scene is losing her shit and that could be you! Although, hopefully, you will be a bit more subtle about it when you are out in public. Don't forget that sexual play in front of others requires their consent, so keep it to yourself and get your poker face on stat to avoid making other people feel uncomfortable.
What vibrating panty options are there?
There are a few different styles to choose from. Some come with actual underwear with a small pouch inside the front where you can slip in the bullet vibrator or clitoral vibrator to keep it in place. Others are simply worn inside your own underwear and are curved to fit the shape of your body in a panty liner style. Some have a remote control and some of them require you to turn them on and off via the vibrator itself. Which, as you may guess, can make things a whole lot less subtle and sexy. Which style you choose depends on where and how you want to use the toy.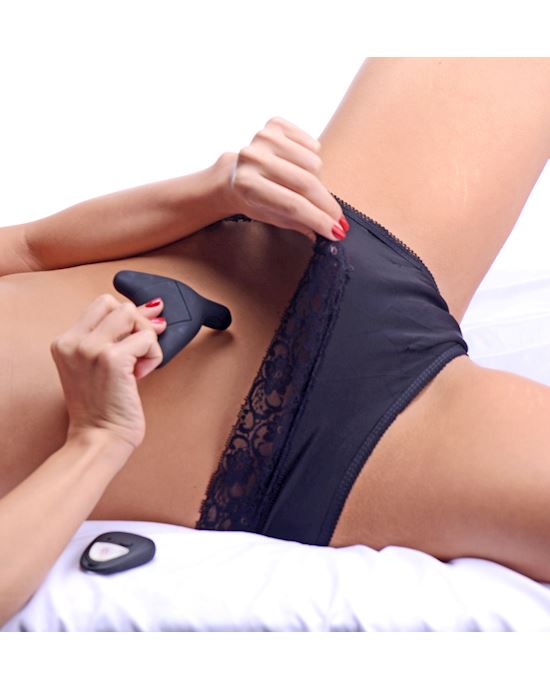 Pulsating Panty 10x Remote Control Cheeky Style Vibrating Panty$85.95Shop Now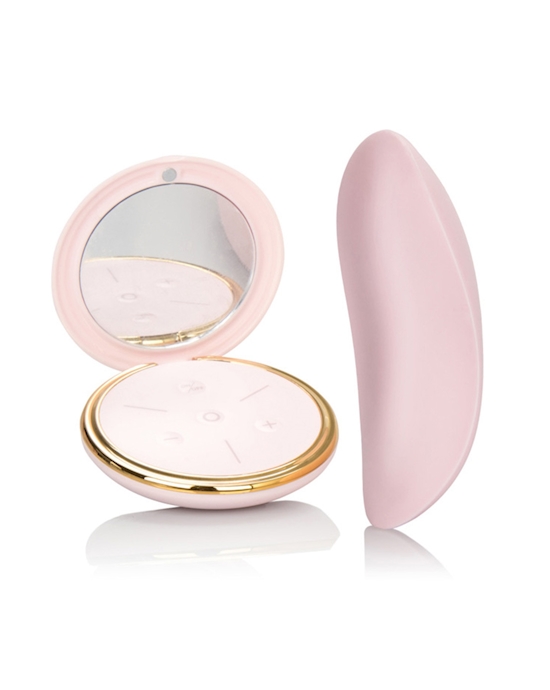 Inspire Vibrating Remote Intimate Teaser$79.95Shop Now
Things to keep in mind when choosing vibrating panties
Noise control. Vibrating panties are one of the vibrators where the noise it makes really matters, especially if you are planning on wearing them outside of the house. If public play is your thing then a whisper-quiet vibe is going to fast become your bestie.
Remote control. If you are using a remote control set out and about, you also need to consider the subtleness of the remote. If it's small enough to fit in a pocket and easy enough to be controlled from there, then you are good to go. But not all remotes are going to be that small and easy, and you may need to get it out and pay attention to what you are doing. Of course, this is no problem at a sex party or fetish event, but if you have the remote out in a restaurant or cafe, things are gonna get weird pretty quickly.
Size (control). Unfortunately, a lot of vibrating panties are still a "one size fits all", which we know is pretty much garbage unless you fit into the size 8-12 department. So, if you can't find a pair with different sizes available, then I recommend going for a style with side ties on the underwear so you can tighten or loosen them depending on your body. Or, just grab a style that slides into any underwear so you can look and feel sexy as hell.
So, go on, find your perfect pair and play inside or outside of the bedroom. Just remember to be respectful of others while you are out and about and start practising that poker face now!
Adulttoymegastore is an online retailer of sex toys distributing across New Zealand, Australia and the USA. ATMS was opened in 2009 and is still proudly New Zealand owned and operated, with over 8,000 products from more than 45 brands to choose from! We take great provide in providing the best products to thousands of happy customers, and have many benefits such as a loyalty programme, free samples with every order, and personalised notes.
Adulttoymegastore has a huge range of sex toys including vibrators, dildos and cock rings for every occasion! With fast, 100% discreet shipping, and price guarantee, ATMS has everything you need to make good sex, great.