How to use a Sex Swing for seriously good sex
Sex swings are not the hardcore accessory you think they are. While they can be used for hardcore forms of play, they are also amazing tools for supporting the body and adding a lot of variety.
What I love about sex swings is that they make difficult sex positions accessible to partners no matter their weights, heights or strength levels. They are designed for sexual play, to make getting into positions easier and to enhance your range of motion.
It can actually be safer and kinder for your body to do these positions using a swing as it can reduce strain, tension and stress on the body. They are also great for those with mobility issues or other physical barriers to sex.
How does a Sex Swing work?
Sex swings look a lot like a normal swing, but they are designed to be hung from your ceiling, a doorway or it might have its own swing stand. There are all sorts of different styles, but most will have a hammock style seat that holds the majority of the user's weight. They might also have straps for the feet and handles or straps to hold onto.
The idea is that the base can be swung or held in place while the foot straps can open up, lower or raise the legs and keep them comfortably in that position without straining the joints or muscles.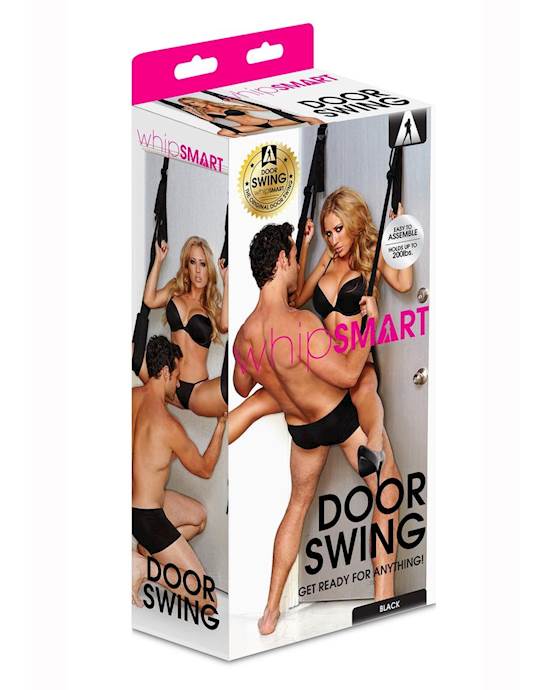 Door Sex Swing$58.95Shop Now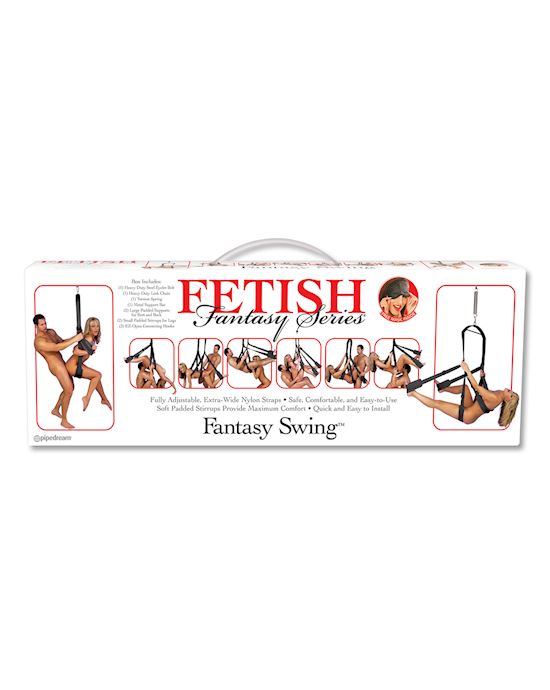 Fantasy Swing$229.95Shop Now
With a sex swing, there are almost endless possibilities position-wise but in my opinion, the classics are some of the best. A good starting point is to think about the positions you already enjoy and start there.
Oral Sex
This isn't regular oral. This is weightless oral.
Receiving oral while you are in a swing is great for both partners. The receiving partner can sit in the swing and use the feet stirrups to hold their legs up and outwards providing easy access to their genitals. This takes the pressure off their legs and hips allowing them to focus solely on their pleasure.
But it's good for the giving partner too as it can help to keep their head in an upright position while they use their tongue or mouth. This reduces strain on the neck and shoulders.
Missionary Sex
Missionary is a lot of fun when there is a sex swing involved. This position requires one partner standing and the receiving partner sitting in the swing. Adjust the swing so that when the receiving partner sits back or lies back, their genitals are aligned with the standing partners.
The standing partner can hold the others hips and use the momentum of the swing to control penetration. This gives them control over the speed and depth of their thrusts.
Doggy Style
Doggy style works well with a swing with two straps. One partner can lie face down with one strap supporting their chest and the other supporting their hips and butt. You can adjust the straps so that their hips are slightly raised in the air for easier access. And don't forget to have the person in the swing at the right height so that the genitals align. This way the standing partner won't need to bend too much and put pressure on their knee joints.
The standing partner can hold onto the straps or the hips of the partner in the swing to control penetration. And the person in the swing has their hands free to do as they please.
Assisted Anal
Figuring out an anal position that is comfortable for both partners can be difficult but using a swing can help to get both of your hips and booty in exactly the right position. Most swings will be very adjustable meaning you can get all the parts right where you need them.
Get into the same position as you would for doggy style then adjust the straps slightly so that the receptive partner's booty is in a perfect position.
The Lapdance
One person sits in the swing and the other person perches on their lap and both people have their feet on the floor. This removes pressure or weight on the legs while still allowing you to use your feet to gain momentum and control the movement of the swing.
You can do this position face-to-face or flip around for rear entry vaginal sex or anal sex. There are lots of ways to play in this position but make sure you have a sturdy swing that will hold the weight of both of you.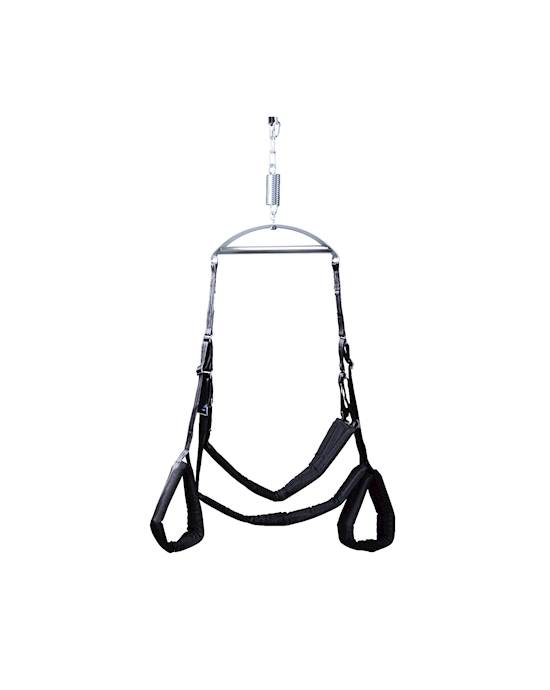 Loveswing - Multi Vario$304.95Shop Now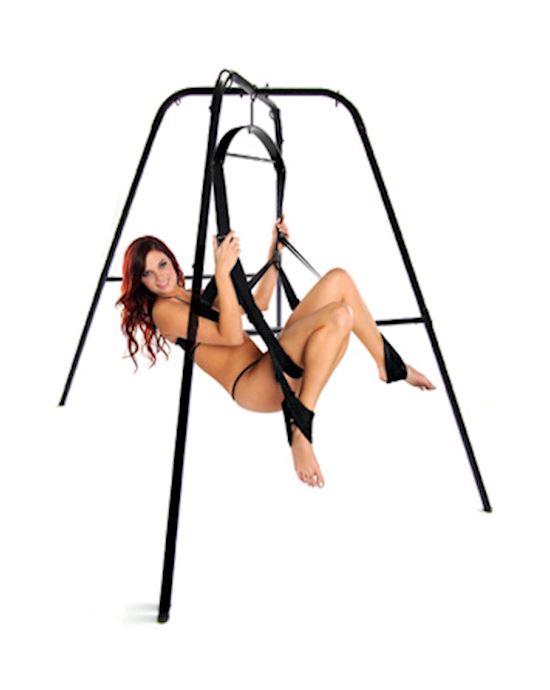 Trinity Ultimate Sex Swing Stand$529.95Shop Now
Tips on safety
Always check the weight limit and look for a swing with great customers reviews. Your safety is the most important thing. Pleasure comes second! And make sure the swing is mounted properly especially if it is going to attach to your ceiling.
Give the swing a whirl first without sexual play involved. Test out how it feels to sit in it and move around and back and forth to make sure it can support you comfortably. When you are happy bring in your partner too.
Make sure you set your limits first. Tell your partner what is ok and what is off-limits in the swing. Then they can do the same with way. That way you can ensure you both feeling safe and comfortable before you begin.
So long as you are both feeling safe and secure then there are no limits on the ways which you can explore with a sex swing. Just remember to ensure it is securely in place before you start and go for gold.
If you want more info about sex swings, check out Georgia's amazing article below.