There are many benefits to using a cock rings or multiple cock rings at once.
Cock rings, also known as C-rings, penis rings, or even pleasure rings, are hugely popular toys for penis owners that can be used for masturbation or as part of couples' play. It's a ring that you put on an erect, or semi-erect, penis to create a bigger, fuller erection and prolong orgasm. It's great fun for everyone involved.
Cock rings help with maintaining an erection by preventing the blood from flowing out of the erectile tissues in the penis. This helps to create a stronger erection that feels firmer and lasts longer than it would without the ring. When you do orgasm, the orgasm can feel more intense and gratifying.
The trapped blood will also increase your penises sensitivity, so things tend to feel much more intense when you wear a cock ring.
They are great to use with a partner but can also be used during solo sex.
How to put on a cock ring
There are many ways to wear a cock ring depending on the style of the ring and what kind of outcome you are wanting from it.
Before you begin…
Consider trimming your pubic hair to prevent tugging as you get the ring on and off. Silicone rings tend to tug on hair a bit and grooming can help to prevent this.
Use lube! Use lube around the inside of the ring to help get it on comfortably. Make sure you are using a lubricant that is compatible with your ring material. Silicone lubricant shouldn't be used with silicone cock rings. Stick to water-based lubricant instead.
To get a ring on, stretch it out wide and lower it onto your erect penis and let it go slowly.
Stretchy rings need to be out on while your penis is erect or at least semi-erect. Cock rings made from inflexible materials like metal need to be put on while you are flaccid.
If the ring goes around the penis and the testicles, pop the testicles through first then follow with your penis. It may be easier to do this while you are flaccid depending on how stretchy the ring is.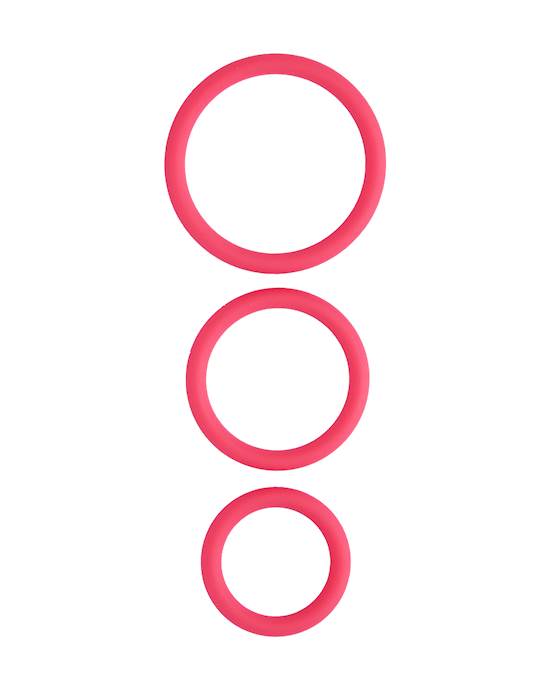 Share Satisfaction Stamina C-ring Set$10.95Shop Now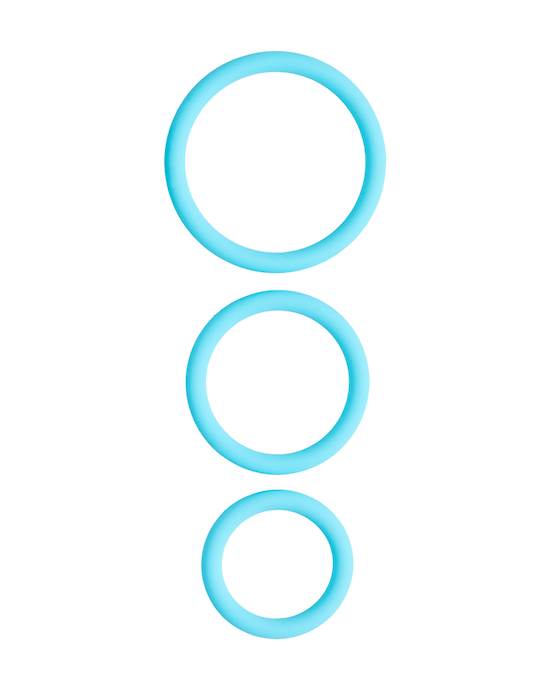 Share Satisfaction Stamina C-ring Set$10.95Shop Now
Here are the different ways to wear a single cock ring
Here are the different ways to wear two cock rings
Here are the different ways to wear three cock rings
How do I remove a cock ring?
To remove the ring, stretch it out and lift it over your penis. It will be easier if you are still erect while you do this.
If the ring is an inflexible material, you will need to allow your penis to become flaccid again before you remove it. Apply a bit more lube to your penis if this is difficult.
Are cock rings safe to use?
Cock rings are safe to use so long as you use them correctly.
The ring should be snug but not too tight. As you are restricting the flow of blood through the shaft of the penis, you need to pay close attention to how it feels and looks to ensure that you are keeping safe.
If you are new to cock rings, we recommend you wear them for no longer than 15 minutes at a time while you get used to the sensation.
When you have more experience, you can wear it for up to 30 minutes at a time. Any longer than this puts you at risk of damaging the tissues of the penis.
Be careful of:
Excess swelling
Discolouration of the skin to bright red or purple
Discomfort – it should feel snug, not painful
Pain
Coldness
Numbness
If you feel any of these symptoms, remove the cock ring immediately. It might mean you need a larger ring or an adjustable ring that allows you to ease the pressure.
Some people shouldn't use a cock ring without consulting with their doctor first.
If you have any injury or wounds on your penis or testicles.
You are on blood-thinning medication.
You have diabetes.
If you have a nerve disease or blood disease.
If you have any heart condition like cardiovascular disease.
Keen to check out the different cock ring styles?
Check out my ATMS TV video about the different types of cock rings and what to think about before you purchase. It should help point you in the right direction of the perfect ring for your needs.
Want more? Check out this guide: Beginner's guide to cock ring plugs (penis rings with butt plugs attached!)