Le Wand Silicone Attachment Ripple Weighted
Or 6 Weekly Payments of $9.49
Laybuy lets you receive your purchase now and spread the total cost over 6 weekly payments. Simply choose to pay with Laybuy at checkout. Learn more.
In stock Immediate dispatch.

This Product Goes With:
Le Wand Rechargable Massager Grey
Click to include
Le Wand Rechargeable Massager
Click to include
Description
Weighted silicone attachment to enhance your Le Wand Experience.
The silicone attachments include weighted balls inside the silicone for a fuller sensation, better transmission of vibration, and the ability to heat and cool with warm or cold water. Our weighted silicone attachments provide intense targeted stimulation and an amazing feeling of fullness. We offer two styles: Curve and Ripple.

- Curve is perfectly shaped for g-spot stimulation. It has a sweeping shape that is precisely weighted in the bulbous tip, making it firm and especially satisfying. There is also an external contact for clitoral stimulation.

- Ripple is designed for the 'blended orgasm' (clitoral and vaginal orgasm) by offering intense pleasure during 'in and out' motion and an external contact for clitoral stimulation. This attachment features ripples along the insert-able portion for intense sensation and provides a feeling of fullness from the weight.

Le Wand Rechargeable Vibrating Massager can be used with optional attachments and texture covers to bring intimacy to another level. Different styles for different pleasurable palettes.
Customer Reviews
There are no reviews for this product. Be first to write a review, they help other shoppers to make informed decisions about their purchase.
WRITE A REVIEW
Customers Also Bought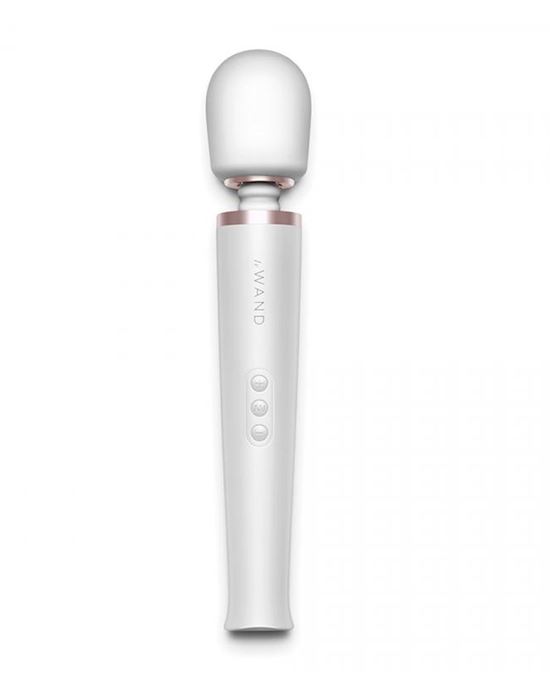 4.7 (1)