Here are 15 of the best-selling sex toys of 2017!
Adulttoymegastore had a great 2017 – we were awarded the title of 'Top Shop' as a runner-up at the Retail NZ Top Shop awards for being an awesome online retailer. Along with awards, we also had a general growth in sales across the board in sex toys, having sold more than 25,000 vibrators, 15,000 butt plugs and 1,000 liters of lubricant to name a few.
Out of all the sex toys bought from Adulttoymegastore in 2017, here are some of the best-selling, top rated products according to our wonderful customers.
We-Vibe Sync
The We-Vibe sync is a rechargeable couples' vibrator sex toy which provides additional clitoral and G-spot stimulation during sex. The We-vibe can also be used remotely via the We-Connect app which allows your partner to play and control from anywhere, custom vibrations are only a fingertip away which is why its easy to see why this was a top seller for 2017.
"Good fun with couples play, really fun to use together."
    -Tom's review of We-vibe Synch Aqua

OVO Lilac Chrome Ring
The OVO B1 Lilac Chrome Ring is a fully integrated vibrator rounded for comfortable use with a jewelry look. It features an easy one button on/off design making it simple yet effective. The quality of the cock ring is well worth the price which is why our customers keep it at the top.
"Impressive, nicely built, powerful motor. Really great value for the money with this. Would buy again."
    -Mat's review of OVO B1 Lilac Chrome Ring

Wet Stuff Gold Water based Lubricant
If you're a firm believer of "better be safe than sorry" you can't go wrong with Wet Stuff Gold. It's water-based formula synchronizes well with all sex toys and it also provides extended sensation as It's a long-lasting water-based lubricant that lasts the distance, but doesn't leave a mess like silicone lubricants.
The lubricant has glowing reviews, which combined with its price (less than $10 for a regular size!) crowns it the best-selling lubricant at Adulttoymegastore.
"Simply the best. Best lube I've ever used. Great with toys, sex and solo runs."
    -Warwick's review of Wet Stuff Gold

Bullet Vibe
The Bullet Vibe is as easy as it gets when it comes to vibrators, one-touch button control makes for easy use and whisper quiet sensations.
This powerful vibrating micro bullet packs a punch and it's discreet enough to take with you in your purse or pocket anywhere you go! Don't let its small size fool you though, it really packs a punch!
The Bullet Vibe's low price makes it one of the best starting toy our customers love.
"Worked like a charm. Yep. Can't add much to it, it did exactly what it should do and did it good."
    -J's review of Bullet Vibe

Fleshlight Girls: Stoya Lotus
Porn's famous girl next door Stoya blessed males or around the globe with her release of Fleshlight girls: Stoya Lotus.
This premium masturbator sex toy equips users with everything they need for some quality time with Stoya at any time they please. Simply wash and clean to set yourself up to personally enjoy Stoya's best moments.
"Highly recommended, Almost as good as the real thing."
    -Matt's review of Fleshlight Girls: Stoya Lotus

Crave Vesper Vibrator Necklace
The Vesper Vibrator Necklace by crave is the perfect little treat in disguise. This gorgeous piece of jewelry doubles up as a strong slim vibrator. Its design allows users to carry it with them anywhere they go for beautiful experiences in private or public.
A sophisticated method of hiding in plain sight with its gorgeous gold finish is why our customers keep it classy with the vesper. If you're looking for a unique sex toy, this is it!
"Super Sexy! This is my favorite vibrator that never fails to please me! Only issue with it is that the battery does not last as long during longer pleasure sessions."
    -Lucy's review of Crave – Vesper Vibrator Necklace Gold

Whip Me Now
The Whip Me Now 40cm whip keeps it simple and straightforward. This whip's price makes it a great choice for those looking to get a bit more physical in their play. If you're looking to kink things up, a whip is a great addition to your sex toy collection.
"Whiplash. The string of fun is sure to be had with this whip! Small enough to hide when needed but big enough to pack a punch when your partner forgot to put out the rubbish!"
    -JB's review of Whip Me Now

OVO Loveballs
Sex toys aren't always created solely for pleasure, they can also be beneficial for your sexual health. If you're looking for something a little different, these Loveballs by OVO are Ideal for beginners. These silicone toner balls are easy to insert and remove and offer thrilling stimulation and a fantastic pelvic muscle workout for increased control over your orgasm, and his!
"Love me some balls. To be honest I had no idea what I was expecting, I was caught off guard when I saw how big these were. Easy to use and slips in and out nice."
    -Flower pop's review of OVO L1 Loveballs

Silicone Anal Beads
Our customers favorite set of anal beads of the year, these beads are sure to satisfy any anal adventurer with its sleek material and tapered silicone design. Graduating from 2.5 inches to 3.5 inches in circumference, this curved finger-looped trio of beads is a great way to extend your anal repertoire.
"Fun. Good first beads, really enjoying them."
    -Ad's review of Silicone Anal beads

Womanizer PRO
The Womanizer pro is the world's only Pleasure air stimulator sex toy. It provides stimulations through sucking in impulses which can be adjusted at the push of a button. A revolutionary intimate product for the modern age, and rapidly growing in popularity as more females become aware of the orgasmic technology.
"OMG. I always thought the only certainties in life were death & taxes but now an orgasm can be added to my life's list of sure things! It genuinely does what it says – 3 minutes or less every time. It's a surefire revelation!"
    -TnL's review of the Womanizer Pro

Hummer G-spot Rabbit Vibrator
The Hummer G-Spot Rabbit Vibrator breathes high quality at an affordable price - it has great value written all over it.
With an inserting length of 4.5 inches, multi-speed control and rotating beads, this rabbit vibrator can achieve g-spot orgasms other vibrators struggle to achieve. I think its easy to see why our customers love it.
"Oh yes, the girlfriend has used this just about non-stop since its arrival and it was supposed to stay wrapped until Xmas. Does all it claims and does it well. Feels good, I am told, and really gets her going and going and going…you get the idea. Great value and great results. Now I need a rest."
    -Mike's review of Hummer G-spot Rabbit Vibrator.

Amore Silicone Vibrator
The Amore 10 Silicone Vibrator is a 7-inch price-friendly and silky-smooth vibrator that'll glide across your body with a sleek and seamless texture. Its slender shaft is perfect for beginners and can be controlled with a simple touch of a button!
If you're feeling pinkalicious, this Adulttoymegastore selling classic is sure to not disappoint your orgasmic needs. It's a must for every female's sex toy collection.
"Perfect product. I love this vibe so much, makes my girlfriend beg for more"
    -Ally's review of Amore 10 function Silicone Vibe

Anal Fantasy Prostate Stimulator
Anal Fantasy's Prostate Stimulator is the perfect anal sex toy for beginners and connoisseurs alike. The reason its been a big seller at Adulttoymegastore is due to its cleverly curved design. Its engineered to help you get the most out of your orgasm and at its price, it's an overall steal!
"Awesome, this product has been a surprising purchase! Initially when I received it I was concerned it wouldn't be very good to use as it is a very solid and hard product where as I had thought it would be softer and more malleable. Upon giving it a try however I was so pleasantly surprised, husband assures me it hits all the right spots! It must be pretty good as he even orgasmed without either of us touching him! Would recommend to any anal enthusiasts to give it a go!!!"
    -Jim's review of Anal Fantasy Collection Classix Prostate Stimulator 

BJ Blast Oral Sex Candy
If vibrators and dildos frighten you, fear not! BJ blast oral sex candy is something everyone can enjoy. If pleasing your partner makes you happy, why not please them and yourself simultaneously with some cherry, apple and strawberry?
Just sprinkle some in your mouth and take them down for the ride of their life.
"Partner enjoyed it and I really enjoyed it. I used it on my partner he really enjoyed it then he used it on me and the feeling was awesome."
    -Tezza's review of BJ Blast

Black Triple Cock Ring Set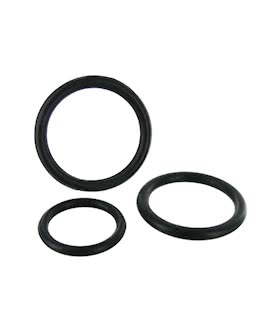 No top 15 sex toy list could be completed without the inclusion of a
cock ring
set. This
Black Triple Cock Ring Set
is simple and effective in helping you stay rock hard and prolonging your adventures.
The set comes with three different sized silicone rings which provides customers with adjustability as they can use what they feel comfortable with.
"The basics. Pretty good set to start with, as it gets the job done. The three varying sizes are great in case you don't know what you need, or if you want a bit of variety to bring the balls into the fun too."
    -Colin's review of Black Triple Cock Ring Set

Did any toys from this list stand out for you?
If not, be sure to browse the full list of our Top Selling Sex Toys for 2017!
READ MORE:
Shop Sex Toys Now!
Read next: Beginner's Guide to Couples' Sex Toys