Did you hear about the Satisfyer Pro 2 on the Guilty Feminist?
The Satisfyer Pro 2 Generation 2 is taking over the world! And, now that includes the Guilty Feminist podcast too.
The theme was fatigue and apparently, the answer to fatigue is the Satisfyer Pro 2 Generation 2… and our team agrees!
You have heard of the podcast The Guilty Feminist, right? The magical podcast out of the UK that talks all things feminism with a guilty twist.
I'm a feminist but…
Its hosted by Deborah Frances-White, a London based comedian, author, screenwriter and all-round hilarious woman and each week, it focuses on a different topic.
It's recorded in front of a live audience, which in this case was the TSB Arena in Wellington which was jam-packed full of laughing feminists, and featured a guest host and an extra special guest. The night I went along also featured comedian Cal Wilson and a super special friend of ATMS, Emily Writes.
If you listen to the podcast, then you may have heard them mentioning a particular sex toy recently, and yes, it was the Satisfyer Pro 2 Generation 2 you heard about on the Guilty Feminist. And, yes, you have Emily Writes and ATMS to thank.
We provided Emily with a few gifts to hand over to the hosts and let's just say they went down very, very well. So well that the Satisfyer Pro 2 Gen 2 kind of became the star of the show.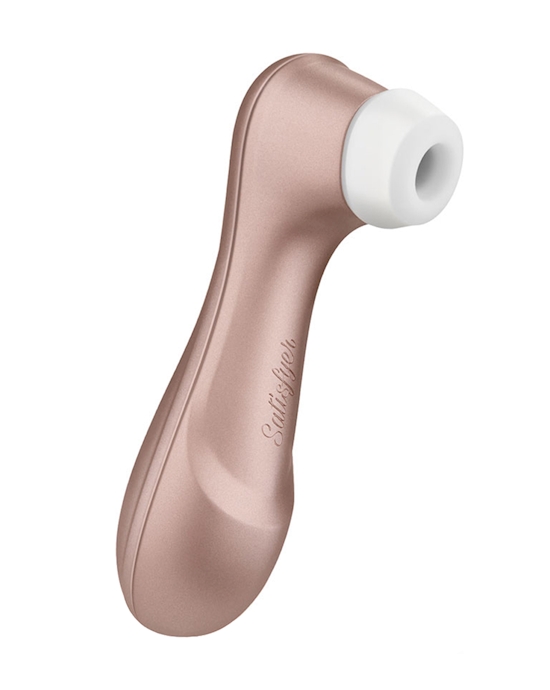 Satisfyer Pro 2 Generation 2$74.95Shop Now
They held it up to the mic and let the audience hear it pulsing, talked about how fast this little thing can bring most women to orgasm and even shared a hilarious tale of Emily almost breaking her limbs in the shower from the shock of how good it was. It is that good!
But, it's not just the women of The Guilty Feminist podcast that love the Satisfyer Pro 2 Generation 2, our customers can't stop raving about it too. We have over 540 customer reviews of this product and a rating of 4.8 out of 5 stars. So, there is really no denying that this is a superstar of the sex toy world.
Wanna try it for yourself? Adulttoymegastore has the Satisfyer Pro 2 Generation 2 right here, and for the cheapest price you are going to find.
TLDR: Yes, the Satisfyer Pro 2 Gen 2 was the toy they talked about on the Guilty Feminist and yes, we stock it! Grab your Satisfyer Pro 2 Generation 2 here and see what all the fuss is about.
Want more?
Adulttoymegastore is an online retailer of sex toys distributing across New Zealand, Australia and the USA. ATMS was opened in 2009 and is still proudly New Zealand owned and operated, with over 8,000 products from more than 45 brands to choose from! We take great provide in providing the best products to thousands of happy customers, and have many benefits such as a loyalty programme, free samples with every order, and personalised notes.
Adulttoymegastore has a huge range of sex toys including vibrators, dildos and cock rings for every occasion! With fast, 100% discreet shipping, and price guarantee, ATMS has everything you need to make good sex, great!